We at SPC point out the above advertising is quite separate from......
(Formerly Committee For The Paddock)
Saxon Paddock Committee
webpage
Above is the right time in Saxon Paddock
---

Welcome to 'Paddock Ghetto'
A planning application (16/00357/FUL) has been submitted for not 10 (passed only by a visiting stranger Planning Inspector after refusal by local councillors in 2014) not 19 (rejected by council and Planning Inspector in 2006, but 74 - YES 74 ! - single rented starter flats designed as three storeys overlooking Waterside park and Coventry Rd with no consultation or respect shown to residents living decently 'round The Paddock rear of 462 to 502 Coventry Rd. A spiteful insult to the security and privacy of local residents by Paynes Garages when this firm could have shown respect for residents many who in the past have given good business to this garage. LATEST (August 2016) re-think by Ghetto developer, not 74 flats (plan sensibly WITHDRAWN) - but possibly 65 flats - come off it Centre Estates 65 flats on only 1.3 acres of land GET REAL, you conned a Government Planning Officer in 2014 to allowing 10 houses - be honest!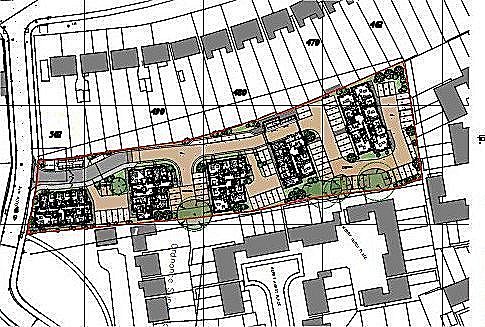 SHAME ON PAYNES GARAGES AND THE OUTSIDE 'DEVELOPER' already with a poor reputation for non-existant public relations.
THESE FLATS - If allowed - will dominate the area and spoil lives .
THIS PLAN - AND ANY SUCH BADLY ORIENTATED IDEA SHOULD BE TOTALLY REJECTED BY THE PLANNING OFFICERS AND COMMITTEE.
The Council could still protect this land. If it made the effort other boroughs have.
LATEST (1st June 2016) on The 'Paddock a well attended Public Meeting was held on Monday 9th May at St Johns Church Centre a unanimous call for strong opposition to the plan for 74 flats considered severe over-population with high risks of flooding of rain water run-off and extra risk to public health where foul water piping was already a problem on Coventry Rd.
All three Clarendon Ward Councillors attended but made it clear they were unable to comment pro or con because of planning committee restrictions.
---
December 2015
'Bloorland' - attack on our countryside 850 houses - saturation 'development' we don't need or want!Whilst this is just outside the borders of Saxon Paddock traffic from it will make Dodwells Bridge roundabout at times impossible - it will add 1600 vehicles to the perimeter road between Wykin and the A5 it will turn 7 farm fields into a massive housing estate , the pleasant hamlet of 'old' Wykin into a noisy busy urban area . The Hinckley' Council should not only turn this plan down flat it should fight for the agricultural land (110 acres) it will destroy.
---
May 2015
The Saxon Paddock
Residents living neighbouring The 'Paddock have since last week been concerned that the clearing of the ground which was necessary might lead to the loss of the five protected trees (four Ash , one Maritime Pine) also valuable privacy has been lost as the hedges seem to be being taken out 'round the land rather than trimmed which was indicated on the outline plan (13/00685/OUT) - SPC have brought this to the attention of the local planning authority with the comment H&BBC can do nothing , however this in no way prevents council tax payers as individuals making their own complaints to the Planning Dept. at Hinckley & Bosworth Borough Council on 01455 238141
6th June 2015
Photographs taken of The Saxon Paddock in happier days shall remain on our web site despite the destruction and childish removal of essential natural habitat hedgerow, bushes and semi-woodland of the last weeks.
'No good can come of this desecration or to they who do it'
---
June 2014
What happened to the 'Paddock ......
On Tuesday 12th November 2013 at 6-30pm at 'The Hub' in Hinckley we opposed Paynes destroying The Saxon Paddock - and the Planning Committee voted 10 to 3 (4 abstained) in our favour. Very regrettably Paynes have now informed us , through their Agent, they intend to go to Appeal against the above rejection of planning permission to build ten large houses on The 'Paddock. SPC maintains the aim of protecting The 'Paddock from any development whilst accepting the need for a balanced agreement between our residents interests and those of Paynes Garages and Hinckley & Bosworth Borough Council.
SPC/CFTP have spent 14 years trying to get the council to formally protect the land by law - we will continue our efforts.
We now need to talk with the Council to save the security and privacy of our gardens and homes 'round The 'Paddock which before Paynes decided to desecrate it and the council sat on it's hands was only bit of real countryside left in Saxon Paddock.
The Hearing was held on Wednesday 7th May 2014 , start 10-00 am at 'The Hub'* the site inspection was held at 2-00pm until 2-30pm .
We regret to inform members, supporters and residents that the Inspector chose to completely ignore the findings of the 2006 Inspectors report that the land was a 'natural boundary or separation area between two settlements' .
In an Appeal Decision dated 3rd June - which SPC, SPRA or the West Clarendon Neighbourhood Forum has yet to be sent by the Planning Inspectorate the Inspector has seen fit to herself oppose our case and allow the 10 large buildings etc to spoil The 'Paddock against all reason.
Saxon Paddock Committee is appalled by such flawed reasoning.
The four Protected Ash trees in The 'Paddock have been inspected on Monday 5th November 2012 and in August 2013, no sign of infection or die-back has been found.
SPC really cares about The 'Paddock a pity the owner doesn't....
Latest update this web site 31st May 2016
(In this update - PUBLIC INFORMATION ROADS and SPEED MONITORING, Our next meeting(October),Planning Issues update, Squash Club drinks license)
---
3rd October 2014 ( ended August 2015)
Official Highways Agency A5 Watling Street works for Dodwells Bridge roundabout and Long Shoot junction
Work began on Monday 6th October 2014 and is now completed.
Also see our 'Sister' Site for more information.
---
July 2014
Transport 'improvements' ?
Though the cycleway has been provided the County Council Highways Dept. has now told us the Bus Shelters will not be provided until April 1st - is this date significant !
We have asked County Councillors for support ..... nothing heard ..
SPC continues to press for two bus shelters in Saxon Paddock Coventry Rd (main route between Coventry and Leicester). One to replace the shelter taken away (in 2003)from opposite Paddock Way and one at the stop nearer Long Meadow Drive / Tungsten' these with seating, however it seems Leics Highways after giving their word are back-pedling.An official complaint has been registered against Leicestershire County Council (Highways Dept.) by SPC regarding the breaking of word on bus shelter provision - this is now in the hands of the Local Government Ombudsman's office in Coventry.
February 2015 - We regret the Ombudsman's office and Leics County Council Highways Dept. linked arms against us on the issue of the broken word of 'Transport Improvement' (sic) so it seems only one shelter for Hinckley bound buses - though we have two for Nuneaton .....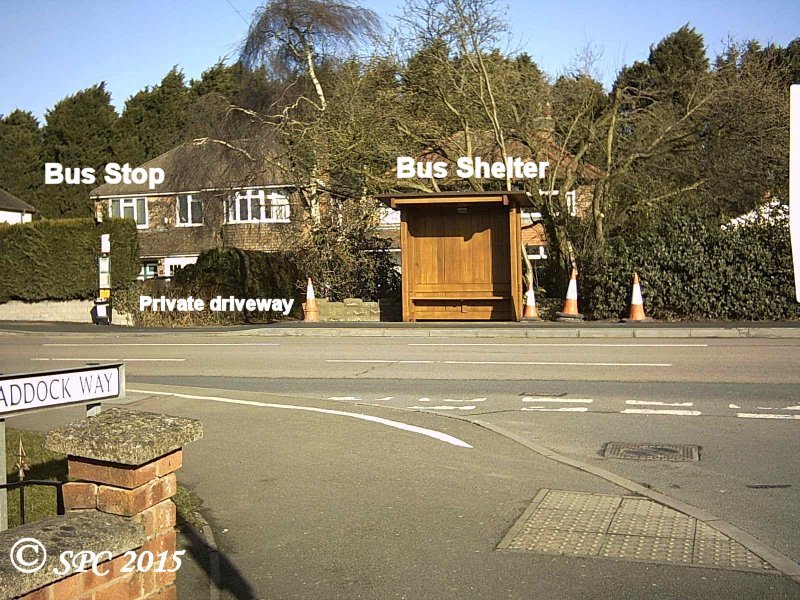 However it does seem little sense has been shown in the positioning of the shelter and we are told the 'flag' post has to remain in it's old position so the bus driver 'knows where to stop' - we know of no other such silly planning.
---
Our Fight continues for proper protection of The Saxon Paddock -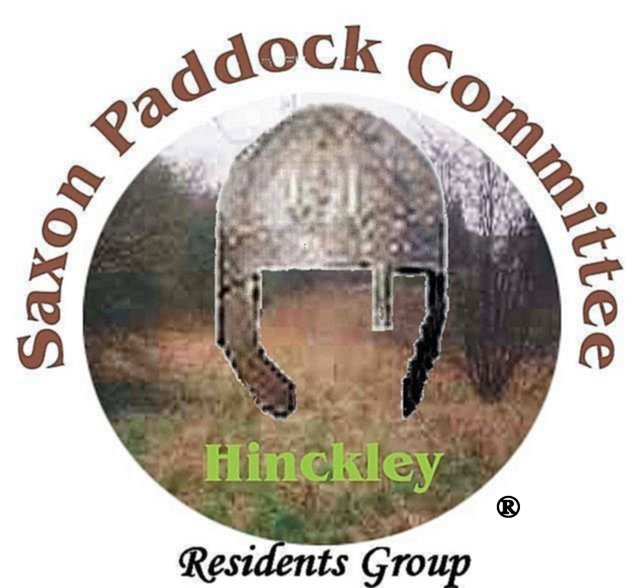 phone 01455 451992 (24/7 answer-phone back up)
SERVING SAXON PADDOCK FOR OVER 14 YEARS!
Rog Parsons General Secretary
Bordered to the Northwest by the Harrowbrook , a tributary of Warwickshire's proud little River Anker , to the North and East by the famous Ashby Canal running between Dadlington and Stoke Golding where Henry Tudor was crowned, to Burton Hastings and Marston Jabbett. We are bounded South by the ancient Roman Road the Watling Street (now A5). We were a Saxon settlement but earlier a Romano-British village stood where now our main residential area lies. N.B. outline area map was produced in 2005 since then 24 more green field acres are lost. Regretably due to irresponsible planning there are now no green fields in Saxon Paddock. In 130 acres only The Saxon Paddock itself remains (1.3 acres) as green open space we respectfully ask the land owner not to destroy this.
NATURE (Wildlife - animals and plants) HAS DECLINED IN THE UK BY OVER 60% in the LAST 50 YEARS - VOTE AGAINST POLITICAL PARTIES WHO WANT TO 'BUILD EVERYWHERE' - FIRST THE WILD ANIMALS THEN MANKIND!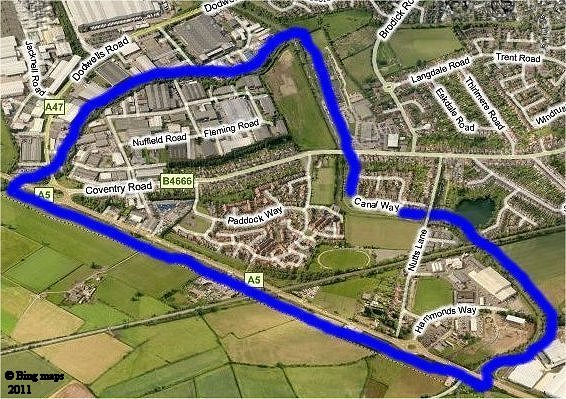 The Saxon Paddock Committee is asking for YOUR help to protect a lovely area of wild land to the west of Hinckley in Leicestershire at the very Heart Of England Please email or fax Hinckley & Bosworth Borough Council NOW
We still need more funding to rent or buy this land The Saxon Paddock from which our community claims its name.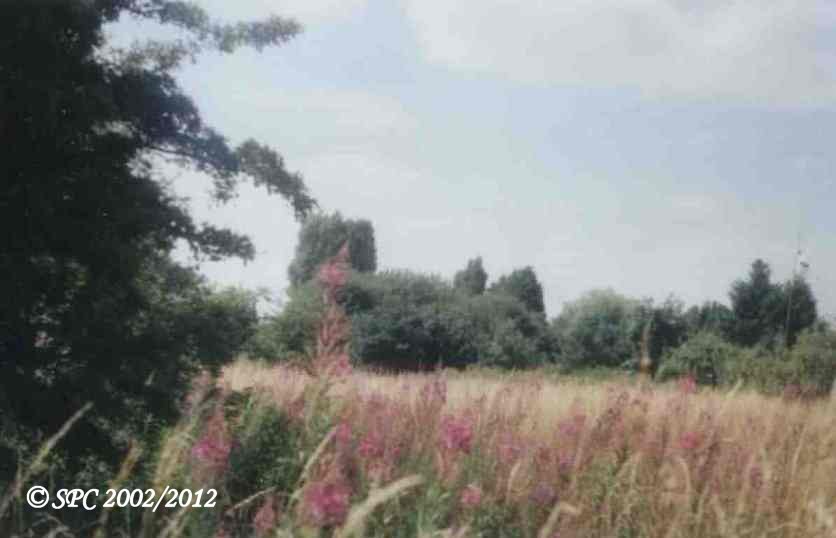 The SAXON PADDOCK
August and the summer, the sunshine brings some welcome warmth to the ground , birds call and the mid-daytime sunlight streams across the land and glistens still through the trees to feed the rich soil; a tattered banner of last summer now a memory; but clear sky shows through the majestic ash trees, standing tall and proud in the south-eastern edge of the land, these 'trees of life' . The hedges of ancient hawthorn in the Saxon Paddock thickened out in the past seasons, now it seems lost; the rare maritime pine remains yearlong steadfast and thrives in its central location, and will continue this year bringing shelter to the birds and ground life. Now the full picture is shown, the year continues a hopeful time despite mans destruction, and a time to use the lessons of the past to improve the future. This year we thankfully saw again the true colours of nature in this island of countryside despite the desecration of man and machine, and with good will, they shall return in years to come, for this truly is a pleasant part of England. (Howard Priestly)
The dawn chorus, the cool air but the bright early morn, small voices in the noon sky, The Saxon Paddock as this cathedral of natural birdsong in its service will be glorious in Summer but hushed voice rejoined, the full choir greeting now the blue sky early afternoons, in this enclave of nature - here spring brought hope, summer joy, despite evile loss, splendor, but autumn shall calm and winter cold glory. (HP)
Please, do your best to help us to save this little area of peace and nature, now damaged by an uncaring and malevolent owner, for now and future generations.
SUPPORT OUR FIGHT AGAINST THE SICK DESECRATION AND DESTRUCTION OF NATURE IN THE SAXON PADDOCK
Please help us by emails of support for our aim to protect this land, don't let this countryside be lost to the greed of others, addressed to the local council (click on title to 'mail)
Hinckley & Bosworth Borough Council
The local newspapers Nuneaton News (Nuneaton & Hinckley) daily and Hinckley Times weekly
Leicester Mercury and Coventry Evening Telegraph
phone radio station OakFM (107.9 MHz FM)
also heard well in Saxon Paddock Area is Anker Radio (from local George Eliot Hospital - Maternity Dept. on 1386 AM (Medium Wave)
The only local radio station in our area with studios IN our area!
If you represent a commercial organisation, which recognises the need to protect nature, please contact our Treasurer, initially at the
Paddocksave
We are entirely voluntary and all funds go to the purchase or rental of the land and it's running costs. We seek sponsors both locally and internationally.
---
OUR AGMs AND QUARTERLY MEETINGS
No active representative committee can function without regular publicly accessible meetings where all residents , not simply a select few, can put their views freely. This is written in our constitution. We are independent of any external organisation which seeks to influence Saxon Paddock remotely.
Graham R.Bailey (Chairman 2012-2014)
Following a successful and interesting and lively meeting on Thursday evening 15th April 201o.
AGM 2011 was held on Thursday evening 14th April, at St. John's Church hall. As usual a robust gathering.
Our committee meetings are held now quarterly (usually second Thursday of June, October, February and AGM* in April) at North Warwickshire & Hinckley College, Nuffield Rd, Harrowbrook Industrial Estate. Saxon Paddock.
*The Annual General Meeting of Saxon Paddock Committee was held at 7-30pm on Thursday 12th April 2012 at St.Johns Church Centre, Coventry Rd, Hinckley.
The 2013 AGM was a great success held on Thursday 11th April at 7-30pm at St.Johns Church, Coventry Rd, Hinckley. We thank all the residents for their support.
Our committee meeting was held on Thursday 10th October 2013 at 7-00pm at North Warwickshire & Hinckley College , Nuffield Rd, Harrowbrook Ind. Estate. It was well supported.
Our Winter meeting (quarterly) was held on Thursday 13th February 2014.
Our AGM and Spring meeting was held at 7.15 pm on April 10th 2014 at St.Johns Church , Coventry Road, Hinckley.
Because of the somewhat 'coloured' result of the Planning Appeal on The' Paddock we needed to 'take stock' of our position, we therefore regrettably cancelled our Summer Quarter committee meeting which was due on the 12th June. However, still very active our Autumn Quarterly meeting was held on the 9th October 2014.
Our Winter Quarterly meeting was held at 7-00pm on Thursday 12th of February 2015 at North Warwickshire & Hinckley College , Nuffield Rd , Harrowbrook Industrial Estate.
Meeting Cancelled: Our Spring quarterly and AGM at St John's Church Coventry Rd, Hinckley on 9th April 2015 was cancelled.
We held our Autumn Quarterly meeting at the Council's Jubilee Building at 7pm on Wednesday 7th October 2015 .
Our Winter Quarterly meeting was held at the Council's Jubilee Building , Fleming Road, Harrowbrook at 7-00pm on Tuesday 9th February 2016.
Our Annual General Meeting was held on Wednesday 13th April 2016 at 7-00pm at St.Johns Church Centre, Coventry Rd, Hinckley .
We shall hold our Autumn Quarterly meeting in October .
The SPC needs officers and more members - if you live in the area of Saxon Paddock and want to get involved then let us know.
---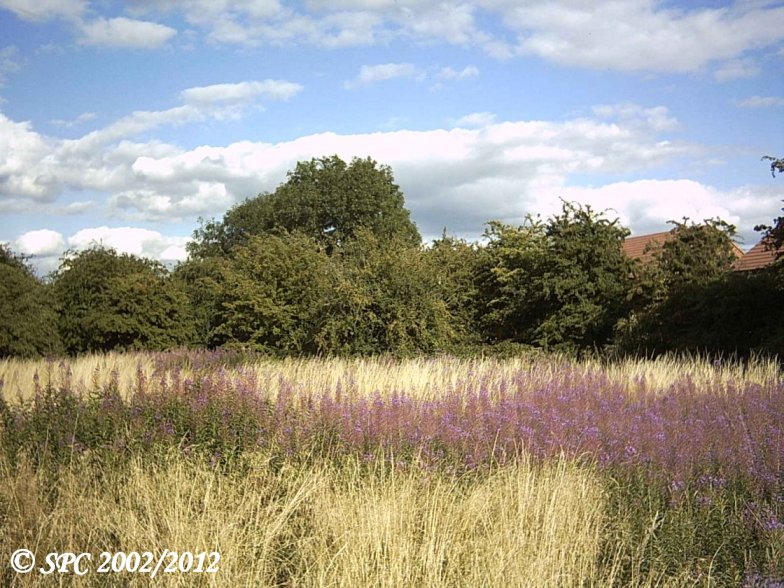 August 2005
If you can publicise The Saxon Paddock in any legitimate way or help us in local collections or simply spread the word - please do.
The land has been kept naturally uncultivated for well over 50 years.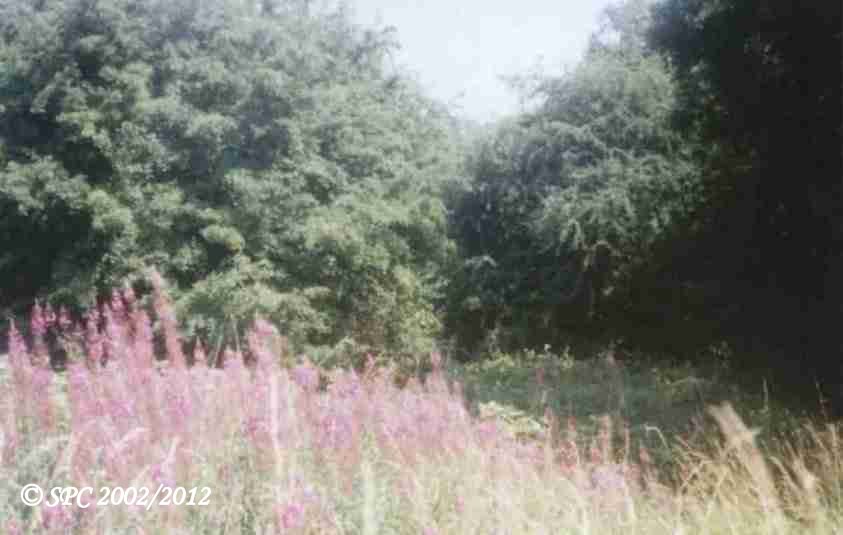 Saxon Paddock Committee has no connection with any similarly named groups or organisation, no political or religious affiliations or restrictions , our aim is simply to purchase and protect this small area of land and preserve it, as it is, for all to enjoy and for the wild plants and small animals to continue to flourish, we also are the recognised and senior residents group for Saxon Paddock community.
The ancient site of a Saxon Village, Saxon Paddock !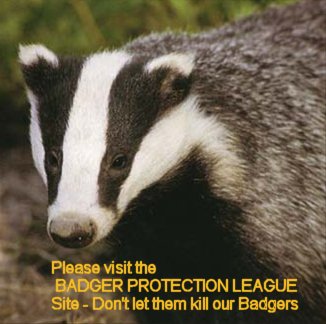 For protection of public footpaths and rights of way join the Open Spaces Society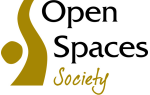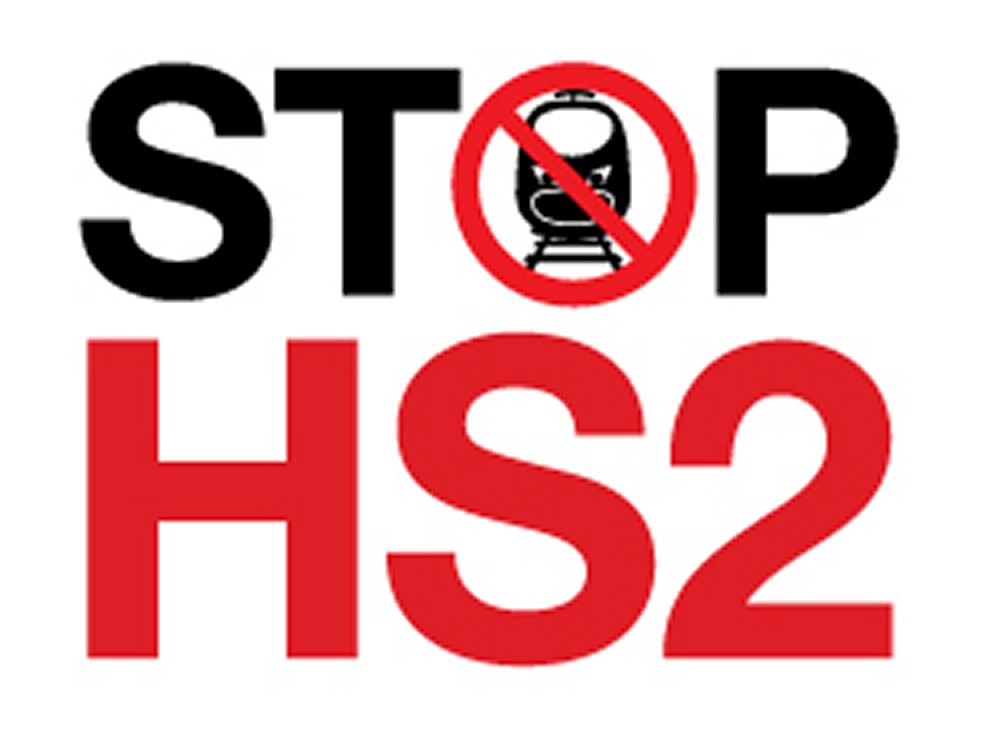 PLEASE SUPPORT AND STOP DESTRUCTION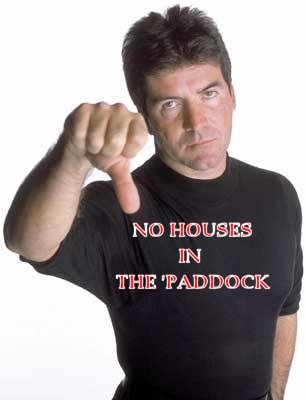 IF PAYNES GARAGES WANTED TO SHOW GENUINE SUPPORT FOR THE PEOPLE IT RELIES ON FOR CAR SERVICING, SALES ETC, who through their custom have kept Paynes as the major FORD AGENT for decades, then Paynes could donate 'The Paddock' to the Saxon Paddock Community or lease the 1.3 acres on a 'peppercorn rent' for 20 or 30 years.
Why can't this company show sympathy with the local people and children ?
How you can help , Paynes Garages have let down the community, write to Paynes asking why they are trying to destroy the community of Saxon Paddock and further spoil Hinckley. Though don't expect a reply ........
After Paynes 'won' the Planning Appeal to build 10 large houses on The 'Paddock the council CEO wrote twice asking them to meet with the residents and try to work in concert with those directly affected - Paynes didn't even acknowledge one letter !
IN VIEW OF PAYNES PLANS AND A 'RIGGED' PLANNING INSPECTOR'S VERDICT
The following advice might help offset such mean thinking
NATURE (Wildlife - animals and plants) HAS DECLINED IN THE UK BY OVER 60% in the LAST 50 YEARS - VOTE AGAINST POLITICAL PARTIES WHO WANT TO 'BUILD EVERYWHERE' OFTEN ON GREEN FIELDS DESTROYING NATURAL HABITAT - WE NEED WILD ANIMALS AS A MONITOR OF SUCH AS AIR QUALITY, THEY SENSE POLUTION BETTER THAN HUMANS DO
FIRST THE WILD ANIMALS WILL GO - THEN MANKIND!
Remember to put out water (make sure it is fresh) and food for the birds and other wild life in proper containers - NEVER PUT OUT MILK
Establish safe shelter for hedgehogs, etc, away from cats and dogs
Now the cold weather has come nuts might save a small wild animals life , please provide shelter away from cats or agressive dogs, remember birds , hedgehogs, toads, frogs, slow worms are good for your garden -and you - they are becoming more rare as open green land is spoilt by 'development', these small animals live on the insects which often spoil our plants and trees. Please remember however , spraying plants may kill insects in the food-chain of certain other friendly insects i.e. Ladybirds, Lacewings etc. Please do not use garden sprays.
Treat Bees and Wasps and Hover Flies with respect they help and are being decimated by non-specific crop sprays
As winter progresses please spare a thought for wild creatures and create some natural warm shelter, bare in mind half the reason your garden plants are free of pests is the effort made by these frogs, slow worms , hedgehogs, - know your friends ..
NEVER USE SLUG PELLETS - DANGEROUS TO ALL ANIMALS
We have received reports of two cats found dead and a dog dying even after emergency Vets treatment after eating 'slug pellets' - these , even if marked 'safe' cause damage to internal organs and a very painful death to wild and domestic animals. Please don't use them.
More about Leicestershire
from Radio Leicester on 104.9 MHz
More about Warwickshire from
Radio Coventry & Warwickshire on 104 MHz
Looking for a good place to stay and have a good meal, out of town? then visit Upton Barn
For all your PC problems - Sonic-Solutions
For your plumbing needs contact MSP Installations Ltd on 07921 833360
Buses running through Saxon Paddock between Nuneaton and Hinckley
click on name for current details of No. 48 and No.158 services.
---
PUBLIC INFORMATION ROADS
BE WARNED 'boy racers'
The area of A5 Watling Street between The Lime Kilns (pub) and BP Garage is maximum 50 mph but is being abused, as of Monday 10th August it will be monitored and vehicle numbers of offenders recorded.
Illegal parking on Screwfix/Subway car park is being monitored.
Mobile speed camera is currently operating (week begining 2nd May 2016)on B4666 Coventry Rd (Saxon Paddock and Hinckley) KEEP YOUR SPEED DOWN! Especially where roadworks or near crossings both in day time and through the night.
On Friday 16th August 2013 the Fixed Penalty Notice fine increased from £60 to £100.
Drive safely and responsibly
---
GENERAL PUBLIC INFORMATION (updated 30th April 2016)
We have been notified that neither BT or Virgin Media have any connection issues currently in Saxon Paddock
NEW CLASSIC BRITISH MOVIE TV STATION ON FREEVIEW Ch 81 (Sky 343)
Our local television transmitter at Sutton Coldfield is digital (all Freeview channels).
This provides good signals for (West) Midlands with normal roof aerial (loft or portable may work if the house has high elevation asl, aerial pointing roughly North West.
In a few spots and high rise flats Freeview transmissions from Waltham (East Midlands) may be receivable (aerial pointing roughly to North East).
If your older TV has no 'Scart' (multi-pin) socket a VHS recorder can be used between your terrestrial 'Freeview' box and the TV aerial socket on your older TV .
If there are any items of local information you feel site visitors will benefit from please contact Paddocksave / Saxon Paddock Committee on 01455 451992 or email us.
PLEASE SEE LONG MEADOW DRIVE PUBLIC NOTICE BOARD FOR EVENTS IN THE SAXON PADDOCK AREA. (UPDATED IN Late JANUARY)
THESE NOTICES WILL BE SHOWN ON OUR SISTER WEB SITE RSAHINCKLEY SHORTLY.
---
SPC has requested they be permitted to advertise Public Events approved by Hinckley & Bosworth Borough Council on the bus shelters on Coventry Rd , Saxon Paddock - simply two A4 size posters - however, regretably, it seems the County Highways Dept. will not authorise this in 'their' shelters.
---
PLEASE NOTE OUR SAXON PADDOCK PUBLIC NOTICE BOARD on LONG MEADOW DRIVE
SPC section Updated at least every month. Recent update January 2016 ( also see items on our sister web site RSAHinckley for road works etc).
IMPORTANT
If you live within the area shown on the above map your postal address should now include the wording Saxon Paddock between your street/road address and Hinckley, Please make sure your correct postal code is shown.
There is no need now to include Leicestershire in your address.
---
Neighbourhood Forum - Important Policy Statement.
Dear Supporters of Saxon Paddock Committee,
We, as SPC are absolutely supportive of a Saxon Paddock Neighbourhood Group and Forum ideally specific to our area but completely independent of any existing residents groups (i.e.Saxon Paddock Committee, Saxon Paddock Residents Association and Hollycroft Residents Group) and with an independent Chairman . However, it is felt the policy of so called 'Localisation' has been somewhat contradicted by Central Government and County Councils where suggested 'Unitary Authorities' operated by County Councils from County/Shire Halls add to remote government and work against local area need. This in the case of both Leicestershire (from Glenfield) and Warwickshire (from Shire Hall, Warwick) . SPC believes all forms of honest localism following the 2011 Act should be promoted.
We offer support to 'West Clarendon Hinckley Neighbourhood Forum' .
---
Saxon Paddock Planning Applications see council site for full details
Planning Update : This item included as of 1st January 2016) Where 'greyed out' these items have been dealt with.
SPC examines all planning applications concerning and/or within our area/community every week , please contact us if you have a concern.
Saxon Paddock Committee as a body will not normally oppose any application unless two residents (at separate addresses) ask us for support and give reasonable grounds for oposition they must have themselves have already submitted a comment in opposition to the application.
Current Planning Applications of concern actually in Saxon Paddock: (as at 9th May 2016)
Planning Application 16/00357/FUL for 74 flats to be built in 5 block houses on The [Saxon} Paddock please send in your comments on this - bare in mind the area is only 1.3 acres . Saxon Paddock Committee asks all residents to advise the council just what to do with this .... plan. Write (or fill in form on council web site) to Planning Case Officer Richard Wright - final date Wednesday 19th July .
7/5/2015 Planning Officer Sarinah Farooq
15/00524/HHGDO 440476 293199
Rear extension measuring 4 metres in
depth; 3 metres in height to the ridge; and
3 metres to the eaves 441 Coventry Road Hinckley
Applicant: Mr Daryl Long (not opposed)
On above prior permission was not required
27/04/2015 Planning Officer Ian Lunn
15/00484/FUL 440240 293171
Alterations to provide additional office
space with associated external works
32 Stephenson Road Hinckley
Applicant: Triumph Motorcycles Limited (not opposed)
27/04/2015
Above approved.

15/00485/ADV 440240 293171
Erection of 1No. illuminated and 1No.
non-illuminated advertisements
32 Stephenson Road Hinckley
Applicant: Triumph Motorcycles Limited (not opposed)
Concent given on above.
15/00559/FUL was approved subject to the lights being on only during period 7am untill 11-00pm including weekends bank holidays , however Saxon Paddock Committee have formally requested under The Environmental Health Act 1990 part 3 Section 79 that shades/shields be provided on the lights thus to avoid traffic safety issues and light pollution into neighbouring property.
15/01196/FUL two storey dwelling located immediately west of 485 Coventry Rd (SPC not opposing this planning application) Approved.
Sadly we note: Planning Application to build 10 houses on The [Saxon] Paddock , off Paddock Way (13/00685/OUT) rejected.
( Appeal 7th May 2014 application regretably allowed by inspector 3rd June 2014)
Application to Licensing Section Ref. 15/00667/PRM for Squash Club located Unit E Maple Drive Tungsten Park LE10 3BE for indoor sporting events , plays, films, live music , recorded music , performance of dance, late night refreshments (after 11pm). SPC is opposing this application , details of our letter of opposition are available by email from paddocksave@ntlworld.com or by phoning request to 01455 451992 (answer phone). All comments (by letter or email) must be into Hinckley & Bosworh Borough Council, Licensing Section by 23rd September 2015. The Hearing in connection with the Licensing procedure will be held in the Hansom Suite, Hinckley Hub on Wednesday 14th October 2015 at 2-15pm. If you have questions on this contact Mark Brymer (Principle Licensing Officer) on 01455 238141.
---
Water in residents gardens of Coventry Rd , Saxon Paddock , both east and west of Paddock Way entering from the road through bad design of gullies etc. Also west of Paddock Way to the rear of gardens from private land . This was subject of a meeting between Residents, Hinckley & Bosworth Borough Council, Leicestershire County Council Highways Dept. Saxon Paddock Residents Association and Saxon Paddock Committee on Thursday 30th August when a site visit was also made. This has been a long standing problem, originating before the 1970's, exacerbated by the raising of the surface level of Coventry Rd in 2003. Residents are requested to contact Mr Graham Bailey (Chairman SPC) or phone SPC on 01455 451992 .
SPC continues to request more work to be done to protect property on Coventry Rd near Paddock Way.
Save The 'Paddock we regret that due to actions by Paynes Garages this last natural open example of real countryside will be destroyed. Truly an indication of how much Paynes' regards our community !
---
Support your Neighbourhood Watch team
Especially at dusk - If you spot someone acting suspiciously - a stranger ...
When you're out use time-switches on your house lights (table lamps) , leave a radio on , check doors and window locks
Remember Crime Stoppers 0800 555 111
KEEP SAXON PADDOCK SAFE!
---
If you have a public event or service in our Midland area (Hinckley & Nuneaton) please tell our General Secretary. All items intended for display must conform to rules and standing orders of Saxon Paddock Committee and should be submitted in .jpg format only please.
THE COMMITTEE SUPPORTS NO POLITICAL PARTY
SHOULD YOU WISH TO FIND MORE INFORMATION ON THE BOSWORTH CONSTITUENCY CLICK HERE
Thank you for visiting the SPC web site.
ELECTION RESULTS ... (link)
Link to our 'sister' site (for Dodwells and Long Shoot information etc, )
Find us on Twitter
Every item, site link and date is checked for accuracy on a regular basis but please contact us if you find information to be out of date.
THANK YOU FOR VISITING SAXON PADDOCK COMMITTEE Web Site.
Our email address is paddocksave@ntlworld.com
Our telephone number 01455 451992 24/7 answer phone default.
---
IMPORTANT - SAXON PADDOCK NEWS AFTER 11 years ended
---
ARCHIVE MATERIAL ONLY
SAXON PADDOCK NEWS ENDED 1st May 2013 (THIS ITEM WILL NOT BE UPDATED)
However our Webmaster thanks those who have emailed support.
Please note this is the combined Committee webpage and Saxon Paddock News
SAXON PADDOCK NEWS PAGE
INDEPENDENT OF THE SPC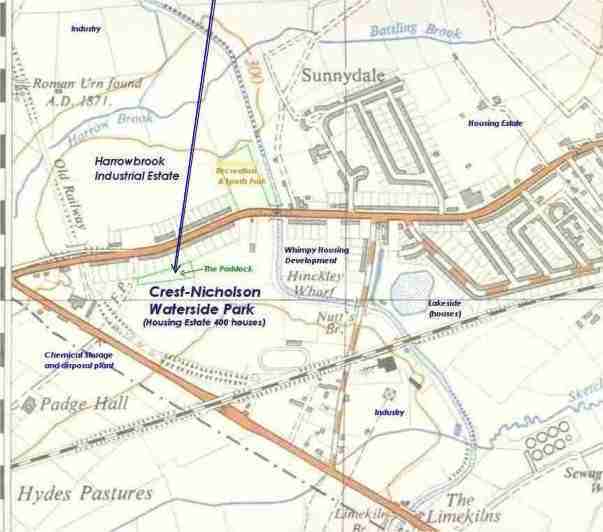 BROUGHT TO YOU BY COURTESY OF
Saxon Paddock Committee
Email: englandnow@ntlworld.com
The Comments made in Saxon Paddock News do not necessarily reflect the official views and are not controlled by the SPC. Please note we always welcome responses by Councillors, officials of Councils, Companies and Organisations in reply to items shown and any request for publication as a 'right to reply' will be respected - however, silence is deemed as acceptance.
GOODBYE FROM SPN
---
21st April 2013
A cobbled-up Act even Tory M.P.'s complained they didn't understand
The Localization Act mess..
It was signed into law by The Queen in November 2011 it took months for councils to be informed
then important details were based on old (out of date) unworkable points of law . (visit RSAHinckley for more)
Some communities were then informed - others not. The rules and regulations for such as residents qualifications for sitting on the 'Neighbourhood Forum' of each community where cobbled together using other Acts of Parliament going back to 1967.
Yet this so called 'Localisation' Act in effect hands more power to out of touch Councillors - not less .
Residents may propose (through Neighbourhood Forums) any number of things , the Councillorshave to read them but then can reject all of them!
So how , Mr Cameron, does that hand 'more power to the local people' ?
We think not .
---
21st April 2013
After years of honest comment Saxon Paddock News is forced to end by threat of 'legal advice'
Well friends this is our last week of not only telling the news but commenting on it - we hope those who have closed us down are happy and satisfied as so called 'Democrats' that they have further stifled open minded and open hearted criticism.
To quote the Bible 'As ye sow, so shall ye reap'
Goodbye and God be with you to our real friends and supporters.
---
Early April 2013
Statement issued by Saxon Paddock Committee
Official Disclaimer
We understand Saxon Paddock Committee has received a request by Mr John Sinnott Chief Executive Officer of Leicestershire County Council to change the wording on any future posters, 'flyers' information news letters and correspondence where the wording read 'registered as voluntary group with Leicestershire County Council' which up to now had been accepted as merely a reference to this groups registration with the, now defuncted INFOLINX and present 'Connect' run on behalf of three other authorities in Leicestershire as well as Mr Sinnotts County Council.
Mr Sinnott rightly inferred readers, by this wording, might consider SPC was part of Leicestershire County Council or officially associated with the council where quite obviously no such connection applies.
The Chairman and General Secretary wish to thank Mr Sinnott as Saxon Paddock Committee has no desire that any such association with this particular authority is implied against SPC.
---
18th March 2013
SAD NEWS FOR DEMOCRACY IN LEICESTERSHIRE
BECAUSE OF SOME COMPLAINTS SAXON PADDOCK NEWS WILL END ON 1st MAY 2013
It will then become moribund for historical reference only.
---
16th March 2013
As a result of Localisation Act 2011
Saxon Paddock to set up 'Neighbourhood Forum'
General Secretary SPC says 'This wont be an SPC originated or organised effort, it will be entirely independent of organisations or associations - simply of the local people by the local people for the local people'
The aim under the new Act is to deliver a 'Neighbourhood Development Plan'
so at last local residents voices are heard (against those of house builders)
Fine words but SPN will be interested to see what comes out of this .....
---
7th March 2013
Last April was the beginning of months of Saxon Paddock being in effect cut off from Hinckley town - then after we thought things were coming right the council had voted , without considering the consequences as usual, to allow a major disruption whilst another chunk of the town becomes a so called (no, don't laugh) DEVELOPMENT area . In truth this council is so busy running after so called 'developers' to care a damn about a safe place for kids to play !
MORE DISRUPTION EAST OF THE CANAL AS HINCKLEY CLOSES DOWN YET AGAIN - and as for the bus station 'dream' development DON'T HOLD YOUR BREATH!
SHOP, SPEND YOUR EVENINGS, ENJOY SPORT, in NUNEATON - because you wont be able to get into HINCKLEY
YET AGAIN!
Well, at least Saxon Paddock has the one decent bus shelter for WARWICKSHIRE
---
1st March 2013
As works progresses to completion on both the Council's NEW HEADQUARTERS 'HUB' and Work's Dept. is almost ready for the council NOTHING IS DONE FOR THE PEOPLE - NOTHING
SHAME ON THE EXCUSE MAKERS AT ARGENTS MEAD !
Twelve years and still no public facilities of any sort in a community the size of a full village
Proposal from Saxon Paddock Committee for Playing Field site glibly waved aside by council officers ....
Quote from Senior Council Officer " A Playing Field needs to be 'over looked' ......" well they are certainly doing that!!
YET ANOTHER YEAR WITH NO SAFE PROPER PLAYING FIELD
For Saxon Paddock whilst we need responsible action from our Councillors (that's what we elected them for) - the 'token' play areas are simply not enough for a growing generation and nearly 650 homes with well over 1000 residents
WATERSIDE 'PARK' is not a safe play area there are too many cars speeding by small children it's high time the Councillors and Council Officers stopped making excuses for failing our community!
If this council gives us nothing (but 'the bin men') .... we should pay nothing
SAXON PADDOCK SHOULD HAVE A MASSIVE REBATE IF CLARENDON WARD ENDS AT THE CANAL!
---
28th October 2012
WATER WATER .....
A message from the SPC General Secretary
' Until major land owners in our area take responsibility and build decent drains rather than allow water from their land ruin residents gardens, in my view a special local tax should be imposed where it is proved the particular land/property owner is actually responsible through neglect"
However, this should not only apply to private land owners but to councils where rain water through bad road drains is running into residents (tax payers) property.
In lower Coventry road on the south side in particular west of Paddock Way residents suffer both from a poorly drained road partly rebuilt only in 2003/4 - the road surface raised to make a bad situation worse - Leicestershire County Highways is responsible for this.
Water is also entering gardens from the rear and should be properly investigated and corrected now.'
Meanwhile what are the County Councillors doing for these residents - nothing ...
---
A problem which needs to be jumped - on before the Hinckley Council Depot opens !
Harrowbrook Industrial Estate - a new Lorry Park ?
Recent reports to the Police that Stephenson Rd and Fleming Rd are being used as an over night parking area for Turkish heavy container lorries has brought no action, The VOSA has said it's inspector will investigate but 'in the case of foreign registered vehicles can do little' this really shows what a set-up works with the EU in that our drivers are treated worse over seas than we treat other countries drivers - when five vehicles owned by the same firm are parked overnight things are getting out of hand - why do the officials not tell the drivers to use a proper official lorry park - not park blocking access to private companies property.
We have been told SPC is 'pushing this issue for action'
---
1st October 2012
SPC has been told the council is apparently ignoring the agreement that funding under section 106' for recreation provided as conditional on Taylor-Wimpey obtaining approval on the 'Sheep field' (off Nutts Lane (south) will be spent in Saxon Paddock - where this 'development' will take the last 6.5 acre farm field. That would have meant something would be gained by the loss of the green field .....
In a meeting between representatives of SPC, SPRA and Taylor-Wimpey, at the council offices, on 3rd February - with Councillor Bill present, this was easily accepted by the then prospective developer - however, now it seems the Council Planning Dept. - not Taylor-Wimpey - are it seems going to ignore the agreement - another council sell out SPNews asks ?
Also whilst Clarendon Councillors sit on their hands at meetings....
A COUNCIL OF SILENCE
We know it's still the holiday leave season at Argents Mead - but may we , The People, know what's happening so we may get involved and not be told our fate after its decided for us please? The 'Hinckley Council Comic' (so called 'Borough Bulletin') tells us all the 'good news' but never the bad ......
Indeed it's so full of biased pro-council 'everythings wonderful' propaganda it's not worth reading
We know the 'acceptance' vote on the fabled Local Development Framework Policy Document (what goes where regarding house building) originally timed for late 2009 has been deferred yet again to give 'developers' more chance to have their say - never mind the taxpaying residents - where's the 'Liberal Democracy' in that ?
SPC reports they formally invited all three Clarendon ward Councillors to the meeting on Thursday 13th September but not one of them could find the time to attend. Whilst we accept our M.P. and M.E.P's are busy in Whitehall or Brussels - surely local Borough or County Councillors can spare an hour or two ......
---
1st September 2012
It could and should be an housing estate of distinction - to the north it's reasonably attractive, but the south and west -
More weeds than plants to the west and south of Crest Nicholson estate though 'the grass is mown regularly' !!!
When permission was granted in 2000, via a confused Planning Inspector and incompetent Government Secretary of State, the developer made great claims, but surely it's time the borough council were in charge? We are told 'it'll be put right just as soon as the council adopts it' - but just when will the 'Borough to be proud of' (sic) actually do that .....
Buildings completed several years ago - yet still H&BBC Legal Dept. are, it seems, siting on their hands !
WHY IS IT TAKING SO LONG FOR HINCKLEY COUNCIL TO (FULLY) ADOPT WATERSIDE PARK?
Come on Council Officers do the job you're paid for......
'We're working on it' (Legal Dept.) but for how many more years ???
---
29th August 2012
Not so long ago they lived next to a farm field - now c/o Hinckley Council this....
As presented on Tuesday 21st to Planning Committee - though residents at that time had not been informed of new plan or council's 'U turn' .
WOULD YOU WANT THIS NEXT TO YOUR HOME?
Hinckley Planning Officers reckon this 'improved design' addresses all problems and is 'acceptable' - SPN says reject it for common sense sake!
Is car dealer getting 'special' treatment from H&BBC?
When SPC tried to get the former farm field as village/town green the council wouldn't lift a finger to help our community, but it seems they bend over backwards to help present 'developer' get what he wants...
As second 'Crescent' move is made to former North Field After 11th hour 'U Turn' by Planning Dept.
RESIDENTS 'SMELL A RAT' AT TUNGSTEN'
First Planning Dept. in support of residents' quality of life say they reject application then they change sides to 'allow' plan through on the nod!
DEMOCRACY ? WHAT DEMOCRACY? as Head of Planning first gets a vote for 'acceptance by default' then the authority to decide the approval himself!
CAN THE PEOPLE OF SAXON PADDOCK EVER TRUST HINCKLEY COUNCIL ?
Community leaders unite in demand for real fairness to residents
'A Borough to be proud of' - joke
---
19th August 2012
We have been requested by Saxon Paddock Committee to point out that the application (12/00486/FUL) for a large car sales and 'Volvo' dealership right at the front of Tungsten 'park' and right next to the residential area will go before the Council Planning Committee at the meeting beginning at 6-30pm on Tuesday 21st August . SPC General Secretary Rog Parsons asks residents 'to try hard to attend (in the Gallery) and show unity and support for the speaker opposing the plan. It may not affect you directly but we are a community we need to show we'll stand together'.
Both the SPRA and SPC are totally united in opposing this plan.
---
18th August 2012
WHILST SEVERN TRENT' WORK HARD
To alleviate flooded gardens and property in Hinckley - residents gardens between Paddock Way and Watling Street are still flooding - will some 'authority' be shown by the Council and or Severn Trent on this too - at long last ? The excuse it's private land so 'we can do nothing' will simply not do.
We understand both SPC and SPRA are pressing for a permanent positive solution .
---
10th August 2012
IDIOT SPEEDERS BACK IN SAXON PADDOCK!
For two months its been quite pleasant actually living on Coventry Rd in Saxon Paddock , o.k. we missed the bus service and it was a trek to get into Hinckley weaving through Hollycroft estate but for eight weeks shift workers could get some well deserved sleep - we might imagine we'd gone back in history to the 1920's when farm carts and only the odd motor vehicle used the route from the Watling Street to the little town. No houses stood between the Ashby Canal and Watling St. then and only a farm on Nutts Lane
But now the 'boot to the floor' idiots are again regularly ignoring the 30 m.p.h. limit . These are not residents of Saxon Paddock but mindless drivers whose dangerous action should mean a life ban.
SPN has been told the white speed van will not return to Saxon Paddock section of the B4666 until Coventry Rd from the A5 right into the town centre is fully clear for traffic, but that's November , meanwhile pedestrian lives are at risk. These idiots often drive through the red light at the crossing near Harrowbrook' Estate.
SPC will press for the 'speed van' to be sited in Saxon Paddock urgently
---
3rd August 2012
A bit of good news for a change - public transport returns after nearly two months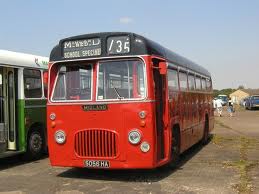 BUSES BACK IN SAXON PADDOCK
As of Tuesday 7th August both StageCoach and Arriva will be running its services between Coventry - Nuneaton - Hinckley - Leicester using again the four bus stops on Coventry Rd
Links to time tables: Arriva StageCoach
---
16th July 2012
Application to build car sales, car workshops large sales area right next to homes!
Application Ref . 12/00486/FUL
When will the council stop making the nails to crucify Saxon Paddock?
TUNGSTEN USED CAR 'Park'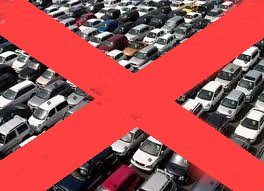 Whilst just over the bridge the former Trinity Motors building fitted out with workshops, spares shop and complete with used car lot, stands vacant but ready for immediate re-occupancy
Isn't this a strong case for the Governments 'localisation' policy where land is mis-used for a new building and display against immediate local interest whilst almost adjacent facilities are already available and accepted and acknowledged by neighbours
Any Planning Committee - indeed Planning Dept. who allow such poor regulation should ask itself if its really earning it's existence!
Graham Bailey , Chairman of Saxon Paddock Committee asks all residents of Saxon Paddock , especially Coventry Road and Waterside Park to write to the council opposing this application which in his words ' .....is worse than the weeds'
---
2nd July 2012
Will Saxon Paddock's Councillors ever keep their word?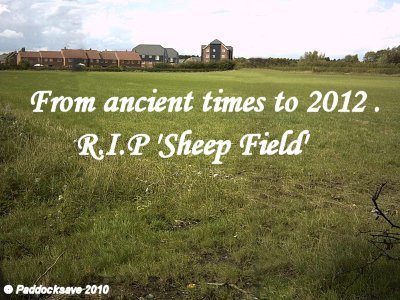 Four applications lost, one appeal lost, so it looked as if the council would stick to their guns until David Bill spoke...
SHEEP FIELD SACRIFICED BY LIB/CONS
'PLANNING' COMMITTEE farce as they change their minds and call black white
WHAT A SELL-OUT
Ward Councillor leads move to sacrifice the 'Sheep Field'
After steadfastly opposing the loss of the last open green space in Saxon Paddock Clarendon councillor thoughtlessly sacrifices it in the most 'about face' comment - reason ? (quote) 'Taylor Wimpey have done their best' - but what about the residents who elected Mr Bill to speak up for them ......
Lib-Dems 'save green fields' policy in tatters
---
25th June 2012
Hinckley' Council Planning Committee in for heavy night tomorrow.....
At the last election the Lib-Dem candidate spoke of 'protecting green spaces' - well we know politicians are known for breaking their word but -for once will the council practice what it preaches ?
First the Northfield becomes yet another building site and eyesore, then former Dog Track 'development' adds to our traffic problems, then we get a KFC forced upon us! - now will the council yet again give in to 'developer' pressure and vote away our last chance of a proper playing field - there is nowhere else !
leave the SHEEP FIELD alone
Will the Planning Committee sacrifice the interests of Saxon Paddock - Yet Again?
Tomorrow evening (item 6) on the Planning Committee Agenda at 6-30pm
Also on the same agenda, application for two storey Squash Club on Tungsten 'park'
'industrial' land ! - not exactly 'labour intensive use .....
more traffic and noise next to the canal though Ashby Canal Association are not opposing (out of sight out of mind ?)
and Council 'Works Dept' Depot on Harrowbrook Industrial Estate (Item 10)
---
3rd June 2012
Bus company cock-up robs an entire community of a bus service

WON'T ARRIVE
IN SAXON PADDOCK
Through a major blunder Arriva in a statement on their web site say: (exact quote)
Coventry Road, Hinckley road closure service 158 diverted
From 6 June 2012 for approximately 25 Weeks there will be some road closures on Coventry Rd in Hinckley. The closures are in place to allow Sewer replacement works to be undertaken safely.
The closures will take place in 2 stages as below:
Phase 1:- Coventry Road will be closed from Dodwells Roundabout to Brookdale.
Diversion: Leicester bound buses will take the A47 to Dodwells roundabout, then take 3rd exit on to Roston Drive, right on to Glenbarr Drive, left on to Brookdale and then left back on to the Coventry road and follow normal route.
Nuneaton bound buses will do the reverse of the above.
Phase 2:- The works are from the junction of Strathmore Road to the junction at Trinity Lane.
During phase 2 we will follow normal route along Coventry Road to Strathmore Road, where we will turn right, then at the roundabout, 1st exit proceeding towards Hinckley Bus Station.
Nuneaton bound buses again will do the reverse of the above.
It is hoped phase 1 will be completed before phase 2 commences. Temporary Bus Stops will be put in place during the time of the diversion and will be observed at all times.
Arriva Midlands Would like to take this opportunity to apologise for any inconvenience caused by this disruption which is beyond our control.
Please note Phase 1 blunder - which we've highlighted - Coventry Road will NOT be closed from Dodwells roundabout to Brookdale but from Sunnydale Rd to Brookdale; no STW works is being done west (Nuneaton direction) of Sunnydale Rd so buses can pick-up and put-down passengers in Saxon Paddock as usual.
SO WHATS GOING ON AT ARRIVA ?????? Will Stage Coach also ignore our area and by-pass us at a time we need public transport most?
SPC General Secretary is pressing for service to be re-instated.
---
29th May 2012
SPC General Secretary's 12 year fight - will nature area be protected at last..
After strong feelings expressed by residents
PETITION TO PROTECT 'THE PADDOCK' HANDED INTO BOROUGH COUNCIL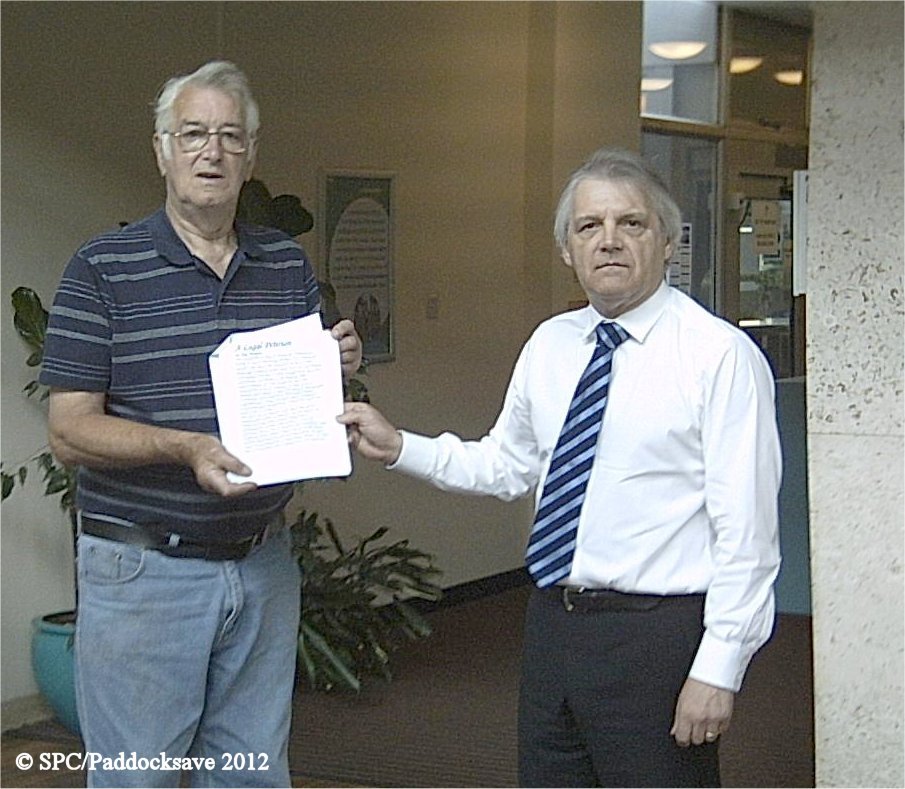 Graham Bailey (Chairman, Saxon Paddock Committee) hands Community Petition in to Steve Atkinson (Chief Executive Officer, Hinckley & Bosworth Borough Council)
---
21st May 2012
Shameful lack of responsibility by Constabulary whilst they join outcry against binge boozing - pure hypocrisy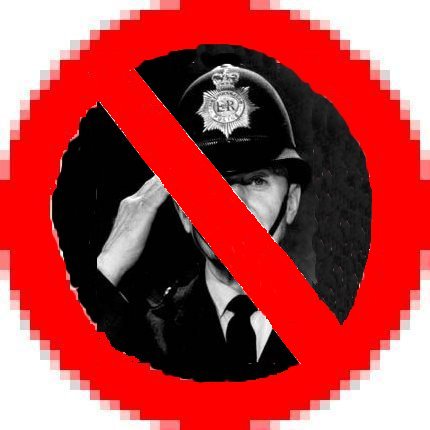 POLICE FAIL TO SHOW (or offer any objection) TO WHARF FARM PETROL STATION BOOZE APPLICATION
It was easy for the applicant to dismiss residents objections and so get 'tank up and tank up' permission at new 'convenience shop' actually on filling station less than 50 metres from Marina and a short walk to local pub
- whilst government are saying restrict drinking, Hinckley Council promotes it !
Only a few yards from an accident black spot .....
---
No Playing Field , No Community Centre, No public facilities but council let the house builders do as they like
SHEEP FIELD threat yet again
Saxon Paddock News Update
It seems Taylor Woodrow/Wimpey (whatever!)
after being told time and time again by residents of the historic problems of miss-use of what was originally a farm cart canal bridge, refuse to accept the very obvious and have now put faith in Councillors denying the outspoken comments previously made when the plan for 84 houses was soundly rejected - or some hopelessly ill-informed Planning Inspector pushed by lame-brain present government 'build houses everywhere' logic .
If the Sheep field goes , the dangers of the too-narrow access canal bridge being ignored. Then in the 130 acres Saxon Paddock only 1.3 acres natural open space will be left - this lack of balanced use of land even goes against present government ruling !
YET THE PLANNING DEPARTMENT HAVE ACCEPTED THE NEW APPLICATION!
The so called 'developer' gets two slices of the cake whilst local tax payers get none
The latest applications aimed quite simply at bullying the Planning Dept. and morso the Planning Committee are :
Appeal against strong earlier rejection of 11/00368/FUL Ref: APP/K2420/A/12/2174133/NWF
New application (basically the same as 11/00368/FUL ) 12/00341/FUL
Please, if you wrote in objecting to 11/00368/FUL you need to write in opposing 12/00341/FUL NOW
No amount of traffic lights and clever timings at the dangerously narrow Nutt's Lane Canal Bridge will prevent the traffic cues and increased incidents of 'near miss' and actual accidents, the continued use of this bridge with considerable added traffic from the Sheep field will bring if the Taylor -Wimpy/Woodrow is allowed.
THERE ARE OTHER AREAS IN THE BOROUGH FOR 84 houses without such problems - let sweet reason govern planning - not panic or threat.
NO MORE HOUSES IN SAXON PADDOCK
---
2nd May 2012
Public Relations ? Again main area Ford dealer alienates neighbours....
Residents angry that neither Paynes Garages or Leicester University bothered to tell them what was going on at the bottom of their gardens
Are these people, paid by the landowner, just going through the motions?
Claim that archaeology dig is 'bogus' by residents
WHY IS LEICESTER UNIVERSITY SPOILING THE 'PADDOCK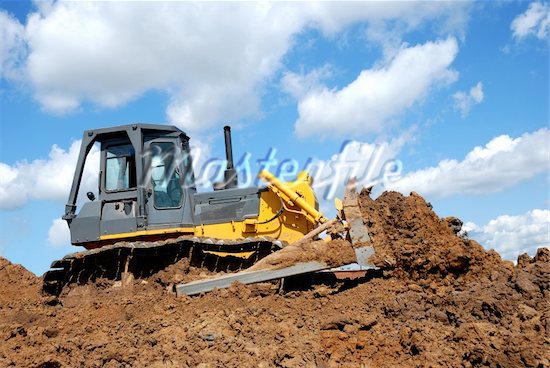 Library picture
Why is this dig being 'staged' if not to ruin a nature conservation site?
we witness the random selection of places to 'dig'
Why was no surface geophysical study (radar type) carried out?
Why is Hinckley Council not asking questions?
Unfair statement? - well tell us whats behind it then...
LETS HAVE SOME HONEST ANSWERS!
NO MORE HOUSES IN SAXON PADDOCK
---
22nd April 2012
2010 - 2011 - 2012 - 2013 .....
Yet a third time the completion of the fabled Local Development Framework document (designed to give some assurance to residents as to what's to be done with open spaces near their homes) is put off - just what are they doing at Argents Mead apart from designing their own new facilities ?
'Half the officers at Argents Mead wouldn't keep jobs in industry through being so slow and inefficient!'
Now comes
DESECRATION IN 'THE PADDOCK'
BY CONTRACTORS OF LEICESTER UNIVERSITY FUNDED BY PAYNES GARAGES AND ALLOWED WITH NO CHALLENGE BY HINCKLEY COUNCIL, STILL IN CONFUSION OVER CO-ILLUSION GOVERNMENT'S NEW COBLED-UP PLANNING LAWS...
What happened to Lib-Dems pledge to protect 'The Paddock' and it's election 'fake sincerity' about protecting green fields when it seems Saxon Paddock's last open green field 'Sheep Field' looks like being allowed after the 'show' of apparent disapproval on the 7th Feb!
Does the present Council have to keep going back on it's word ?
And when will the so-called Planning Enforcement officers do their job here and in other areas of the community of Saxon Paddock?
KEEP YOUR PLEDGE COUNCILLORS!
---
14th April 2012
Complete absence of security blamed for damage and mess
SECURITY ON HARROWBROOK'
NONE!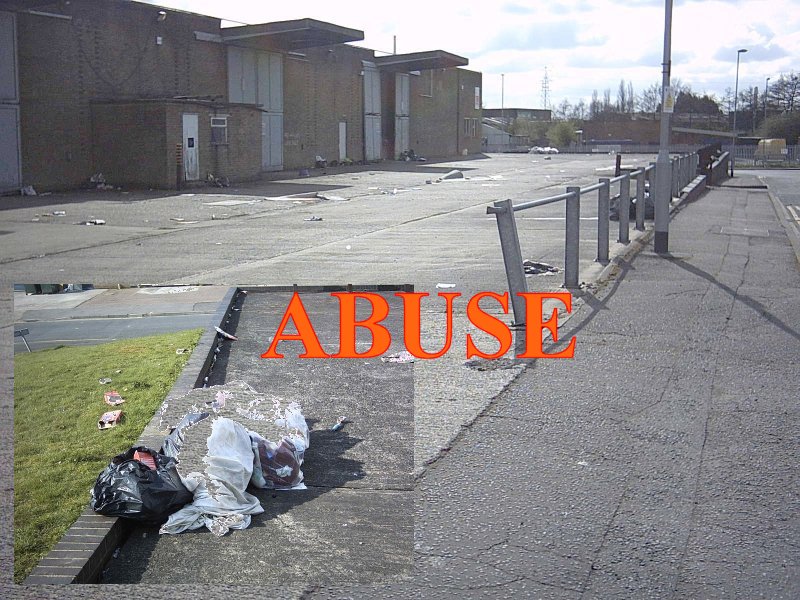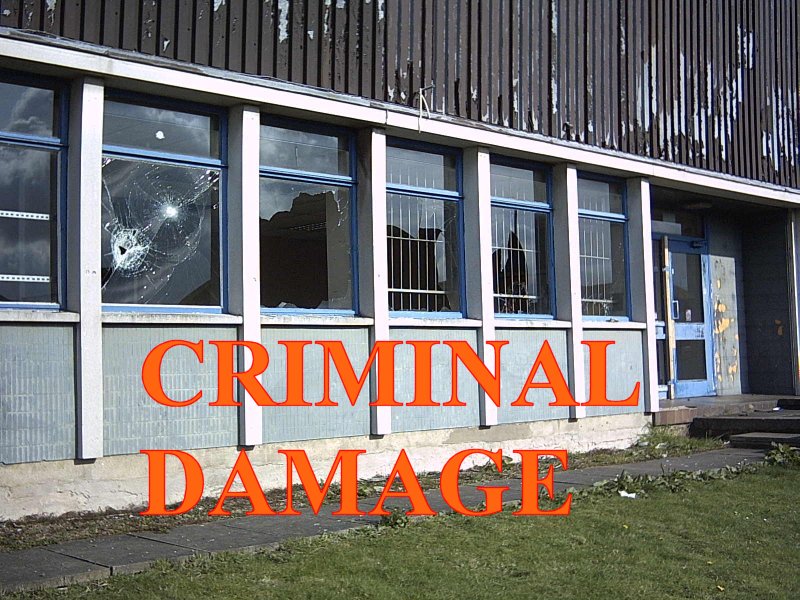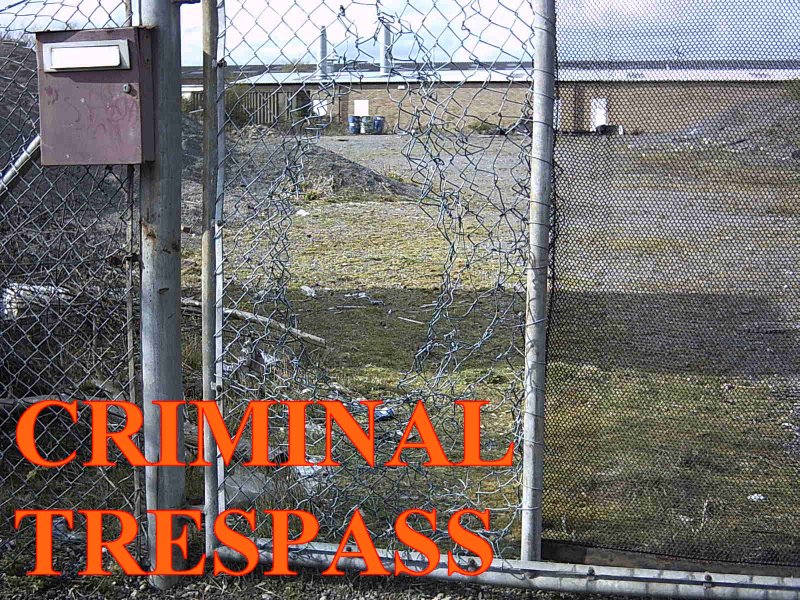 Photos taken by Saxon Paddock News on 14th April 2012 and copyright.
Last weekend 9 'Travelers' caravans were parked at the junction of Harrowbrook Rd and Faraday Rd
Two weeks earlier a car was parked and burned - out , recently a scrap metal lorry, mobile home and car were parked at the top of Stephenson Rd.
NOTHING IN THE PRESS OR BROADCAST MEDIA - WHY?
Months back containers of hazardous chemicals were dumped on the estate, only discovered by a dog walker!
putting up security firm notices without providing security personnel is ridiculous
Legal Note: The events stated above may have no connection and no connection should be construed; SPN is merely using the fact these things happened to illustrate the obvious serious insecurity of this trading/industrial estate.
---
7th April 2012
The 'Oliver Twist' Council
As anti - council feeling mounts and opposition to council depot grows
Prominent resident declares 'They [the council] act like a small town council not a Borough Council '
While Council crow over its fabled town centre bus station re-development, over the canal bridge live the 'forgotten people' SPN highlighted over 4 years ago and no action to put this right from alleged crumbling 'Argents Mead'
In response to latest talks with 'officers to attempt to get a proper Playing Field (well it would be a start at least) Saxon Paddock Committee was asked to provide 'a business plan' !!
Gen.Secretary says angrily 'They are busy spending tax payers money on the old Fludes factory for themselves , Middlefield Rd will get shut of them, but Saxon Paddock where they won't provide any social facilities for the residents has to have their garbage vehicles etc, where's the fairness and Liberal Democracy in that ? They talk but do nothing for us. If they expect sincere acceptance of their Depot the concomitant traffic and obvious extra noise we must have some real action from them on the three issues , The Saxon Paddock protection, a proper team sport Playing Field and a small but worthwhile Community Centre - we have put forward solutions and sites but they need to do their bit as a proper public authority'.
---
29th March 2012
SEVERN TRENT ROAD DIVERSIONS - WHAT AWFUL TIMING!
In Jubilee Year (street parties) and Olympics year
Severn Trent Water digs our roads up!
Gee thanks guys .....
(see our sister site for details)
but then who needs this !
---
25th March 2012
NEW COUNCIL DEPOT
OFFICIAL PLANNING APPLICATION TO BE SUBMITTED ON Friday 30th MARCH
North side Coventry Rd residents (391 to 485) must be protected from estate noise
Borough Council should take over 'tree screen'and bund to maintain the 'natural boundary requests Saxon Paddock Committee
In a move expected to invite some opposition at their AGM in April members of SPC are asking the council not only to ensure proper sound reduction at the rear of their new depot in Fleming Rd but to ensure the sound reducing fencing replaced by 'security fencing' further east of their proposed depot be reinstalled as was in 1973 to ensure as little as possible noise upsets residents who already suffer with noise from main road traffic.
Gen. Secretary Rog Parsons - 'With week-day traffic on Coventry Rd in Saxon Paddock increasing to a level much higher than when this 'B' road was the 40 m.p.h. A47, residents on both sides need at least quiet back gardens, I've lived here 37 years and the changes have never been to the benefit of residents ! The Council, as a basic policy, must balance traffic considerations with those whose home lives are directly affected - and often spoilt - by it.
A quiet back garden should be a legal requirement.
If you have views on this, contact us at englandnow@ntlworld.com
you may also tweet or go to Saxon Paddock on facebook
---
15th March 2012
HINCKLEY COUNCIL MOVING TO SAXON PADDOCK !
A development perhaps we can welcome ......
For some time the practicalities and impracticalities of the Borough Council's Works Dept. based for many years in Middlefield Lane with poor access and lack of space have been a problem , it is considered their new base on Harrowbrook Industrial Estate providing residents on the North side of Coventry Rd are protected from noise and disturbance - they already have enough from the B4666 - will be an improvement and asset but SPN has been told by the General Secretary, Saxon Paddock Committee with a wry smile 'We'll be watching them'.
Residents of Coventry Rd (particularly the North side) Saxon Paddock were invited by the Council to an exhibition, featuring plans of the new base, at the Marina Brewers Fayre (upper gallery) on Tuesday 13th March between 4pm and 6-30pm.
Plans will be shown shortly on the rsahinckley web site if you have any questions please phone Michael Brymer at the council on 01455 255852
---
19th February 2012
From the SPC General Secretary:
We have been given to understand more 'housing development' is to be proposed to Nuneaton & Bedworth Borough Council with the 'strong possibility' this will be off the Long Shoot, some being east of the (Warwickshire) Harrowbrook. Whilst being outside Saxon Paddock, this urbanisation south of the Watling Street on what was once fabled as 'green belt' has to be opposed both for nock-on traffic problems and nature conservation issues. No details have yet been released . Be assured SPC will maintain contacts with Wolvey and St.Nicholas on this situation. As soon as more information is available for publication we shall tell you. RP.
---
7th Feb 2012
Councillors support those who saw the canal bridge 'red-red' plan as a pedestrian nightmare
SHEEP FIELD SAVED!
In a vote against the Planning Dept's recommendation and for rejecting the application of Taylor-Wimpey 9 votes for, 8 abstain
'Pity it wasn't unanimous' says SPC Secretary.
NOW WILL THE COUNCIL MOVE TO MAKE THE 'SHEEP FIELD' A PROPER PLAYING FIELD FOR SAXON PADDOCK?
Or will they let this sad story of failure of a community continue .....
---
29th January 2012
More of this or this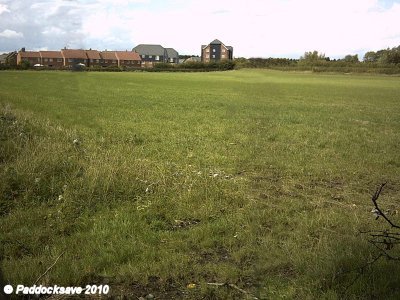 (photos by kind permission of copyright owners)
Planning Application 11/00368/FUL 'Sheep field' off Nutt's Lane (south) to be decided on 7th February...
Remember Leics. Highways Department last Spring (in a rare show of common sense) rejecting the developers silly and unworkable proposal of a 'red-red' pedestrian period on the traffic lights at Nutt's Lane canal bridge - well it seems the wind has changed so now Highways rather than properly widening the canal bridge footpath to the legal 1.5 Metres minimum or properly , permanently 'pedestrianizing' the bridge have done a complete about-face and now are in favour (!) of the 'red-red' period when traffic from both sides will sit, build up into cues of impatient rat-runners whilst pedestrians who themselves have had to cue to walk along their own lane are 'allowed to cross' not of right of way but by cynical courtesy of a County Council ignoring it's own CROW Act 2000 provisions and public 'Duty of Care' rules.
This farce will end in a tragedy
Unless on Tuesday 7th Feb our Councillors throw out (not defer or refer back but
THROW OUT THIS POTENTIALLY DANGEROUS APPLICATION
for the final spoiling of our green fields in SAXON PADDOCK.
REJECT COUNCILLORS - FOR GOD'S SAKE REJECT!
Let the 'Sheep field' remain as a public amenity for all to enjoy - and make the 200 year old conserved canal bridge a local attraction not a mess of modern muddled thinking.
---
1st January 2012
200 year old conservation area bridge should be 'feet only'
Senior Councillors support Saxon Paddock's call to close canal bridge
But Council Cop -Out on Nutt's Lane
'A BRIDGE TOO NARROW'
Planning Committee, after being told they literally had 'no option to reject', forced to merely defer decision on Sheep Field
One after another Planning Councillors speak against dangerously narrow canal bridge, which back in March the Saxon Paddock Committee asked to be closed to traffic and pedestrianised but Highways Dept. refused without giving a real reason......
Whatever happened to David Cameron's 'localization' policy????
TIME FOR HINCKLEY PEOPLE TO BE FREE TO MAKE HINCKLEY DECISIONS
Meanwhile no Playing Field in 130 acres, no Community Centre for over 600 homes, no social facilities at all for over 1000 people in Saxon Paddock...
SHAME ON HINCKLEY COUNCIL
But even if they had the choices would they continue to favour only certain areas like Hollycroft ?
---
29th October 2011
Call for Public Meeting after 'Pointless' discussion
LEICESTERSHIRE HIGHWAYS 'AUTHORITY' (!)
'DIGS IT'S HEELS IN' ON CANAL TOW PATH SCHOOL WALK
and Senior Officer claims '160 [more] cars on Nutt's Lane wont make any difference'
At a meeting with Ward Councillors, SPC representatives, and Borough Officers on Thursday 27th the two Leics H.A.deligates first tried to dictate the discussion was NOT about Nutt's Lane (!) but the upcoming 84 house development right next to the canal bridge - directly opposite an increasingly busy industrial estate, the two gentlemen went on to suggest, quoting their 'consultation document' that it was acceptable that small children walk in summer and winter along the slippery Ashby Canal bank on a 'dog leg' journey to Westfield School via the bridge on Coventry Road adding 1/5th mile to their journey rather than simply walking the direct route over the Nutt's Lane canal bridge - This, so the 'Authority' might keep the risky very narrow bridge open to 'rat-runners'.
'If a substantial development with many children , old folk and at least 160 cars is to be even considered here, first Nutt's Lane the roadway, pavements and Canal Bridge in all reality must be sorted out ' - SPC Secretary Rog Parsons.
There is simply no room for pedestrians to cross the bridge safely as long as vehicles hurtle over it!
STOP The 'Rat Run' - PROTECT Pedestrians in Nutt's Lane.
---
Oct 21st 2011
NOW OUR MEMBER OF PARLIAMENT STEPS IN !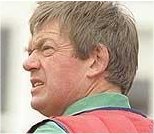 In a visit to see for Himself, Mr David Tredinnick M.P. for Bosworth spent an hour today with members of Saxon Paddock Committee inspecting the canal bridge and Nutt's Lane. Further meetings are planned involving Saxon Paddock Committee, Hinckley & Bosworth Borough Council and Leicestershire Highways Authority.
Though tentative plans are to place the Taylor-Wimpey Sheep Field planning application (11/00368/FUL) before Hinckley' Planning Committee on the 15th November this is by no means a firm date.
Many questions need to be answered before any further applications onto Nutt's Lane can be considered!
---
October 2nd 2011
CLOSE THIS DANGER BRIDGE NOW !
They were given the answer in March , recent temporary closure of Nutt's Lane proved the reasoning.....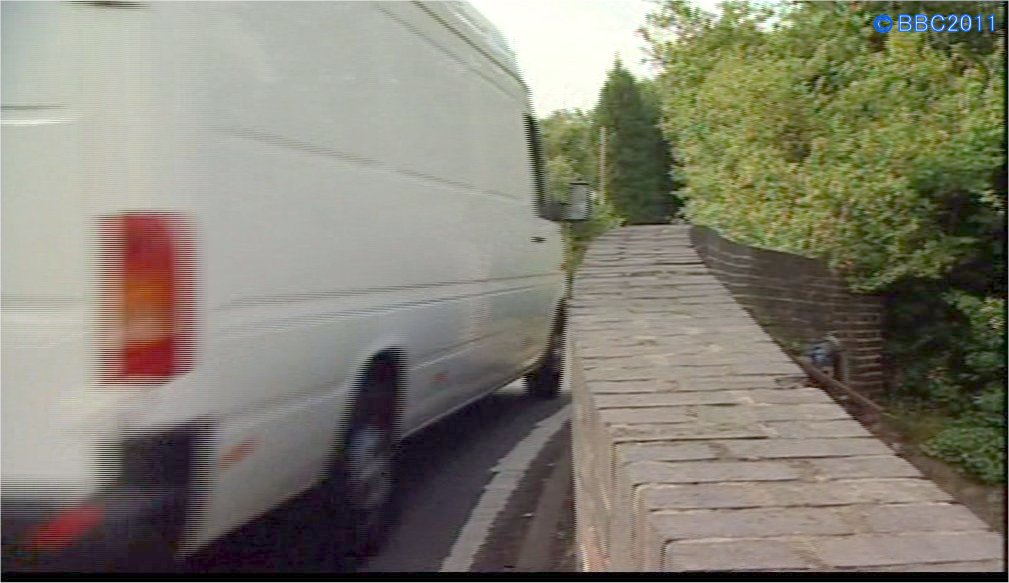 vehicle crosses narrow unsuitable bridge on Nutt's Lane at speed!
Taylor -Wimpey 'Sheep Field' development still held up
DEFERRED YET AGAIN and no information from the councils
Original proposal by SPC for closing canal bridge to vehicles vindicated - both Hinckley and Leicestershire Councils know it makes sense but continue to push (so we understand) for a ridiculously expensive separate footbridge , continue to allow a very dangerous situation -
WHATEVER HAPPENED TO 'DUTY OF CARE' and common sense ?
Saxon Paddock Committee Secretary angry at the 'we know best' attitude of Leics Highways Authority 'What authority are they showing by refusing the obvious ? in ruling out in ignorance everything but their own views!'
and ignoring the publics rights
---
What are they playing at in Tungsten 'park' ......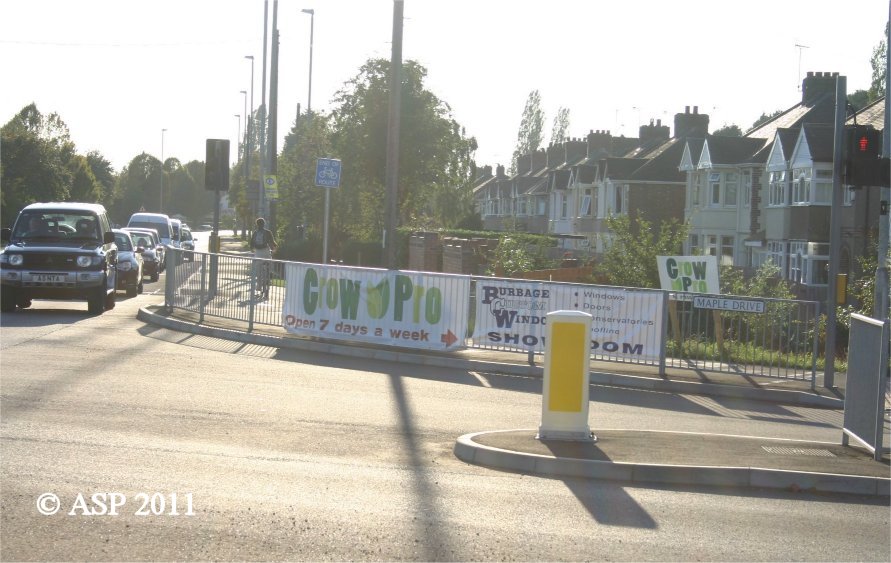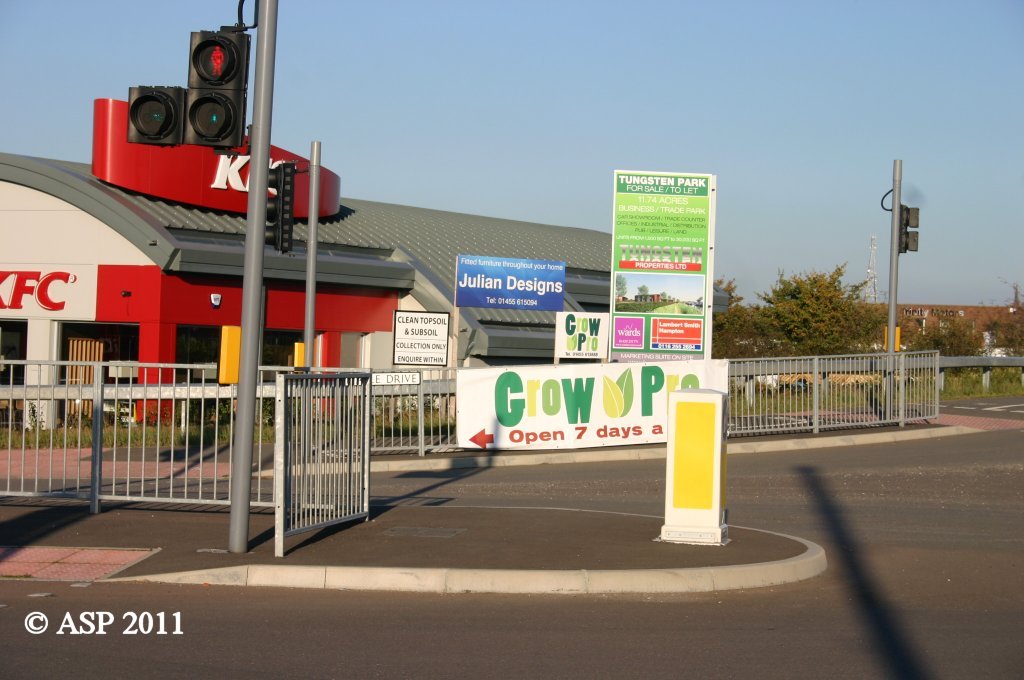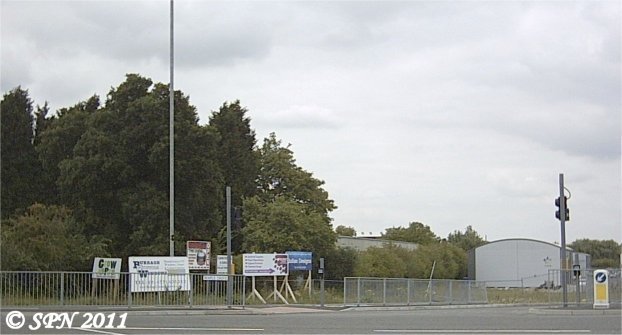 First 'Tinker boards' then banners strapped (illegally) to barriers - come on 'Mr Tungsten' there must be better ways!
Or is the plan to upset residents as much as possible ?
---
September 5th 2011
The Council , like the Government says it wants to bring the people in on the decision making, but fails to match election words with action .....
NUTT'S LANE :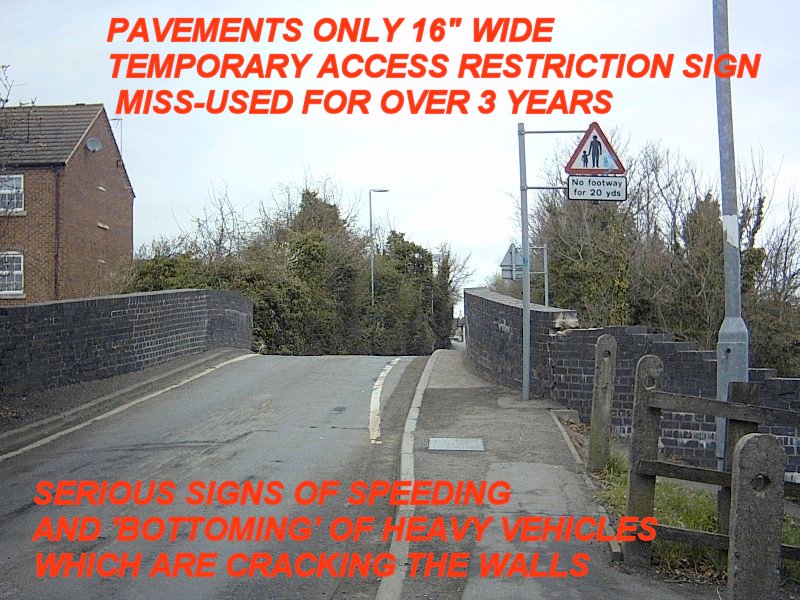 KEPT IN THE DARK - OUR PROPOSALS IGNORED
WHY DO THE COUNCILS EXCLUDE RESIDENTS FROM TALKS?
We are told we will be informed AFTER the decisions are made by those not even elected by us, not affected by the decisions, not even living in Hinckley !
Twice Saxon Paddock Committee has asked that local residents be included in discussions between the Borough Council officers , County Council officers and prospective developers of the Sheep Field but we have received no reply from any of the parties involved.
Our Ward Councillors can not be included in the talks as two of them serve on the Planning Committee and must remain unbiased and neutral.
Only Saxon Paddock Committee can represent the interests of the local people of Nutt's Lane - but the council officers say nothing apart from telling us the County Council want to spend £1000's of tax payers money , during a period of recession when essential services are being cut to save money, on a quite unnecessary pedestrian bridge running next to flats on Whitworth Avenue , compromising privacy and security of the residents .
In March SPC proposed to Hinckley Council a solution to the safety issues of Nutt's Lane was to make the narrow and potentially dangerous traffic 'rat-run' abused canal bridge pedestrian only , remove the throttle point on Nutt's Lane (south) and improve the roads.
This was put to Leics Highways Authority officers who without any form of discussion or consultation -
threw it out!
Saxon Paddock Committee informs SPN that they are currently 'after waiting for some sensible response from either Hinckley or Leicestershire Councils preparing official complaints based on their [SPC] exclusion from the discussions and withholding of information of both councils on this very important issue, involving not simply a proposed planning application but failure by the authorities to address or apparently even recognise a future chaotic traffic situation on an unclassified lane.'
---
1st August 2011
Final step to Ghetto c/o Hinckley Council?
Despair of Residents Group as final green open space seems lost
SPC Chairman condemns council 'toadying' to out of touch Westminster-
'future generations will despise our thoughtlessness and near sightedness'
When will those at Argents Mead stop bowing to central government diktat on housing?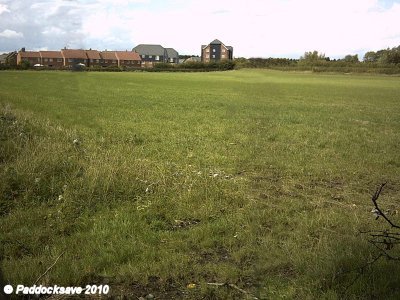 the 6.5 acre sheep field
'Sheep Field' final green field to be sacrificed to council unreason in only 2 weeks
Fifteen days to common sense or lunacy and it's entirely up to
Hinckley & Bosworth Borough Council
no other authority, government body or county council department , the Councillors we elected to look after our interests sensibly must decide
We have houses, no shops, no community centre , our children no safe playing field - just more and more houses plus a semi-derelict industrial estate.
That's what former councils, by their illogical voting, gave us - will this council continue the sad old story ?
A mean decision on the 16th will give our area of Saxon Paddock a poor future...
---
20th July 2011
Part ruined industrial estate, 'no' to playing field , traffic cues from Watling', over development of housing, a potential 'death trap' Nutts Bridge ....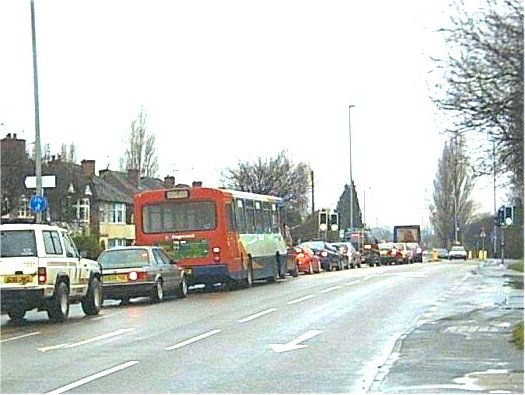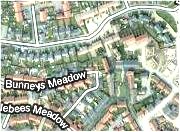 can you spot the odd one out ?
ISN'T IT TIME HINCKLEY SHOWED SOME DECENT FAIRNESS TO SAXON PADDOCK ?
'A Borough to be proud of '- where?
Claims of the Council 'breaking it's own rules'
Planning officers are 'cherry picking' Local Development Framework' play space provision regulations to suit themselves and depriving children of a playing field in Saxon Paddock to pay leisure space monies obtained from developers in Saxon Paddock to Langdale Rd Recreation ground instead, are strings being pulled to favour certain areas against others ?
SPC Secretary complains bitterly :
'We proposed three areas, as well as the Sheep Field western 2 acres, to the council - they found excuses to turn each down , one refusal yes but three refusals stinks, meanwhile we are told monies from a development to be 'passed' in August (yet another council sell out of our countryside) will not be used in our area for our people - but Langdale Rd Recreation ground ; we get the houses the extra traffic and population, loose the countryside but Langdale Rd gets the benefit. My attempts at a meeting with senior officials also gets excuses - this council should be investigated.'
Fairness goes out of the window at Hinckley & Bosworth Borough Council !
Remember we offer both Councillors and council officers the right to reply to items printed here......
---
1st July 2011
A Borough to be proud of ?? - you cannot be serious........
LATEST IN 'NUTS' LANE
After 'Railway Cuttings' , oh sorry 'Canal Reach' - that doesn't reach the canal
Comes 'Sheep Field Cottages' 84 more (!!) houses located near the canal, but just over a potentially 'dangerous' cracking-up bridge , no shops, no pub , no community centre or proper playing field - no facilities at all , not even buses . Of cause the Planning Officer (!) will recommend it be passed - well its houses and nowhere near Leicester Rd ....
At least folks living in a proper village have some countryside to look at, but not here
Our advice to potential residents - Yorkshire Dales are nice ........
---
24th June 2011
A Borough to be proud of ??
Fairness - not simply looking after the 'posh' side of Hinckley.......
'This Council will be damned if it doesn't stop protecting green space off Leicester Road but condemning Saxon Paddock and other areas to no green space at all, the bias and favouritism must stop' (SPC Secretary)
meanwhile, whilst our last open green field of only 6.5 acres is at risk, in another part of our Manor ....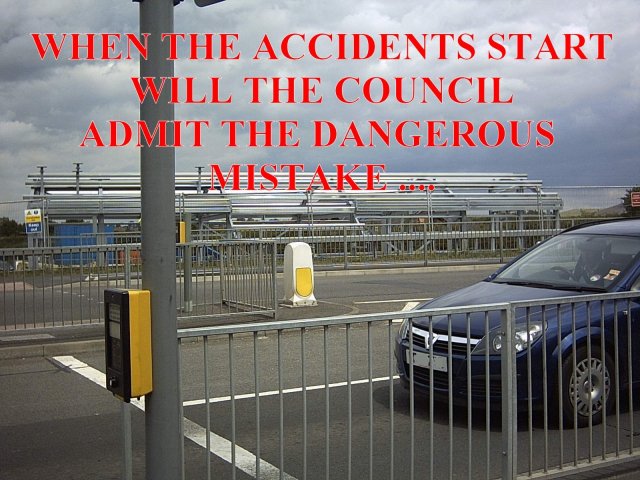 kfc framework goes up
Yet another planning disaster takes hideous shape on so called 'Tungsten Park' providing only a hand full of jobs (mostly part time only), traffic accident problems, risks of moldy food contaminating canal and poisoning wildlife, reduced quality of life to residents near it - but our inane Councillors passed it - well its nowhere near Leicester Rd so that's all right ...........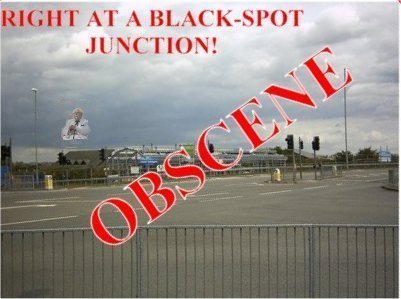 We ask all Saxon Paddock residents to boycott Tungsten 'park' or Marina Court or Maple Drive (pick any name - same place!) until they clean up, start planting and make this dump look acceptable
its in their own interest.
---
1st June 2011
those we elected return our respect with an insult
The First move by the 'new' council is a refusal against the people!
Whilst they earmark £M for spending on new council buildings for themselves they meanly refuse £80 for two name plates for Saxon Paddock - 'tight' , this council invented the term....
But SPC Secretary angrily condemns apparent hypocrisy by senior officers and (what seems) total silence from Clarendon ward Councillors
'I believe far from wanting to help our area they now resent us for standing up for ourselves after the Councillors let us down so badly with the KFC etc, we were talking with them [senior officers], making progress, but since mid April it's as if strings were being pulled to prevent or delay further progress - we have a strong suspicion whom is behind it'.
---
28th May 2011
'...it takes a couple of months to sort out a new council' SPN is told (off the record) so as questions remain unanswered ....
No 'joined-up' council at Hinckley
It would seem sorting out the Councillors after each election takes longer each time
so decisions which normally go at a snails pace anyway
- come to a halt!
meanwhile important officers are 'on leave' and getting information is like asking for a miracle - no wonder less than half of us voted
latest thing at Argents Mead if you phone in, as well as 'music' you get now a cue count-in! A bit rough if you're in a pay-phone...
NO STATEMENT ABOUT ALL THE WONDERS THE NEW COUNCIL HAVE IN STORE FOR US - NO IMPROVED POLICIES - NO AIMS TO MAKE OUR LIVES BETTER -
No increase in Democracy and listening to the tax payer from the so called 'Liberal Democrats'
No promise to conserve rather than destroy from the so called 'Conservatives'
its a damn shame that those who do want to make their area better are given such poor support by those elected to help them but ..
NOT A WORD SINCE THEY GOT BACK IN.......
---
15th May 2011
Lib-dems (18) loose key seat - now knife-edge with Tories (15) and Labour (1)
COUNCIL ELECTIONS
voters stay at home then grumble at outcome of pole
NEW MOVES FOR PARISH COUNCIL FOR
SAXON PADDOCK
after shock Clarendon vote dominated by Holycroft, three councillors who don't even live in the Clarendon ward elected by only 37% turn-out , those who did bother to vote feel let-down; '... we need local people representing us' (Resident) but SPC Secretary says 'Turn out was abysmal and result misleading'
in that case
WHO ARE THE REAL LOSERS?
the Voters!
---
9th April 2011
Built simply as a farm bridge for hay wains and such in Dr. Nutt's day
THIS BRIDGE MUST BE SAVED
protected and listed by Hinckley' Council
but heavy vehicles are detroying it !!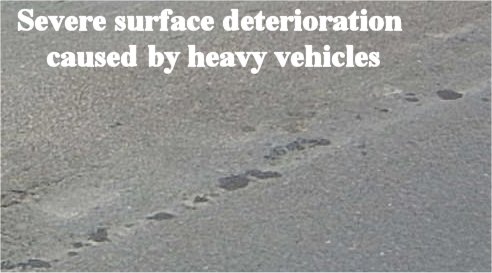 Some might say pull it down - who pays the £M for its replacement ?
Its loss would deprive Nutts Lane (north) residents of access to the canal - though the County Council says people should not walk over it !
It can't hold up much longer, it's not wide enough . Nutts Lane is not suitable and should never have been used for industrial estates but the County Council Highways seem unable to see the obvious and Hinckley planning committee seem frightened of them .
---------------------------------
In a radical move to protect the bridge and restore the residential nature of northern Nutts Lane without cutting people off from the canal or south Nutts Lane the Saxon Paddock Committee put forward a plan, part of which involved the bridge becoming a north/south cul-de-sac for vehicles, but with full through access for pedestrians.
Instead of a hair-brained plan by the Highways Dept. Leics CC to place yet another set of traffic lights at the Wharf -Nutts Lane/ Coventry Rd (after Tungsten you'd have though even Croft/Glenfield had more idea than that - ) the SPC plan would reduce traffic into out of Nutts Lane (north) from Coventry Rd indeed only residents vehicles and visitors to the residents will make life a lot easier for people.
The south Nutts Lane, including the Sheep Field development if completed, will have access straight onto the Watling St.
WHAT DO YOU THINK ? Especially if you live along Nutts Lane ?
Any emails sent in will be (if permitted by the sender) shown on the web site http://rsahinckley.tripod.com
---
Given permission to access their building site (temporarily) from Nutts Lane by the Council
BUT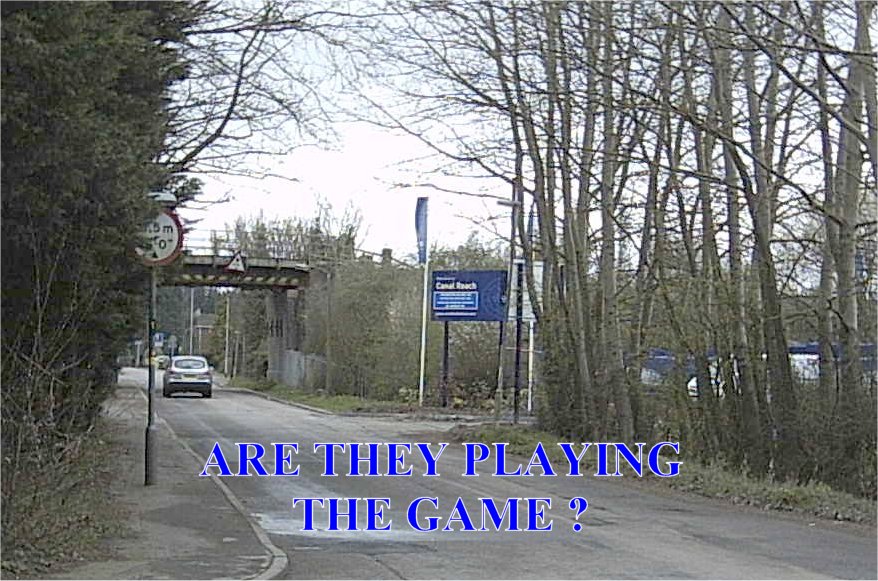 Three months ago our photographer took this of the presumably 'heavy plant only access ' ?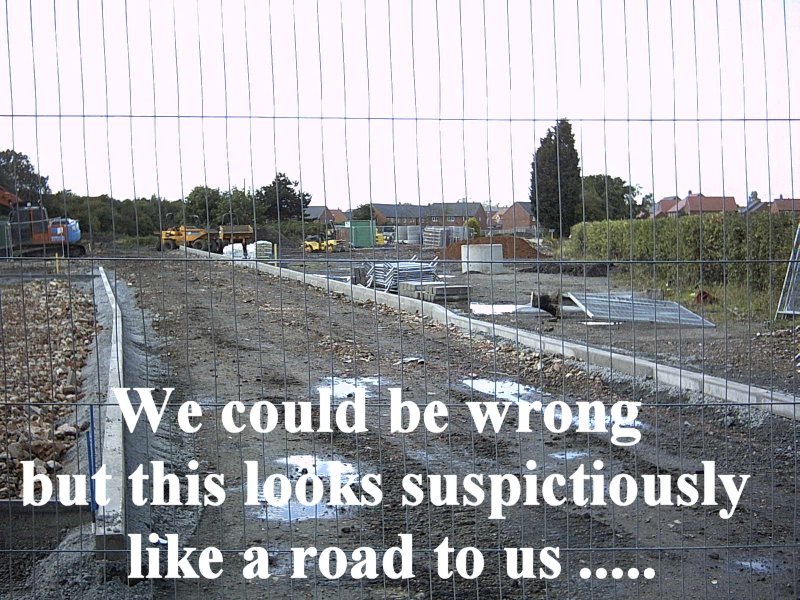 Yet the developers approved plans show thus ....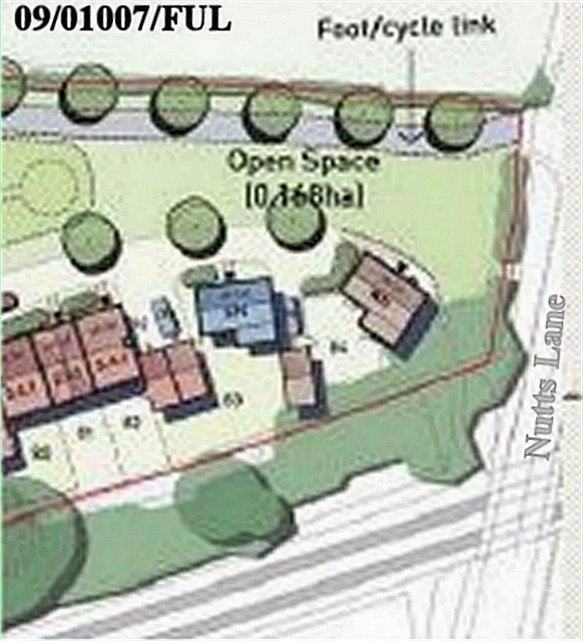 Jolly good foundations for feet and peddle power !!!
Perhaps the elusive council planning enforcement officers might take interest ?
---
27th February 2011
Borough Council Elections 5th May, Will they go out with a bang or a whimper
Our 'Sheep Field' is threatened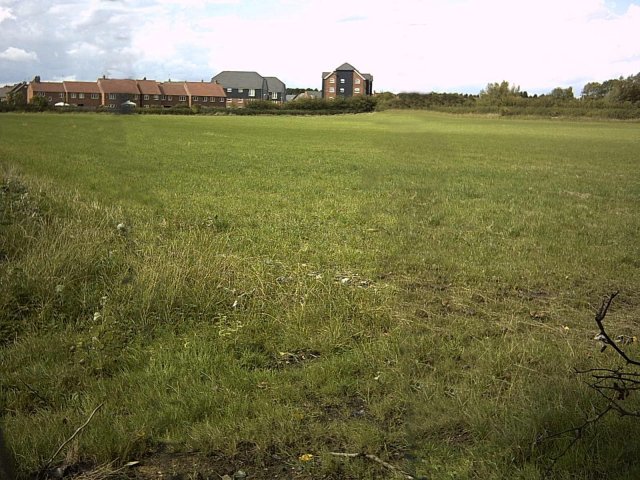 'breathing space'
First ugly Waterside flats, then Tungsten' mess now houses right up to the tow path!
When will the Council Planning Dept. say NO ?
The sheep field with Nutts Lane to the East.
Is the canal (laughingly called a conservation area) to be spoilt further .....
SPC SECRETARY ASKS FOR DETAILS FROM 'DEVELOPER'
Will the council do another 'u' turn so the last green field in our area is destroyed?
First Taylor - Wimpey hold an exhibition about it - in Burbage (!) and only tell ward Councillors, now they are holding an exhibition just outside our area after sending out invitations mainly in Hollycroft....
ARE TAYLOR - WIMPEY really serious ? - do they really know where Nutts Lane is and how narrow it is.......
Will Hinckley Council - or is it Leicestershire Highways Dept - allow yet more traffic onto Paddock Way ?
LOCAL RESIDENTS CAN HAVE THEIR SAY TO TAYLOR- WIMPEY on SATURDAY 5th March at St. Johns Church between 10am and 2pm.
---
2nd February 2011
"downsize should have been 100%" says resident
KFC 'downsize' ok'd but traffic problems ignored
Little serious analysis of plans by councillors - no understanding of residents fears shown as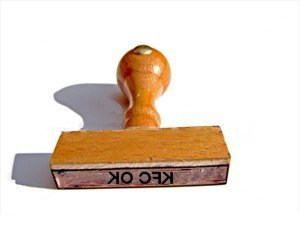 THE RUBBER STAMPING GOES ON IN THE CHAMBER!
Visitor from another Borough complains of no real discussion and a sense of ignorance of serious matters on Planning Committee which 'follows officers advice hardly without question'
'oh no that's not true' - sometimes they ask what item's being discussed ..........
---
28th January 2011
'Downsize' Latest ---
The Application to save KFC money only weeks after the 83 seater 'drive through restaurant' got thumbs up from Councillors who didn't want it in their wards thank you very much - dump it over the 'cut' - goes before the same sellout crew on Tuesday (1st Feb) evening at 6-30pm ..... but will residents be there in the gallery to support objectors or will they be not bothered?
Application 10/00695/FUL 'rubber stamped' by Hinckley Planning Dept becomes 10/00992/CONDIT - might fool the Councillors but not us
When a Tungsten 'downsize' is not a downsize
Well it's still the pantomime season so will the next meeting of the planning councillors on the 1st February be a question of " oh no it isn't - oh yes it is -oh no it isn't....."
The application for what seems to be an improvement of the Kentucky Fried Chicken outlet and outpour of traffic right at the Long Meadow/ Coventry Rd junction might mean less full time jobs but will mean rather than the 83 seats (who were they kidding?) the 53 seats 'drive through' restaurant will concentrate more on the 'drive through' - less , much less, on the restaurant. So rather than making the 'development' more acceptable to Coventry Road residents, it will make it worse - however, the big problem customers might not return over, despite all the promotion planned, is the wait to get out having cued to get in
"Look behind you.........."
---
11th January 2011
As England hears nothing but bad news from Whitehall , Saxon Paddock gets a New Year token of hope from The 'Mead....
OUR NOTICE BOARD is here!
SPC Secretary's joy at move to keep our people fully informed
Though County Council does nothing about Coventry Road to A5 tail backs...
Lets for once hope the Borough Council doesn't let us down
HINCKLEY COUNCIL KEEPS ITS WORD
New fence for north side tree screen area of Coventry Road/ Harrowbrook Industrial Estate
And at last our own public notice board.....
We ask is this a sign of better Borough Council co-operation in 2011?
Now will they help us get our recreation field ?
---
27th November 2010
County & Borough Councillors Bill, Wright and Borough Councillor Lynch attend but
Councillors 'take notes' - but has the fire gone out........
At the Special Meeting arranged by Saxon Paddock Committee on Thursday 25th November it seemed the previous drive by County Councillors to get extra measures at the Tungsten' Long Meadow Drive cross roads had dissipated after Councillors were in a meeting with County Council officers (Highways Dept.) on the previous Monday. It also seemed the Borough Councillors were talking 'over the heads' of residents in not facing the risks to the remaining open green spaces in Saxon Paddock - even The Saxon Paddock itself. There seemed little shared opinion between the Councillors and the Meeting and The SPC Secretary whom chaired the meeting was very obviously in some difficulty in getting the Councillors , due for re-election in May, to act positively. This coming so soon after the failure of these ward Councillors to get the rest of their council to reject the KFC and accept the inevitable concomitant problems of such senseless projects, was not a good indication of the Councillors knowledge of the area - indeed at one stage it took minutes for the representatives of the area to understand the location of the 'sheep field' let alone it's value to the residents as possible recreation area. It is to be hoped the SPC , if the Councillors fail , will itself directly achieve results on the various issues in Saxon Paddock. (© 2010 Paddocksave RV)
SPC Secretary A/C comment: " I earnestly hope at least some moral commitment was made by the Councillors [attending the meeting] but I am disappointed that there does seem some reticence on their part to push forward to balance what they [ the Borough Councillors] have gone all out to get for Hollycroft, with help for Saxon Paddock - the only 'parks' this council have given us are housing estates and follies of bad industrial estate planning - they still wont tell us when we'll get our £82,000 they miss-used out of our area, back for our peoples benefit"
---
19th November 2010
After Council Cop-out on KFC, public fears on road safety and crime increase...
SPC organise public meeting on 25th - fears of Coventry Road becoming a 'rat run' and KFC car park being abused
Because of increasing fears of 'unwanted factions' being drawn by fast-food outlet (as experienced by other similar inappropriately sited ventures) requests for special security, traffic control and extra policing
SPC Chairman's letter ignored by KFC boss!
This could have all been avoided had Hinckley Council enforced original planning permission as 'no food outlets' and Tungsten as 'mixed small industrial'
The only retail was to have been daytime only car dealers!
Despite pious statement in Council chamber, senior resident still maintains his claim of 'bias' by planning officers.....
---
6th November 2010
Angry motorist forced to turn back after insufficient signage for road works
COUNTY COUNCIL COVENTRY ROAD COCK-UP
On the second weekend of disruption and upset to residents and road users of 'lower' Coventry Road, Leics Highways botch-up coning-off so that a stream of Warwickshire bound traffic is forced to turn after driving 100 metres on an un-coned-off closed road to be greeted only then by 'road closed' signs.
SPC complains that no 'residents access only' signs were displayed and a 'closed road' was not adequately coned off. People complaining were not allowed access to Officers in charge !
NO WONDER THE LEICS. HIGHWAYS DEPT' SAYS COVENTRY ROAD, HINCKLEY 'IS NOT A TRAFFIC PROBLEM AREA' - which Coventry Rd Hinckley do they mean?
Is County Hall on a different planet ------we wish!
---
2nd November 2010
KFC APPLICATION LATEST..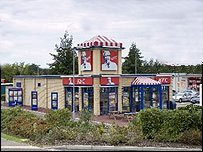 Was it a done-deal ?
Motion to reject KFC by Councillor Joyce but ' as long as its not in my ward' Councillors fail to support lower Coventry Rd petition and despite impassioned request by senior Councillor Bill not to pass it ........
HINCKLEY COUNCIL ALLOW MORE RUBBISH IN SAXON PADDOCK
While shameful lazy Leics Highways Dept. can't be bothered to do their job properly
KFC POLLUTION GETS Planning officers of the hook - claims of bias by resident......
as planning officer reads out to meeting serious accusation of bias and malpractice and senior planning officer warns committee of 'difficulties' of objecting, County Highways Department don't even bother to look into the case properly and evidence against application 'goes missing' at County Hall ..........
RESIDENTS TREATED WITH CONTEMPT - YET AGAIN!
COUNCILLOR ASKS 'WHATS THE POINT OF A PLANNING COMMITTEE' AT HINCKLEY?
SPC Secretary says ' I'm ashamed of the borough and Leicestershire '
BUT will this venture fail like the rest of this rusty 'park'......... or worse
Will Col. Sanders put off other firms?
Could security issues stop other business on 'Tungsten' ......
concern by Police that 'anti-social elements' may be attracted.
---
1st November 2010
Residents say KFC traffic figures 'simply don't add-up'
Isn't it time Tungsten' started to talk to the residents instead of fighting them?
Senior Councillor speaks out against the danger of 'fast food' right at a busy junction
Councillor David Bill has known the Saxon Paddock area well for 30 years - we hope his less informed less expreienced colleagues take full note of his reasoned comments
Coventry Road residents send in petition..
"...... despite manipulated traffic analogies by Tungsten' to say there will be 'no material increase in traffic' is clearly and patently false" says SPC Chairman
Tungsten 'Park' was never intended as a low employment retail park
Application goes before Planning Committee 6-30pm Argents Mead Council Offices
TOMORROW
IF YOU CAN -BE THERE PLEASE
---
late September 2010
In door to door enquiry
OUTCRY BY RESIDENTS !
who have had quite enough of bad planning in our area
NO TO KFC 'pollution'
After 'Mr Tungsten's' rather confused and contradictory Hinckley Times statement - We know they're desperate and loosing money but....
HAVE THEY GONE MAD AT 'TUNGSTEN park'?
We are a residential area without even a corner shop to serve residents yet these incomers in the midst of homes, right next to a canal in a conservation area
TUNGSTEN' WANT A KENTUCKY FRIED CHICKEN 'drive through' restaurant right next to the canal, at a traffic lights crossroads!
NOT HERE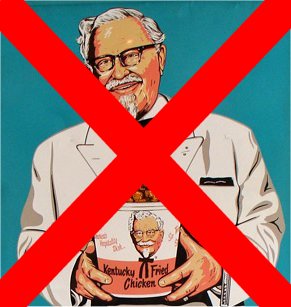 COL. SANDERS!
lights, noise, traffic, litter, pollution of the waterways
Open 'til 1am on Sunday* morning - right near homes - the fact the Planning Officers even accepted the application - against previous planning permission conditions, shows what smells at Argents Mead!
ALL THREE WARD COUNCILLOR ARE AGAINST IT!
No-one in their right mind can be in favour of it......
KENTUCKY FRIED CHICKEN 'drive through restaurant' here is OUT OF PLACE and TOTALLY INAPPROPRIATE
Local residents are against you - local business is against you...
COLONEL SANDERS prepare for a rout!
As the council planning dept. only informs those with property right next to tungsten - SPC are telling the others living near who will be directly affected, if you want to find out more here's a link to planning application 10/00695/FUL please send in your objection to amendments NOW - you have 8 days left!
---
19th September 2010
Who governs Hinckley the Council or Developers?
CREST NICHOLSON GET MEAN OVER
Saxon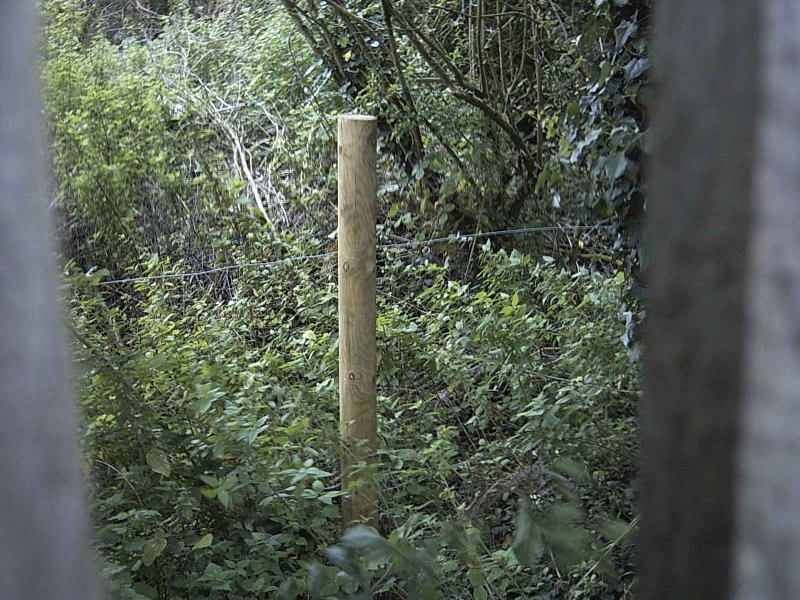 Paddock
Keep out -keep off! Crests' 'greeting' to residents, 3 metres inside The Saxon Paddock!
Saxon Paddock 'Ransom Strip'
Greed is policy over tiny 1.3 acres!
Not long ago they expressed concern that 'someone' (Paynes actually) had had the nerve to cross their 3 metre wide 'ransom' strip bought (from Paynes!) presumably rather childishly to prevent access by anyone else (including it seems Paynes Garages Ltd -owner of The Saxon Paddock!) into the rest of the land . (Yes this is true).
Crest Nicholson were soundly defeated in 2005 in their attempt to build 'glorified rabbit hutches' on land accepted (and confirmed by a Planning Inspector) as a small natural boundary between Coventry Rd (460-502) and Waterside park housing estate - Crest didn't expect that as bullying rather dim councils was a fine art to them - since then 'Dog Track Villas' has been passed by a cowardly Lib Dem controlled council (remember this in May 2011). Crest', apparently refusing to accept black is not white, still hope to build on this tiny 1.3 acres - just to show how they can push Hinckley' Council around and if Councillor 'If we don't pass this it'll cost us' Crooks still has a job they no doubt might!
As the H&BBC are currently about to adopt Waterside park with Crest' leaving the southern bund still, after 10 years, in an unplanted mess and other 'features' for the tax payer to pay to have cleaned up, surely a request that this 'ransom strip' be incorporated in Waterside park' would have been accepted by any reasonably thinking 'developer' - but Crest' aren't reasonable !
and our Councillors aren't very bright!
---
11th September 2010
'DOG TRACK VILLAS' - the work begins...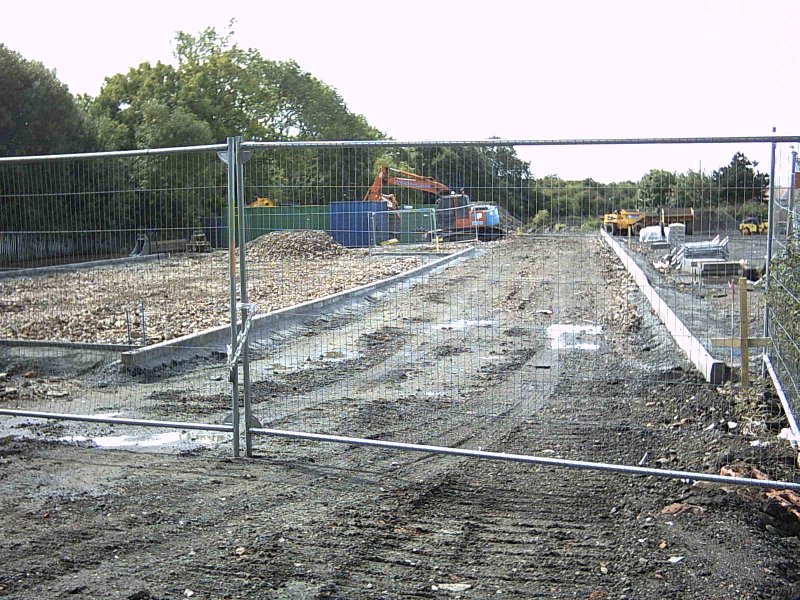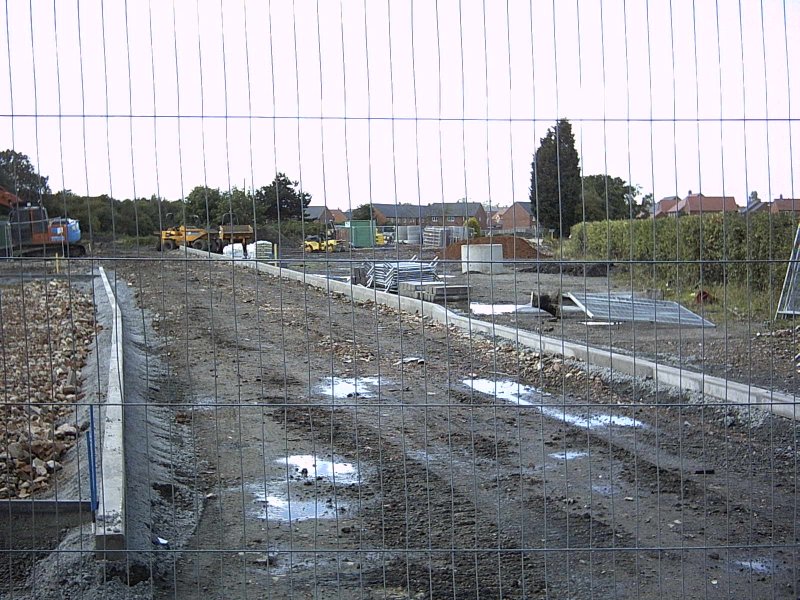 Until a few years ago this was the Dog Racing Stadium car park entrance used two evenings a week
So does the disruption in Nutts Lane -for months to come...
Access for work site less than 80 metres (100 yards) from traffic lights and narrow weight restricted bridge
Developers Crest Nicholson given permission by council to access heavy plant from the narrow, already congested Nutts Lane, however access from Waterside Park , Paddock Way etc. would have been not possible for wide heavy plant. The real problems will begin when this pathetically impractical 'proper' access from Waterside Park into Dog Track Villas comes into being.
Have the planners no idea of reality?
This development should never have been passed.
---
17th August 2010
Council more concerned about its own comfort at meetings.....
SHAME DRAIN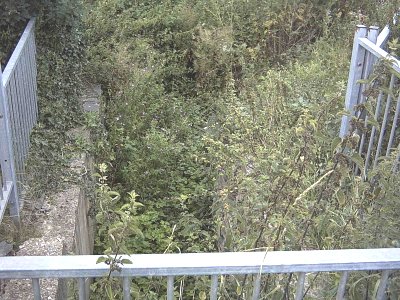 We were told by Planning Dept. this would be cleared LAST OCTOBER!
Dangerous risk to children where deep drain has become bog right next to Harrowbrook Industrial estate - SPC has asked for council action on this health hazard NOW!
Though the drain is on private land it is a public issue - the council first knew of the risks last October - nothing done!
IT IS THE COUNCILS DUTY OF CARE
More evidence the council cares nothing for Saxon Paddock area.
And our elected Lib Dem Councillors do - nothing but side with so called 'developers' !
---
1st August 2010
Just how 'democratic' is Hinckley 'Council?
Remember when this council were elected they claimed they wanted 'more public involvement in decision making' (they then cut the right of public speaking at planning committees from 3 to 2 minutes!) and a 'better informed public'(they then refused a public notice board on grounds 'It may establish a precedent!!).........
Again the Saxon Paddock Committee asks the council for help getting a regular meeting place in our area - again the council make excuses not to help.
A Council of Public contempt - only concerned about it's own meetings, its own comfortable offices - now in two buildings - soon in three!
And what do Saxon Paddock council tax payers, who have NO public facilities, get ?
nothing at all!
They even took our £80,000 given by Crest' for leisure facilities in OUR AREA and spent it on Brodick Park!
9 months to council election........
---
25th July 2010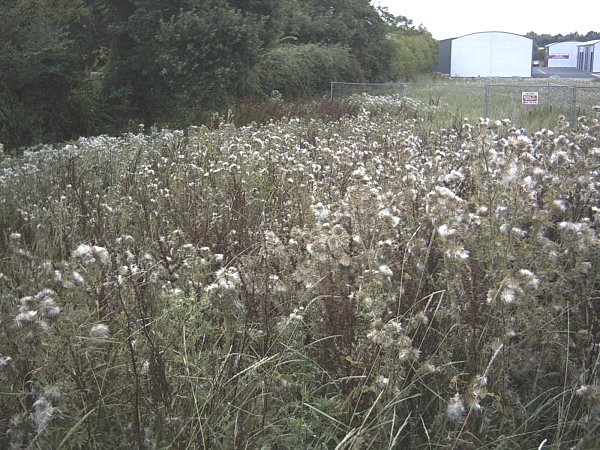 TUNGSTEN 'Park' - it could have been our village green.
Thistles - hardly a sign of customer care* surely!
Its amazing, one would think the rather messy entrance to Tungsten 'park' hardly a promotion of the 'development' - passed as 'employment land' but hardly employing 2 dozen people so far - 18 months after Councillor Crooks (Lib Dem, Barlestone, Nailstone & Osbaston) said at the planning committee 'if we don't pass this it'll cost us' (we/us???)
Lets face it, the real possibility of Tungsten ever being 22 buildings employing 100s of people is remote unless it makes itself far more attractive to potential customers - thistles, an overgrown drain and mounds of soil hardly do that!
Looking west at the remains of Harrowbrook Industrial estate, the derelict buildings of the first industrial estate built in Hinckley in 1960's -70s, perhaps it was quite reasonable 'Tungsten' did not want to be linked with it.
The recession has obviously seriously effected Tungsten - as many similar projects - but surely the appropriate use of a strimmer and the planting of some ecologically beneficial colourful plants/shrubs would only help to advance Tungsten's image , improve local public relations and get the project know as somewhere to be - rather than drive by.
*Important footnote: Thistles are a staple diet of Finches - which we need to protect - in natural conservation areas such as The Saxon Paddock.
---
8th June 2010
only 11 months left Councillor Bray...
Coillision Government talk of severe cuts - well, in Saxon Paddock what we've never had we wont miss!
We ask are all our elected representatives - Councillors and MP ignoring our area
More Talks ahead for Saxon Paddock Committee
Secretary says 'we must get a fair deal for residents - all we get for Council Taxes is the bin-men!'
no safe playing fields - kids at risk and speeding getting worse!
---
25th May 2010
a church in a back garden an hotel on waste ground .....
LOST IN OUR AREA - well don't try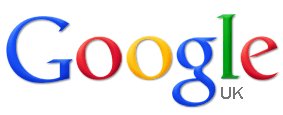 if you want a nice hotel or a quick prayer
don't touch Google -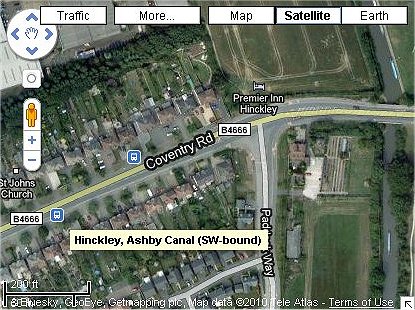 if they can mix a canal up with a main road and get a street name wrong maybe MultiMap/Bing can do better!
---
Statement on drain pollution Coventry Road by Secretary SPC
Saxon Paddock Committee commends Severn Trent Water for working until nearly midnight to make our area safer from pollution - they did a good job , SPC also thank Mr Chris Brown and Mr Rob Parkinson as officers of H&BBC for the determined effort to resolve the problem. The drain by North field/ Tungsten has still to be fully cleared, but this was not the cause of the contamination.
---
18th May 2010
Now there's cooperation in UK government - lets have some locally!
Stop letting us down - the kids have no safe playing field, over 1000 residents no Community Centre - all the council does is allow more houses
vague description of proposed use of HIN03/As293 in local plan gives no assurance
Saxon Paddock residents group launches campaign to save vital 8 acre green space
SAVE 'THE SHEEP FIELD!
If the present Lib Dem controlled council want not to appear hypocrites after again saying their policy is to 'protect green field land' - then it must apply, through the government, for EU funds to buy or lease the 'sheep field' as public facility open space - they can do it - they must do it!
ACTION BY SPC TO GET TALKS WITH CURRENT OWNER
'It's the only remaining green open space in the Saxon Paddock area - surely the council must act to bring it fairly into public ownership as a recreation ground' - SPC Chair'
---
Culvert cleared but filling again from mysterious foul source!
THE STINKING CULVERT
after 8 months - we get action!
Severn Trent Water respond - Council seeks help from Residents Group
after working for three days
SEVERN TRENT FEAR PROBLEM MUCH LARGER than culvert
senior committee member in daily talks with sewerage experts
WE SHALL KEEP RESIDENTS INFORMED..
Meanwhile if you smell the sewers tell us or better still

---
5th May 2010
'During the time they [the Lib Dems] have been in control and able to carry out their 'protection of green spaces policy' they allowed Waterside Park (47 acres of open green fields) , the North field (12 acres of open field), and the largely green dog track to go to so called 'development', that was only in our small parish, had the Tories or Labour been in control the Lib Dems would have condemned them bitterly - but this was the first Lib Dem controlled 'council and it's betrayed us.'
SPC Secretary questions reasoning why Hinckley Lib Dem Council breaks its word so often, then...
STINKING SMELLY PUBLIC DRAIN at last COUNCILLOR BILL STEPS IN!
in a last ditch gesture to the people of Saxon Paddock, after all the effort has been made by the residents committee with no help from any Councillor and after not even bothering to apologise for not one of these Lib Dem Councillors (4) showing up at residents group AGM he asks 'to be kept informed' by Council public heath officer!
THEN HE LEAVES US TO IT!!!!
SPN Calls that patronising.
We realise this Councillor may not (we are reliably informed) be standing for re-election next year, but surely, after all the support he's had through the years, he could bow out with dignity by putting some effort into helping our area for a change!
Shame Sir!
---
1st May 2010
MPs Expenses scandal - Bankers get richer, but all three main parties argue over how much and where to cut services , benefits etc.......
7 Candidates this time - but last time a poor 66% turnout

Will a third of the voters here stay home in disgust?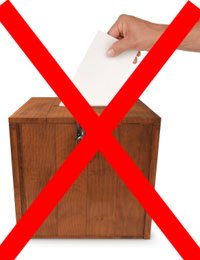 WHOEVER WINS ON THURSDAY IT WON'T BE THE PEOPLE
What happened to the public meetings ?
Why have candidates either ignored our area or 'cherry picked' whom they called upon?
Why did LibDem candidate ignore email from SPC Secretary?
Whoever we vote for, if they can't or won't be bothered meeting us or answering our questions is just not worth it!
---
24th April 2010
SERIOUS WARNING
Vile Electronic Device
The Belkin F5D4076 is being sold in our area. Please avoid it as it is totally illegal and it's use as a wireless pc device is not approved under both EU and UK law. Please avoid it, as it blots out emergency radio (i.e. ambulance frequencies) this is a very serious case of Ofcom not banning a potentially dangerous (by use) device.
We ask pc users to avoid all 'wireless' connectivity - use wired - safer for your security and public safety
---
20th April 2010
Residents asked to be on their guard where property fences damaged
Yet Another Break-in in our area
New car and personal belongings snatched in broad daylight!
did thieves get in from derelict offices?
Within a matter of minutes a house on the north side of Coventry Road had doors damaged, personal irreplaceable items stolen and a new car, used by the owner of the home, driven away - police are investigating.
---
15th April
When residents see no one from Argents Mead -move to become Parish
Lively SPC Annual General Meeting,
but a pity not one of our Councillors bothered to attend
Residents angry and disgusted!
What more evidence is needed of the councils respect for it's electors?
---
14th April 2010
After a concerted effort by Saxon Paddock Committee when county Councillors gave up on it......
At last we get 'wheelchair cage' removed!
Disabled can again use Public path into Leicestershire
Leicestershire County Council has agreed to remove 'throttle barriers' on sloped public footpath and instal safety rail on pavement of Paddock Way by the end of May.
But the slope should never have been allowed anyway!
Some reason has prevailed.
but we, the residents had to do it!!
---
Local Government Ass. give council an award for 'Supporting Culture, Leisure and Recreation' !!
Planning Committee's 'dump it over the canal' policy now obvious
'A borough to be ashamed of'
Twice they threw it out, then suddenly passed it with the same potentially dangerous single point entry/exit, same lay-out, just a couple more speed bumps......
'The Hinckley' Council is like a dog chasing it's own tail'
So Crest' could give the council the bill......
YESTERDAY, THE APPEAL ON THE DOG TRACK PLANNING APPLICATION
the one before last !!
is the council confused and amateurish - too bl**dy right it is
Details:Planning Application in February 2007 rejected. New Planning application 09/00660/FUL rejected 24th November 2009, Crest Nicholson lodge application for appeal (09/00024/PP) late December 2009 at the same time make further Planning Application (09/01007/FUL)! Council Planning Committee pass 09/01007/FUL but Appeal on 09/00660/FUL will still take place.....
Why has the council not correctly informed us?
Several declared 'interested parties' were not even told of the planning decision or the Appeal
because they are too ashamed of their U turn!
THIS COUNCIL IS COSTING US MONEY - FOR NOTHING!
Ok the Tories cut down our trees, but this lot are emptying our pockets!
Why couldn't the Councillors stick to their guns ? By cowardly passing an application in the face of strong public objection - then having still the cost of appeal, they are throwing tax payers money down the drain..........
we won't forget this in May 2011
---
4th April 2010
Isn't it time Hinckley 'planners' told us the real truth?
After council cave-in on former dog track, residents simply 'Don't trust anyone at Argents Mead' after leak of plans......
REAL FEARS EXPRESSED OVER REMAINING
green areas
by the Canal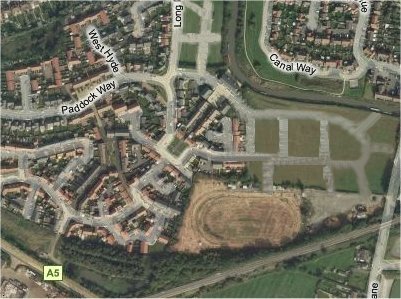 'ghost roads' on the Sheep field and Horse paddock
(Artists impression)
Meeting requested with Ward Councillors to 'try to save something for the residents' before 'developers' rail-road more 'sick' planning applications in Saxon Paddock Area.
---
17th March 2010
Despite knowing how much traffic will result - Hinckley Councillors even blame the Highways Authority!
Greyhound Track 'development'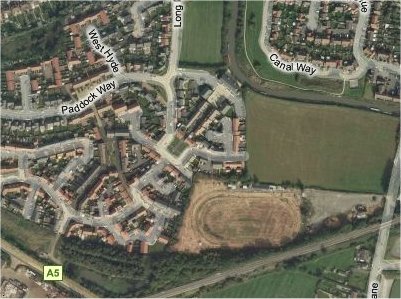 despite planning officers advice for rejection - passed!
SHOCK NEWS FOR SAXON PADDOCK AREA AS HINCKLEY COUNCILLORS LET US DOWN YET AGAIN
'They don't care a damn' - Paddock way resident
The Secretary and Acting Chairman of Saxon Paddock Committee comments:
'We have today the disastrous news that Crest Nicholson has obtained planning permission for a 'development' of a further 84 houses, these to be built on the former Greyhound track off Nutts Lane.
One wonders what the present planning committee are thinking of, if indeed they are thinking, as we understood planning officers were recommending refusal of the application.
Of cause this would have still left the Appeal next month based on an earlier application (almost identical) on the site, but surely the council have taken a really lazy way out and shown no respect for the folks of Waterside park or Coventry Rd by rather cowardly, again succumbed to pressure and passing a planning application in our area which will lead to heavier traffic more noise and a lower quality of life for all residents the increased traffic will affect.'
SPN will be adding more on this later -bookmark/favourite this site
WE'LL REMEMBER THIS NEXT MAY!
---
14th March 2010
Hinckley' Council can't make a kind gesture without spoiling it -no wonder more residents want a take-over by Warwickshire!
SAXON PADDOCK 'Public' NOTICE BOARD LATEST......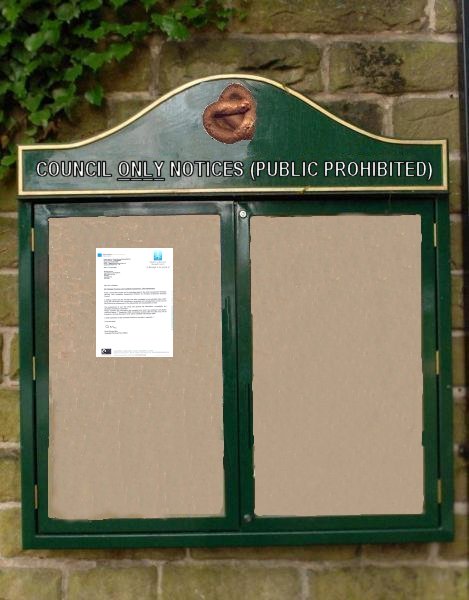 Council's idea of a 'public' notice board for Saxon Paddock area?
(artists impression)
COUNCIL COCK-UP AGAIN - roll on May 2011
'Do they know what public relations mean?' (local Resident)
Council grudgingly and meanly say
'You can have a notice board - but YOU can't use it!
and it wont be put where the residents need it and we'll keep both the keys'
The notice board therefore will not be a Public Notice Board - as only notices from the council will be on it (no local events) the residents group will be locked out of it (keys only held by Green Space [Dept.] and Neighbourhood Wardens Team !) and it will be located on Waterside park where half the residents won't see it anyway!
Another act of the Council which would 'charge you for your Christmas presents!' (quote Resident)
Tell the council what you think of this last example of Liberal Democracy and 'open government!' (link)
and in case one of the Hinckley Councillors or council officers is reading this - 'A bulletin board (pinboard, pin board or notice board in British English) is a place where people can leave public messages' definition en.wikipedia.org
---
6th March 2010
Is Leicestershire proud of it's History or not?
Leicestershire County Council spends 'almost a £million' on finding what might be the real site of the Battle of Bosworth - but won't even tell us exactly where it is - then says it will keep it's FAKE battle centre
The same County Councillor behind that also votes for a smaller Hinckley Fire Brigade!
They then say just before the next county council elections it'll chop '£1000's' off funds to keep community centres open - but our County Councillors keep smiling!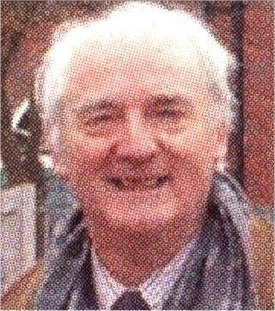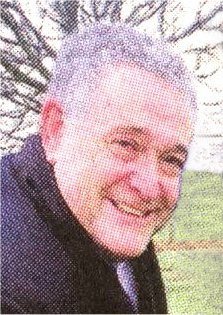 of cause both Tories and Lib Dems blame our Gordon.

---
2nd March 2010
Spring is 'officially' here but not even a daffodil on 'the bund'
UGLY!
Hinckley Council debate adopting 'Waterside Park' but why is it still so unloved?
Where have all the flowers gone?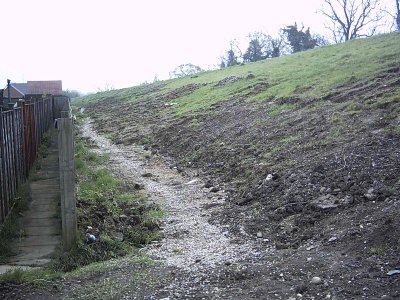 imagine how pretty this spot might be
- fact is they were never planted!
Even though Crest-Nicholson' agreed to lay-out the 'bund' to make it an attractive view for the residents , even though the balancing pond could be a real place of beauty - not a fenced-off mess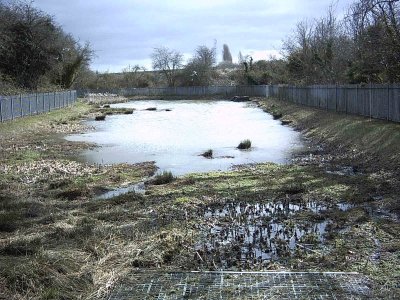 it could look beautiful
Crest' built their houses and landscaped the northern part of 'Waterside Park' (sic) (the part visitors and potential house buyers saw) they left all the open space south of the development untouched (out of sight out of mind) - and the Council just let them!
So presumably the poor council tax payer will pay for the very necessary (but expensive) landscaping
Why has the Parks and Leisure Dept. not insisted upon the enforcement of the clause on planting?
Yet another case of sucking-up to the 'developer' and failing the people.
'A borough to be proud (????) of' .....
---
21st February 2010
After months of SPC requesting cleaning of public drain culvert
HEALTH HAZARD HINCKLEY COUNCIL IGNORES!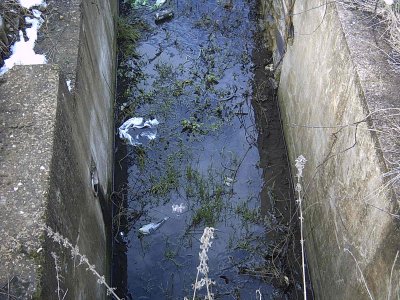 culvert opposite Long Meadow Drive
This silted up and smelly culvert is right next to the home of a small baby
Yet '.. because it smells doesn't mean its a hazard' is what we get from Senior Health Officer at Argents Mead.
---
15th February 2010
Whilst able to find funds for a brand new community centre for Holycroft
MEAN COUNCILLORS REFUSE OUR PUBLIC NOTICE BOARD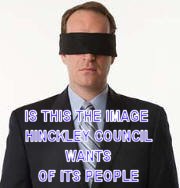 'it would establish a precedent'
In an 'unrecorded' vote of the 'Hinckley Area Committee' (HAC!)
So we can't even tell you who voted and how!
Councillors preferred to keep the residents of Saxon Paddock uninformed by denying us even a secondhand notice board - the fear being if we did get it 'everyone in other areas will ask for one' (sic).
Saxon Paddock News asks these public representatives, elected and paid for by the council tax payer why these council tax payers can't be properly informed of the workings of these Councillors - what right have these Lib Dems, Conservatives and Labour people to refuse to democratically inform the people.
Many residents still do not have or understand the Internet, some don't even have telephones.
Yet the Council have the blind cheek to call it a 'Borough to be proud of' (sic)
THIS SHORT OF ATTITUDE MAKES US ASHAMED OF OUR COUNCILLORS.
Roll on May 2011 when we can kick 'em all out!
---
27th January 2010
NEW EVENTS AT GREYHOUND STADIUM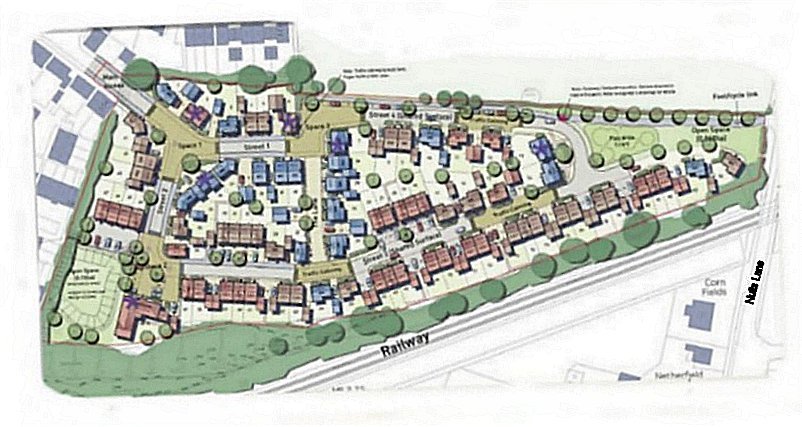 Whilst other developers accept the decision of properly democratically elected Councillors, Crest-Nicholson(Midland) Ltd seek not two 'bites of the cherry' but the same bite twice in
yet another planning application!!
Hasn't the message sunk-in yet?
Paddock Way residents up in arms against their quiet residential access street becoming
a MAIN ROAD if plan should be passed
Crest' try to circumvent local opposition by using 'Appeal' tactics yet again
'Isn't this abuse of the system?' a Coventry Road resident
Details:Planning Application in February 2007 rejected. New Planning application 09/00660/FUL rejected 24th November 2009, Crest lodge application for appeal (09/00024/PP) late December 2009 at the same time make further Planning Application (09/01007/FUL)!
Plan 09/00660/FUL and 09/01007/FUL are almost identical so whose kidding whom?
BOTH BRING THE SINGLE ACCESS/EGRESS OUT STRAIGHT INTO PADDOCK WAY!!
Vehicles from 84 houses (National average 2 cars per property) = 168 cars at least twice a day!
Bringing hellish traffic congestion to Long Meadow Drive and more obviously, to the junction of Paddock Way and Coventry Road(B4666)
more noise, more through-the-night streetlamp pollution
No Sir , whatever your politics , ITS SIMPLY NOT ON
if the council don't fight this they'll set a very dangerous precedent.
Make Your Views KNOWN at HINCKLEY FLAME
---
27th January 2010

HIGHWAYS AGENCY not 'making friends' with evening drivers between Nuneaton and Hinckley!
For some days the County Councils of both Leicestershire and Warwickshire have been trying to explain the diversion of traffic on the Watling Street (A5) between the two towns after 8pm each evening - through Higham!!! - is not their fault. The Highways Agency (a government department) is repairing the road surface going east between The Long Shoot and M69. Recent extreme weather conditions added both to the surface damage and the delay repairing it.
However SPN can tell readers the diversion should end on Monday 1st February.
---
15th January 2010
As traffic cues continue, 12th and 13th January and Council hand planning appeal to Crest'
Saxon Paddock' Secretary hands damming letter to leader of inquiry
but ....
Disappointed residents written representation not commented on by Planning Inspector
ONLY 'EXPERTS ' ALLOWED AS WITNESSES AT DODWELLS BRIDGE APPEAL
AGAIN Those who live here - ignored!
What's the point of a public Inquiry if the public can't speak?
Still we ask, why did planners deliberately fail to properly inform residents?
---
1st January 2010
Planning Dept. cock-ups carry-on!
Whilst we still wait months for reports and 'finance' committees to pass judgment over our - second hand - area notice board
IF WE DON'T KNOW WHATS GOING ON HOW CAN WE OBJECT OR SUPPORT??
2 lousy notice sheets on wrong lamp posts over 200 yards from area concerned !
Why have the council not informed those most effected by A5/A47/B4666 Roundabout traffic light plans? , why were people on Coventry Road not told of dog track application? it seems the 'council is adjusting the notification rules to suit the'planners'
Are they relying on residents ignorance?
PLANNING DEPARTMENT HOLD TO 'THIN RED LINE'
Whilst Planning Officers insist they are keeping to 'Standard Procedure' residents not only in Saxon Paddock Area but other parts of the Hinckley Borough, a 'borough to be proud of'(sic), are complaining that now only directly adjacent properties are being informed of planning applications -
'the council are not playing fair'.
So if you live next to the land concerned in a planning application, no matter what size, you are on the 'red line' and notified by the council - but if you live next door but one, even if a major development is planned, you hear not a word from the council!!!
No wonder senior Planning Officers are leaving!
---
16th December 2009
Council/Highways Agency seek to widen and put traffic lights at congested roundabout , however can you remember what happened when 'lights were there before - chaos!
YET ANOTHER COUNCIL COCK-UP?
Amendments proposed by Crest Nicholson (Midland) Ltd to planned and previously agreed 'improvements' go before Hinckley Planning Committee next Tuesday evening (22nd) - however the Appeal (by Crest') against ANY improvements is on 12th and 13th next month!
DODWELLS BRIDGE ROUNDABOUT FARCE!
but half the original planning permission (Waterside Park and North field) objectors who should, by right, have been notified of Crest's amendment application have not been informed by the council planners
The Council want your support as a resident - is that why they're not telling you about it?
the 'excellent' council blunders yet again!
---
Again we ask what has Hinckley' Council got against open space and countryside?
Over our heads (as usual) Council Planning Officers agree to major habitat loss
27 yards of canal side hedgerow to be removed for Tungsten 'park' rest area
Only 100 metres (120 yards) from the canal bridge public access which for decades was enough access for normal folk, in a clever 'agreement' between Hinckley' Council officers and Tungsten', yet more essential bird habitat and screening for the Marina is being cut out and replaced by a very plain easily climbed 1 metre high fence - it seems the original application was for at least double this length to be cut out but council officers consider they have been 'cute' by scaling the massive cut to 'only' 25 metres!
At a time when DEFRA is asking local councils to actually protect more habitat with birdlife is severe decline
There is absolutely no need for this 'licensed vandalism'
Ward Councillors play down major concession in 'green paper' to concerned residents by calling it 'a short gap'
---
8th December 2009
Electromagnetic Compatibility (EMC) Regulations 2006
VERY IMPORTANT NOTICE
BT wire-less 'Comtrend' units causing radio interference in our area
'Home plugs', Power Line Transmission and Power Line Adaptor in use in some homes on Waterside Park and Coventry Rd for 'wire-less' broadband etc, are causing strong interference - Please, if you have such items don't use them, they radiate interference through power mains wiring which spoils reception on HF radio bands - including 'mush' on VHF/FM and can be a risk to emergency services communications.
Legal Point: The CE mark on these devices, because they do not conform under above regulations, is illegal.
Technical/User Point: we are advised that using 'Home plugs' is slower and much less reliable.
However, equipment used by Sky, Virgin, and normal Freeview is completely legal and does NOT cause this problem as it doesn't use mains wiring in the same way. .
Please refer to this LINK for more information
---
8th December 2009
Crest-Nicholson Appealing against massive cost of funding A5 / B4666/ A47 Junction improvement

INCREASED TRAFFIC with no real SPEED control
Still, two years after the 30 m.p.h. limit the County Council fail us
we regularly witness speeding cars and motorcycles ignoring pedestrians and vehicles are actually making 'U' turns at Long Meadow Drive junction traffic lights - what do the Constabulary do -NOTHING!
What do our County Councillors do - NOTHING!
ARE THEY WAITING UNTIL SOMEONE IS KILLED?
We say no point in 'improvements' if traffic speeding is not sorted-out
---
Planning Permission (09/00660/FUL) on former Dog Track thrown-out
BUT ONLY JUST
How ignorant can some of our Councillors be??
Our Clarendon ward Councillors know from experience the problems of Nutt's Lane and Long Meadow Drive and the threat of a 'rat run' on Paddock Way; but as usual the Councillors of other wards don't care a damn about what happens in Saxon Paddock Area - as long as its not their ward they couldn't care less!
The average daily traffic count taken on Saxon Paddock Area of Coventry Rd in 2008/9 was 11,477 vehicles - excessive for any residential 'B' road
to allow 84 more houses (168 cars) is plain stupidity.
The Councillors who voted for more congestion, more misery for the residents here, should do more homework or simply use their common sense!
---
Please Note
Regarding the Culvert situated on the extreme western boundary of Tungsten Park , the blockage is not in any way caused by the Tungsten development but lies to the south and east , the council are currently , actively, seeking resolution to this problem. Environmental Health Dept. Hinckley & Bosworth Borough Council (01455 238141).
---
1st November 2009
Vandalism at new crossing
What sort of mentality makes a person do this!?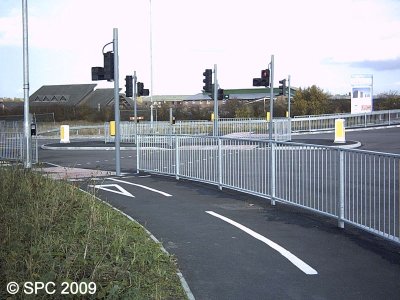 Tungsten park crossing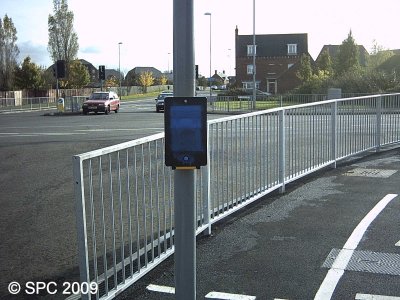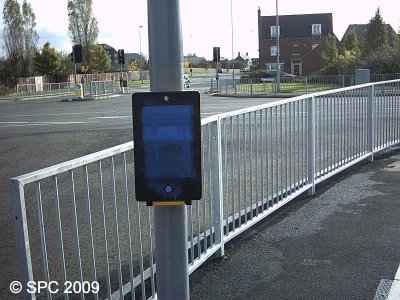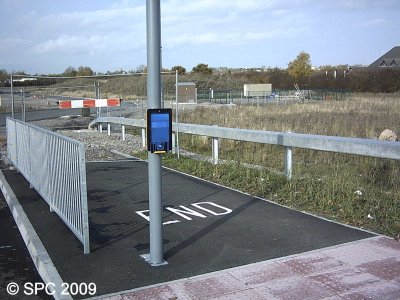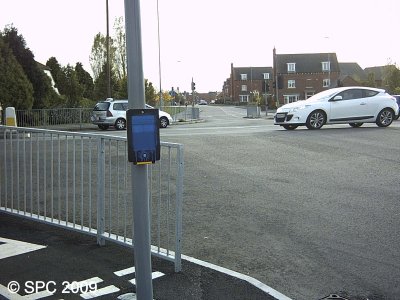 blue 'spray paint' makes safety crossing signs unreadable
we ask residents -if you see anyone acting suspiciously - report it immediately
This sort of 'gesture' only justifies council tax increases
If you ignore it your property might be next - these people have no respect
---
28th Oct 2009
At long last through efforts of SPC
'Now we'll be able to keep residents properly, fully informed' says Secretary
Saxon Paddock to get a Public Notice board
more on this item later
---
News you'll never read in politically sensitive Hinckley Times
Following on after M.Ps at Whitehall 'gravy train'
local residents group is asked £24* for a small room use for 90 minutes at Council complex
their excuse 'we need to pay for security and utilities'
* standard booking fee £45
For a Council and controlling political party which 'wants responsible public involvement in local government' this is sheer
sarcastic humbug
(a far stronger term was used by a Saxon Paddock resident!)
The Secretary of Saxon Paddock Committee is forced to cancel committee meeting because Council's charge demand is quite inappropriate and
---
impossible for an unfunded registered voluntary group - ' The Council officials would bend over backwards to freely accommodate so called developers - more hypocrisy to stop people having fair free discussion' he claims.
THIS IS NOT PRACTICAL DEMOCRACY!
---
The dying industrial estate - see Harrowbrook Industrial Estate - creation of a cynical council
24th October 2009
Yet more 'deals' between 'developers' and council 'planning' Dept with absolutely no consultation of residents
Thanks to behind closed doors deal between Council , British Waterways and 'developers' more threat to natural habitat

for 'developer' read spoiler - this beautiful hedge to be ruined
LATEST THREAT FROM TUNGSTEN - 'park'
an opening to be cut in the canal hedge (for no good reason) and the hedge to be cut down to only '4 ft high*'!
* quote British Waterways West Midlands
What a marvelous new view from the new hotel and the Marina - 22 warehouses - lovely (!!)
perhaps they'll paint 'em green!
'Tungsten is like a never ending nightmare' - Elderly resident.
---
9th October 2009
Why are the Lib Dems so secretive ?
WHY WONT THEY TELL US?
Whilst we can only speculate on what the Council and Crest-Nicholson Ltd will be basing their cases on at the appeal, whenever that will be, concerning funding of 'improvements' at Dodwells Bridge roundabout (junction A5/A47/B4666) which no-one at Argents Mead has had the good manners to give us, who are directly affected, any information on yet.....
After County Council refuses repeater '30' discs because of stupid penny pinching Whitehall regulation
Even the police can't treat us fairly
Latest on speeding in Saxon Paddock Area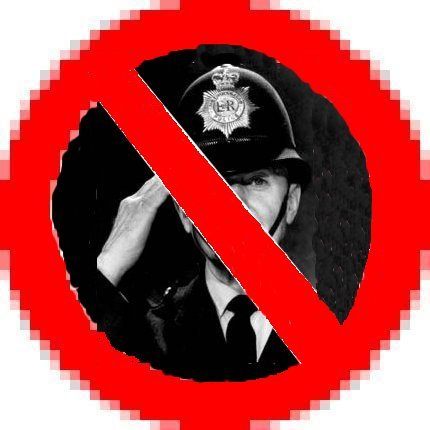 POLICE WILL NOT HELP!
'We can't find a place to put speed camera van in your area' - they plead - yet they have now 2 sites on Coventry Rd east of Ashby Canal bridge ......
more sheer hypocrisy by a constabulary which responds in force to 2 'travelers' caravans on developers property!
---
1st October 2009
'We are working to make Saxon Paddock Area a safer and more attractive place to live in' (Quote: Committee Secretary)
PROGRESS BY SAXON PADDOCK COMMITTEE
at long last
but far more work to do........
After many phone calls and numerous emails between the SPC and Leicestershire County Council Highways Dept. the 'weeds' right next to the pavement near the canal bridge (see Tuesday 9th Sept, below) on Coventry Road have been strimmed away and now the health risk to children and nuisance to adults has been removed, had our county councillors been active on this issue the problem might have never arisen.
Saxon Paddock News has been assured the SPC will 'watch the situation' .
Also-
Yesterday after months of talking with the Highways Dept. the SPC finally got the long promised 'dragons teeth' and 30 circle on A4666 (Coventry Rd) near Watling Street (A5) to try to stop the lunatic fringe group of 'foot down' drivers.
What have our County Councillors done for us - NOTHING!
As for the planned/ proposed Crest-Nicholson funded 'improvements' at A4666/A5/A47 junction, Crest' are appealing against it.
As this council have 'bent over backwards to accommodate developers', against the interests of residents, there's no wonder Crest' feel they should win.
---
24th September 2009
Buildings but no planting on Tungsten 'park'
Nothing heard by SPC from Jeffrey Penman , Director of 'Tungsten' - but we understand Councillor Bill has asked a Planning Officer to contact Mr. Penman to discuss planting on Northfield development site , we shall keep you informed....
---
Tuesday 16th September 13:15 BST:
Again Hinckley Council looks more like 'Carry On Councillor'
Councillors cry havoc, Council Leader requests all the stops pulled out !
to protect developer from .................
TWO 'TRAVELERS' VANS 'INVADE' TUNGSTEN 'PARK'
so after S.O.S from Argents Mead police go in mob handed!
A Saxon Paddock Committee representative had warned 'Tungsten' about their poor security but was ignored - surely the company must now properly guard their property after over 12* police officers in four cars and a police van were called out to the occupants of 2 four birth caravans.
In a statement the Secretary A/C of Saxon Paddock Committee said he..
'Entirely supported anyone in the area suffering through abuse of private property and believed everyone should be vigilant and watchful for strangers and those intending 'constructive trespass', however he felt in this particular case had the developer entered into positive conversation with residents and established a friendly relationship rather than a isolationist attitude then the developer would have an army of supporters rather than a group of very disgruntled and resentful residents.
At no time during the decades when the North field was open farm land was there any real attempt to take over the 12 acres by 'travelers' - partly because everyone living 'round here felt protective towards the land, respected and defended it - they (the residents) are now treated like aliens by Tungsten' so they naturally, after all the months of disruption to their lives, have no care for the development or, in the circumstances, the developer.
This must be put right.
Crest- Nicholson Ltd were far from perfect in public relations but they did employ a chap, Warren Jennens, who would always make himself available to discuss problems and that helped build 'bridges' - perhaps Tungsten' are taking PR advice from quite the wrong people.'
The Secretary A/C has written to the Director of Tungsten Properties Ltd asking for a meeting between Saxon Paddock Area residents and the Company, in the hope of improving relations but has so far been ignored .......
* actual number of attending officers withheld by Leics County Constabulary.
---
Tuesday 9th September 2009
Whilst Borough Council Leader praises town centre - weeds grow on main western approach
in his County ward !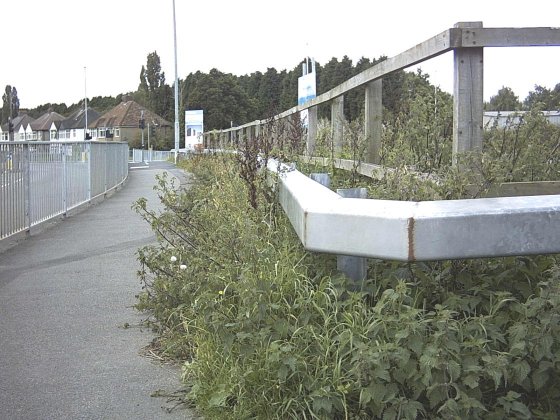 Disgusting sign of failure to care by BOTH councils!
Any chance of a little road work Councillor Bill ?
It seems our County Councillor attends meetings and meetings with equally out of touch Councillors but meanwhile the basic jobs like road side weeds - growing taller than small children - are left uncut, road speed limit measures promised are forgotten and even a public footpath he said was 'impossible' stays partly blocked.
Surely he could speak to his pals at County Hall and get some action ?
His only concern seems to be Crest' paying for traffic lights at Dodwells Bridge (A5) roundabout !
Why?
---
Tuesday 2nd September 2009
Its not just our Councillors who are angry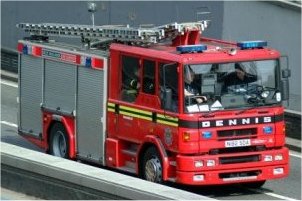 DOES LEICESTERSHIRE COUNTY CARE ABOUT HINCKLEY?
Second largest town and growing (because it's been ordered to by outsiders)
and the latest knock is to reduce our fire station - the firefighters - by 25% yes 25%
these are the blokes who not only fight fires but pump out flooded property, rescue people trapped etc,
and the Leicestershire Fire Authority want people in the Saxon Paddock Area whilst paying more tax, to suffer a reduced coverage!
ok Melton Mowbray need a better service - but why provide it by risking our property and our lives?!
MAKE YOUR VIEWS KNOWN - DON'T JUST LEAVE IT TO OTHERS and grumble
visit and read about it http://www.leicestershire-fire.gov.uk/
email them with your views at consultation@lfrs.org
Do it Now!
Closing date 31st October 2009
---
1st August 2009
Drivers complain of flooded roads but nothing is done
CAN THE DRAINS COPE ?
Water flowing over main roads, heavy rain and yet more forecast, yet council still allow more house building on green land to put strain on existing system - where's the common sense - what's the reasoning of our Planning Officers?
Why aren't our Councillors doing or saying anything?
---
1st August 2009
Whilst Planning Officer praises developer.....
STILL NOTHING FROM TUNGSTEN - WHY THE SILENCE?
disappointing attitude by 'Northfield' Developer
Current view (July 2009) of 'Tungsten Park'
19th July 2009
'Tungsten' declines talks with residents group
(a statement from the Secretary A/C of Saxon Paddock Committee)
'All we want is a meeting between the CEO of Tungsten Ltd, his Advisor and two responsible residents - we want to talk about a tree screen to the south -west of Tungsten Park. Surely it's in Tungsten's interest to make the site really attractive, rather than hideous plain blank fences customers to the various businesses will see beautiful golden Castlewellan leylandii and residents will be happy that the developer is a good neighbour.
We want sincere good relations with Tungsten' and we'd like them to demonstrate a decent and fair approach to our request'.
---
10th July 2009

a move towards the '400 jobs' promised
TUNGSTEN LATEST!
GOOD NEWS
Sign-ups of occupants to go ahead 'next week'
In a move apparently bucking the trend we understand from reliable surces the first five companies to move onto 'Tungsten Park' are ready
At a time when all over the country projects are failing and firms going under at least it seems one project has won through
We have also been asked to point out that security of the site was always maintained
---
2nd July 2009
Tungsten Park Development - local residents committee urge access re-think
A DISASTER WAITING TO HAPPEN -
but Tungsten still don't see the severe risk - neither do the Borough Council
SPC say a secondary access/egress to Tungsten Park/Marina Court is a safety essential - in an emergency where will the vehicles and workers go with only one way out - if that way is blocked!
A 24 building development with only one road for all traffic is senseless!
We ask Tungsten Ltd to think again - before its too late.
Meanwhile our Councillors, as usual, say nothing .
---
Do we need more electronic land-fill
Will you dump your television in 2011?
or... (link)
---
After initial cock-up by our County Councillors
HERE AT LAST !
30 .m.p.h limit is official in the Saxon Paddock Area
on Tuesday 26th May finally and properly after over 30 - yes 30 years - campagning by residents - but pussy footing by all three political parties- these residents won!
So beware now speeding motorists this area is no longer your 'foot down' haven - from tomorrow strict monitoring will apply.
---
May 2009 'Waterside Park' .....
'Where now a mound blocks out the sun, a bright spinney once grew'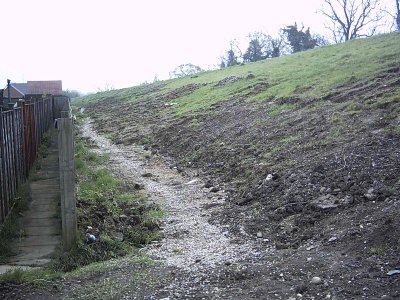 Shakespeare would hardly appreciate 'the bund' of Waterside Park
Some 12 or more years ago, before this sound deflecting bund was created, it was a place where bluebells grew until the then tenant thought he'd get more wheat/ oil seed rape so he cut down the trees and cleared the land - however it had been the base of a railway track 100 years before that and where small trees could grow , moss and ivy thrive - his crop was poor and patchy and it wasn't worth the trouble and cost of removing the trees that actually had helped take-up excess water from an otherwise bog land and water field.Will these people never learn...
However, now the bund is left untended, unplanted, unloved
The 'balancing pool' could be properly landscaped as a natural attraction for wildlife and residents of our area to enjoy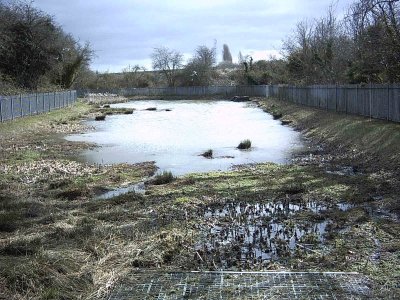 In other countries and other parts of our country the local council work to improve peoples lives by improving the peoples surroundings - but Hinckley Council and Leicestershire County Council don't bother at least in our area.
A more modern writer - 'If you expect folks to live in sties you get pigs'
the bund and pool could be beautiful and a delight for residents!
---
19th April
Local Weekly Press to 'censor' political comment
A SAD DECISION
In a move ostensibly to restrain the 'taking-over' of the 'Letters' pages of the Hinckley Times by letters from Councillors - a move welcomed by most readers sick of seeing photos of certain Councillors and reading overlong items in self-support; The Editor has totally unintentionally but naïvely deprived ordinary folk of the right to have their views read - if on a political theme. The motive for this was the up - coming County Council Elections in June - but surely we are entitled to even criticise those standing as candidates?
Instead of restricting comment should it not be the aim of a free press to encourage it!
This seems unprecedented that any newspaper should , even with the best ideas and ideals , remove the right of the people to voice freely, opinion on anything -
It's CALLED DEMOCRACY Mr. Holden!
---
'AWARD WINNING' COUNTY COUNCIL BLUNDER - AGAIN!
THROTTLED
once again rather than speaking with residents, the SPC or our County Councillor, the County Engineer has put this in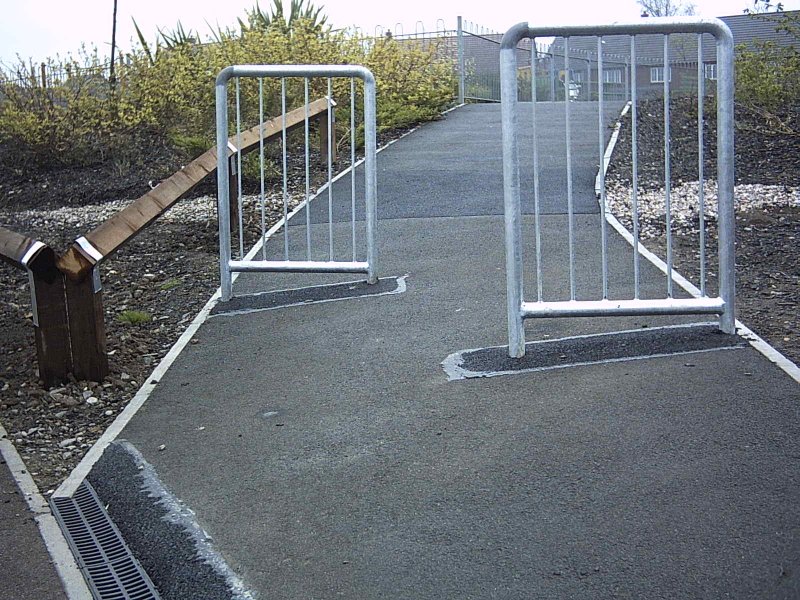 We asked for barrier and handrail (barrier to prevent skateboard users running onto traffic on Paddock Way - handrail to allow safe negotiation of rise and camber by disabled or elderly)
Now thanks to these , referred to by a resident as 'Wheelchair cages'
NO WHEELCHAIR USER can now attempt the path with access of 58" only at an angle - however skateboarders can still weave between and risk being hurt by cars on Paddock Way quite easily!!
What fool thought this out ?
and what do our County Councillors say - NOTHING
We shall press for sensible improvement
---
COUNTY COUNCIL BLUNDER Number 2 from the' Award Winning County Council'
OUR COUNTY COUNCILLOR COMPLAINED ABOUT HEARING 'THIRD HAND' but why didn't he make it his business to ask about
THE 30 m.p.h. SPEED LIMIT THAT ISN'T
The Saxon Paddock Committee asked in late March why speeding was still such a problem in our area even after the publicity and Vehicle Activated Signs (all two of them) were installed.
A check was made by the Constabulary - it was then discovered Leicestershire County Council had blundered (something they're good at it seems) and the required stages of 'signing off' and paperwork on details of length of road covered by the 30 m.p.h limit had not been completed.
We were told three weeks ago it would , from then, it would take approx. 5 weeks to put right
We will be following this and We shall keep you informed.
Perhaps the Tories and Lib Dems should stop calling each other names and act like public representatives!
---
Was the Saxon village here before Hinckley - archaeologists say very possibly!
RESIDENTS AGREE ON NAME CHANGE
WE ARE NOW
SAXON PADDOCK
---
3rd April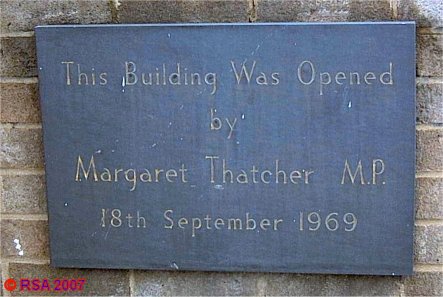 THAT WAS THEN....
Council admit over half of estate is derelict so...
PULL DOWN DERELICT
HARROWBROOK INDUSTRIAL ESTATE NOW!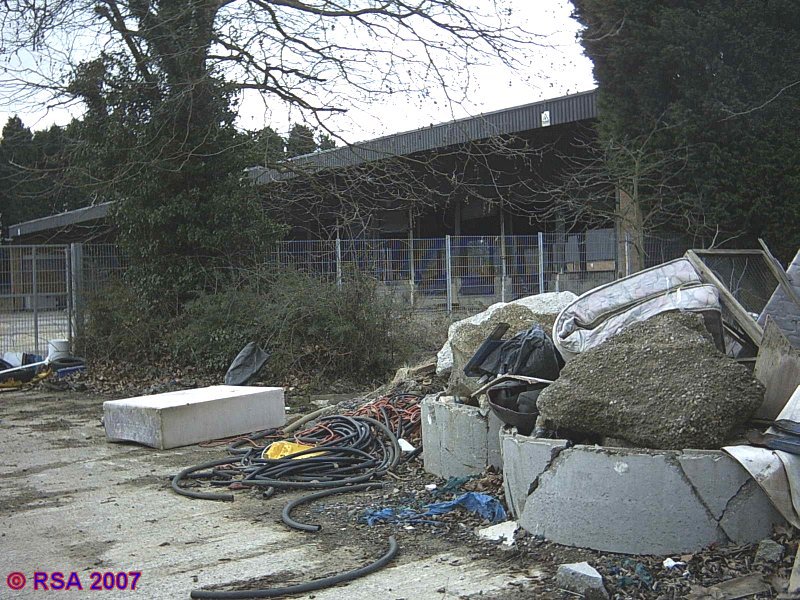 This is now!
its costing us and bringing in no income
And create Harrobrook Playing Field
look after the residents the kids and old folk
A 'farm-yard smell' gets stronger in the 'Mead .....
AS WE GET NOTHING FROM COUNCILLOR BILL
WHILST HE FIGHTS FOR HOLLYCROFT
'OPEN SPACES'
Part of Brodick Park which the former Tory controlled council were
trying to sell off for flats, will not now be sold-off.
Good for the people of Hollycroft - but Saxon Paddock Area can't even get support for a public notice board!
Hollycroft have two playing fields we have none
THIS COUNCIL DOESN'T CARE A DAMN ABOUT WEST OF THE CANAL
---
March 2009
Councils praise themselves and a government rubber-stamp quango awards them 'top marks' (!) - whilst tax payers complain
We ask Leicestershire County Council to make our Public Footpath
deliberately blocked and rerouted without permission by developer 3 years ago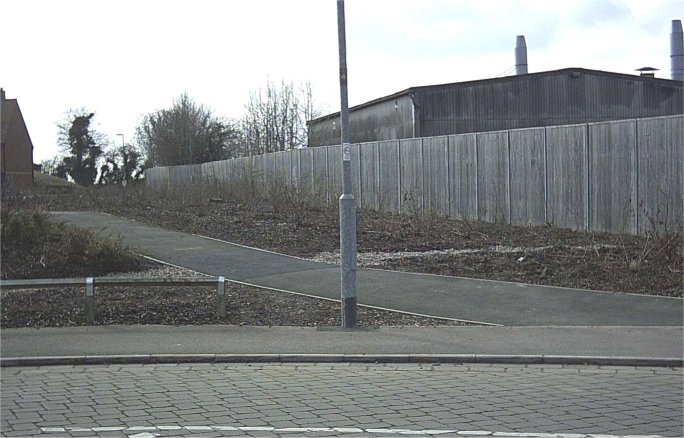 Hardly 'landscaped' - not even safe
SAFE??
This path leading down onto Paddock Way, in place of the former legal route path which ran level where Crest Nicholson erected the 'sound deflecting' wood fence, slopes down 5ft (1.5 metres) and widthwise west to east has a 4" (10cms) camber !! anyone even needing a walking stick is at risk of falling.
---
North field development doomed to high losses
As it's admitted only two firms are ready to move in
IS TUNGSTEN HINCKLEY'S LATEST WHITE ELEPHANT?
Traffic ? or Work...
with at least four weeks to go before electrics , gas and water go in
surely these things should have been arranged months ago???
A VERY SERIOUS SITUATION WEST OF HINCKLEY IS BEING ALMOST IGNORED...
It's blindingly obvious
Tungsten' should be linked to Harrowbrook' and not have separate dangerous chaotic junction entrance
Situation goes from bad to worse but silence from the media - why?
Residents ask 'Has Hinckley Times and Leicester Mercury been gagged ?'
Tail backs to A5 as a sign of the future - peak time drivers anger at planning blunder
---
25th January 2009
TUNGSTEN 'DEVELOPMENT' GRID LOCK
Quote Councillor Crookes when Tungsten's Hells Crossroads was before Planning Committee which could have avoided all this trouble 'We must pass this or it'll cost us'
Well, it's costing us now!
Thank You Councillors for allowing this mess!
BUT THE QUESTION MUST BE ASKED OF COUNCILLOR BILL; IN THE RECESSION WITH HINCKLEY TRADERS ALREADY SUFFERING, HOW MANY PEOPLE WILL STOP SHOPPING IN HINCKLEY IF THEY CANT DRIVE IN WITHOUT A LONG WAIT?
---
14th January 2009
No sound or rotating cone indicator as proper crossings taken out of service
(local press say strangely 'its not newsworthy')
Pedestrian safety completely ignored by County Highways Department
quote resident living nearby
'IT'S BLOODY DANGEROUS NOW'
but County Councillor puts phone down on Mother of Deaf Son!
After suffering unnecessary pavement and crossing closure for two months with no real help from County Councillor, residents have yet more upset!
Drivers beware!!
WORK FINALLY BEGINS ON
HIGHWAY AT
'HELLS CROSSROADS'
estimated severe disruption for at least 2 weeks
thanks to our Liberal Democrat Borough Council, Conservative County Council and a Labour Government Planning Inspectors ruling in 2000
---
4th January 2009
BREAKING THEIR WORD
on 'green spaces'
Council to be asked how much strategic housing land survey cost local tax payer
The reply - if we get it - will be printed here
We know its officially a financial 'depression' so is this fair?
After spending thousand of pounds on doing 'developers' job for them
HAS HINCKLEY' COUNCIL ANY GREEN SPACE POLICY?
Hinckley & Bosworth Borough Council, blaming of cause central government, have just spent tax payers money on what those who make millions - the so called 'developers' should have been obliged to do - finding land in any way suitable for house building.
Saved 'em a packet! - Cost us a bomb
At the same time the Liberal Democrats, whose party - like the Conservatives - pledged to protect such things as 'green belt' land and 'urban green spaces', has given planning permission for non essential 'development' of a number of green fields and urban green spaces in the Borough.
SUCH FLAGRANT HYPOCRISY!
They, the Lib Dems, also said they would provide facilities for the people - not Persimmon Homes, Crest Nicholson (Midland) Ltd, Bryant Homes or Bovis Homes Limited , etc.
No facilities for us from the Lib Dems - none - not even a bandstand
let alone somewhere to put it!
How much will this add to the 'rates' ?
are tax-payers being ripped-off ?
We pay a hell of a lot to have just our rubbish collected!!
Why do all three parties tell us lies to try to get elected - what will happen in June at County Hall?
THE NEXT COUNCILLOR WHO KEEPS HIS/HER WORD WILL , IT SEEMS, BE THE FIRST!
---
TPAN to ask for figures........
Labour set it up - Lib Dems supported it - Tories didn't but are now in control of it - we hear nothing of it's business or it's decisions before its too late and have no means of objecting its members are not elected but 'appointed'
ANY BODY KNOW WHAT THE EAST MIDLANDS ASSEMBLY DOES? - HOW MUCH IT COSTS US? and
WHY IT EXISTS?
ALL THE OTHER SO-CALLED Regional Assemblies WORK THE SAME AND COST MILLIONS
THESE ARE IN PLACE OF A PROPERLY ELECTED NATIONAL ASSEMBLY FOR ENGLAND
BUT WHY?
---
3rd January 2009
Notice of Adoption displayed three days after signed !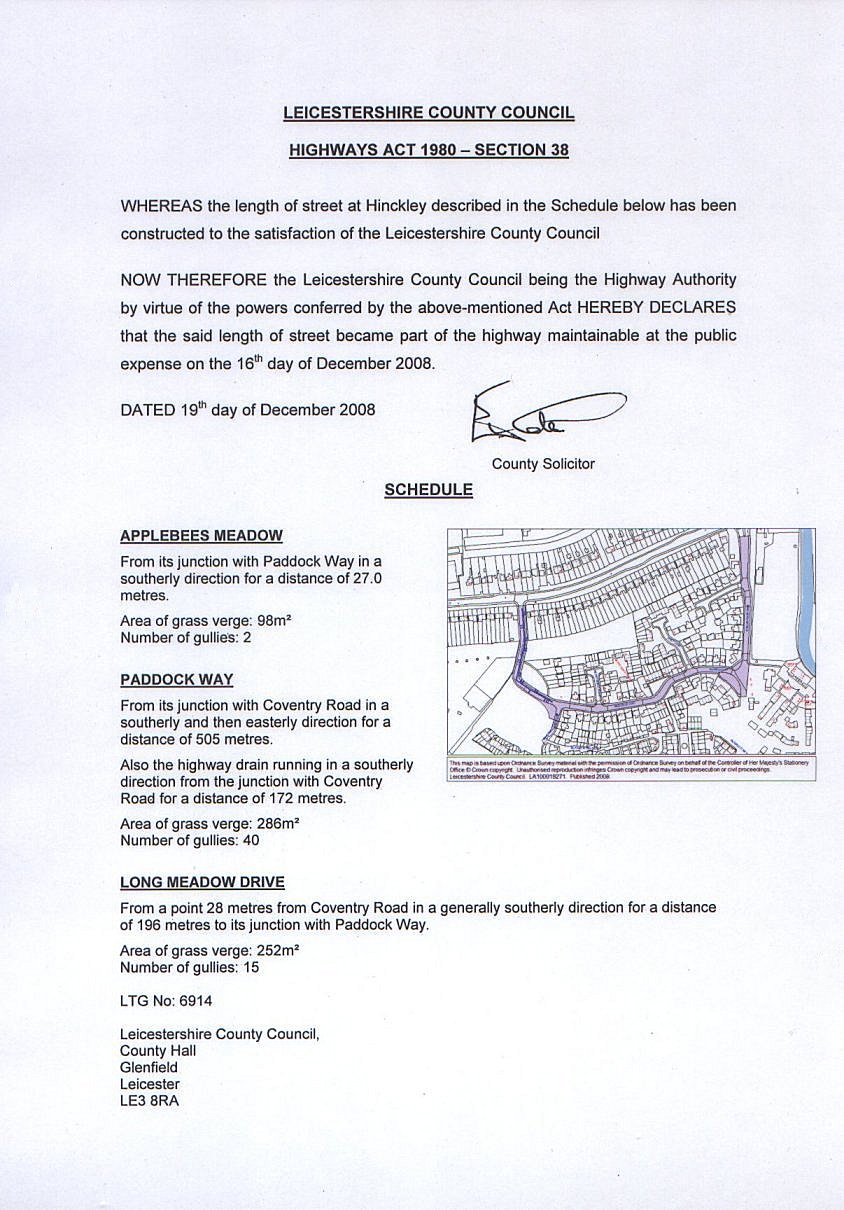 Official notice not publicly displayed until it was too late to legally object!!
Public Footpath Shame of Leicestershire County Council
Footpath - What Footpath ??? (the U61 as people from Warwickshire first experience it!)
main streets 'adopted' (meaning now YOU pay to maintain 'em) on housing estate
but condition that rerouted U61 Public Footpath (western end of Waterside 'park') be properly finished as Crest-Nicholson had agreed
has been 'quietly forgotten' by CC legal department!
Again it seems 'out of sight - out of mind' by Glenfield pen pushers.
No word from County Councillor
CFTP send objection to County Council.
No wonder residents increasingly ask to be 'moved' (by boundary change) into Warwickshire!
---
Late December 2008
The North field / Tungsten car 'park' farce continues......
In November 2007 out of date traffic figures were used by Hinckley Planning Department - Planning without proper research condemned:
'HELLS CROSS ROADS' WILL NOT COPE!
Recent police survey presents a level of traffic not realised by either County or Borough - it is now feared chaos will cause grid-lock at peak times in The Paddock Area with serious risks to emergency services caused by 'play it by ear' traffic light controls at 'improved' (construction company's description) junction
COUNCILLORS SHOCKED AT LATEST TRAFFIC FIGURES
We ask why were 'old' figures used in 2007 when Council glibly gave planning permission for yet more 'development' on Coventry Road in apparent ignorance?
Why were objections ignored completely?
---
19th December 2008
Why the continued delays at tungsten 'park' junction? - why the continued risk to pedestrians?
Junction 'Will not be completed before MARCH' !
disgusting admission of failure by County Council.
Yet In late September local residents were told it would take 3 months
It would seem the County Highways Dept. are bending over backwards for tungsten but doing as little as possible for the local council tax payer.
WHAT OF COMPENSATION FOR RESIDENTS DIRECTLY AFFECTED....
---
After campaign by CFTP Members, 2009 sees
SPEED CAMERA IN PADDOCK AREA!
A covert monitoring of the area of Coventry Road used, by speeding motorists without regard for the 30 m.p.h. speed limit, which after 30 years hard work trying to get an out of touch County Council and Police Authority finally was applied in early Spring this year, has revealed most drivers are going too fast and over the limit for a residential area .
The Committee For The Paddock has told TPA News that they have been informed officially by Leics County Constabulary that the speed monitoring white camera van will be sited in The Paddock Area next Spring.
SO THOSE WHO MAY FEEL LIKE 'BOOTING IT' FROM AND UP TO THE CANAL BRIDGE
YOU HAVE BEEN WARNED.
---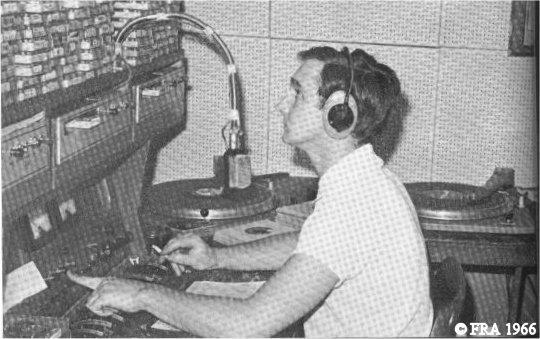 Norman St.John (Library Photo)
Nov 2008

WHATEVER HAPPENED TO HINCKLEY's LOCAL COMMERCIAL RADIO STATION?

Until earlier this year FOSSEWAY RADIO was 'our' station - here serving HINCKLEY , NUNEATON and OUR AREA in OUR AREA

Then, without any conversation with the people it served, it's 'parent' LincsFM - which continues to be named appropriately for its area- Fosseway became the nondescript 'OakFM' (!!!) with the blessing of OfCom who themselves failed to gauge the views of listeners moved actually out of the coverage area to Coalville.

When the TPA News questioned OfCom and LincsFM the answers had no real reguard for the traditional local audience, access to studios or genuine professional contact with either Nuneaton or Hinckley.

Yet again something we had has been given away by people unconnected with our area!

As far as we are informed neither the Tory controlled Nuneaton Borough Council or the Liberal' controlled Hinckley Borough Council have recorded their dissatisfaction at, in effect, loosing their only local commercial station.

Who speaks for the people ?

certainly not 'OakFM' now
---
They hold meeting after meeting in over heated offices which cost thousands but restrict signs which save lives
LEICESTERSHIRE COUNTY COUNCIL'S PENNY PINCHING SIGNS
YOU CANT READ UNTIL YOU HIT 'EM!
LATEST INSULT TO PEDESTRIANS ALREADY AT RISK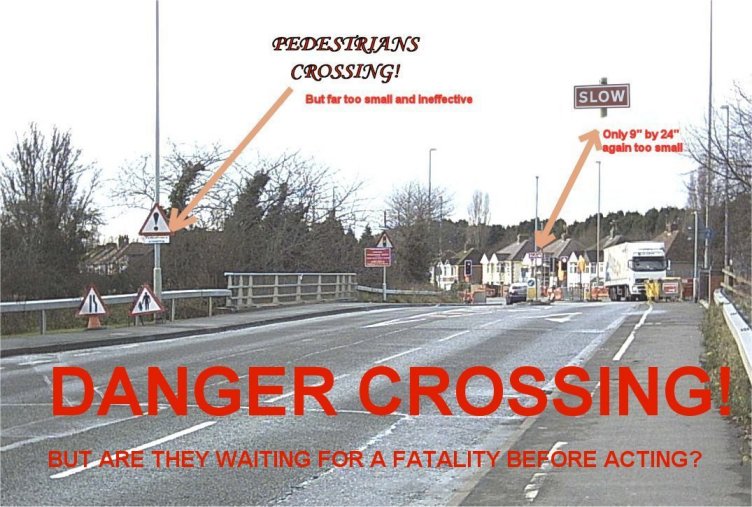 CONTINUED IGNORANCE FROM COUNTY HALL - LEICESTERSHIRE COUNTY COUNCIL OBVIOUSLY DOESN'T CARE A DAMN!
MORE CALLS FROM RESIDENTS FOR A MOVE INTO NUNEATON
County Councillor requests, for safety sake on dark nights and in poor visibility, in view of no highway work being done, unnecessary barriers be removed at 'Hell's Crossroads' - but again no response
AFTER OVER A MONTH!
with danger and upset and a proper crossing unnecessarily blocked off
STILL NO WORK HAS BEEN DONE ON THE JUNCTION!
And what do the County Council do - no enforcement - they simply hold their hand out to the developers
the money's not the point - safety of the people IS!
the junction at least should have been started
Was the 'constant monitoring'
which the County Council should have kept their word about
An 'Economy with the truth!'
Lets be fair, the construction workers can only do one job at a time and obviously the buildings etc, need to be up as soon as possible, incase those prospective occupiers go elsewhere (PLEASE!), however the building workers are a separate team to the roadway constructors - surely if there was a hold-up the County Council should have been properly informed by Tungsten, or if the alleged 'monitoring' by the County Council was taking place know already after A COMPLETE MONTH when nothing requiring the barriering off of the crossing or pavement was being done?
Surely between them 'Tungsten' and Leics. County Council can avoid unnecessarily barriering- off a proper safe crossing since late October for no reason?!
---
This is what we said on the 1st November when it was obvious the Highways Dept. had no intention of properly, safely marking the 'required' and compulsory, temporary crossing
COUNCIL STILL RISK OUR LIVES IN THE PADDOCK AREA
'
DANGEROUS UNMARKED CROSSING and it's ENTIRELY THEIR RESPONSIBILITY
COUNTY COUNCIL puts
MUMS AND CHILDREN IN DANGER!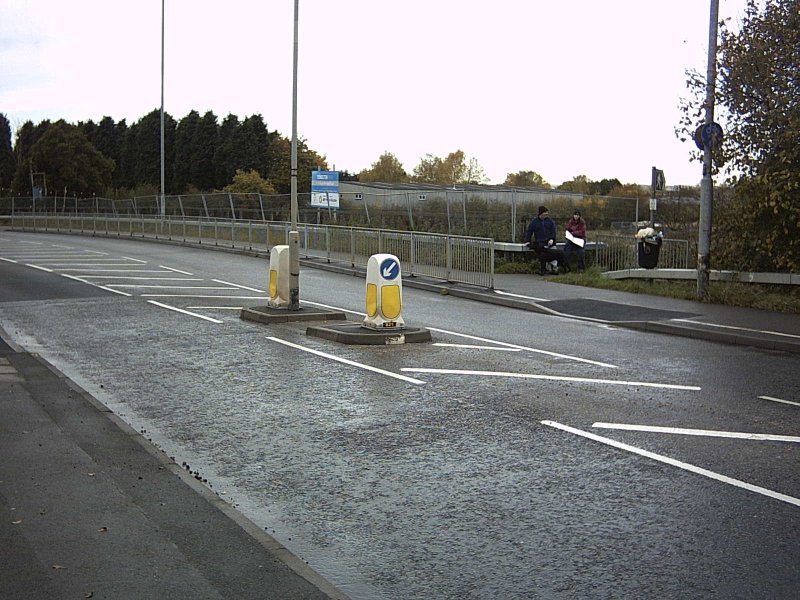 taken Sunday 26th Oct 08
pedestrian crossing at 'black spot' not even signed or marked!
Despite desperate pleas by the Secretary of CFTP County Council officers see no need to mark or sign the temporary crossing just west of the Ashby canal bridge - and our Leicestershire County Councillor and M.P. write emails and letters which are ignored by senior officers at County Hall
THESE 'SENIOR OFFICERS' don't read them
WELL THEY CAN'T CAN THEY?
BECAUSE NO-ONE WITH ANY IDEA, AFTER READING WHAT Mr. TREDINNICK AND CC Mr. BILL HAVE REQUESTED HAVE THE RIGHT TO IGNORE THE COMMON SENSE OF IT
If a child is injured because some jumped-up 'god' at Glenfield can't be bothered to do his/her job then that officer and indeed the County Council are guilty of negligence!
Would Warwickshire have acted for residents safety... we think so!
Talks with numerous Highways Dept. Officers have achieved nothing - buck passing to the Developer (who has done his job but would be actually breaking the law putting more signs up!) , saying the pedestrian, motorists is responsible -rather than admitting a 'Duty of Care' by the Leicestershire County Council. Saying anything but doing NOTHING to protect the council tax payer, having closed -off a safe crossing (for 'development' work) but put in two sloping kerb-edge stones 1 yard wide and done nothing more at a narrow crossing where even 'baby buggies' are too wide and mothers face a desperate struggle to cross in the face of fast on-coming unrestricted traffic!
NO WARNING SIGNS AT THE CROSSING - NO ROAD MARKINGS TO SHOW RIGHT OF PEDESTRIANS
NOTHING!
THIS IS LITTLE SHORT OF CRIMINAL NEGLIGENCE
If you live in The Paddock Area or lower Coventry Road
Write, Phone or email the Leicestershire County Council
Address County Hall , Glenfield, LE3 8RA
Email: chiefexecs@leics.gov.uk
0116 2323232
Tell them what you think of how little your safety counts!
---
4th December 2008
OFF COM!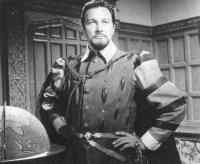 picture from happier days
We have been officially told that by 2011 The Paddock Area will loose it's analogue TV signals and all 'square' screened TVs and earlier wide screens with 'normal' tuners will not work unless fed by a FreeView receiver - however Hinckley is in Leicestershire and Leicestershire is in the fabled 'East Midlands' - which strangely extends to the Lincolnshire coast (!!!)
The 'East Midlands' gets its main FreeView stations from Waltham (250 kW analogue, 4 kW digital) too far east to even give good pictures in parts of Leicester - hence a relay/repeater for the City, but Hinckley has to rely on Sutton Coldfield (West Midlands County and sub-region) items such as regional news therefore include Nuneaton but not Hinckley.
OfCom say because Hinckley is served sufficiently by Sutton Coldfield transmitter (1000 kW analogue 8 kW digital) it will not get a relay of the East Midlands - even though news items concerning Hinckley will only be seen in Hinckley on Cable (Virgin) or Satellite (Astra/Sky).
Thanks Chaps - we feel really wanted.
---
25th October 2008
MORE BAD NEWS - do we ever get good news -------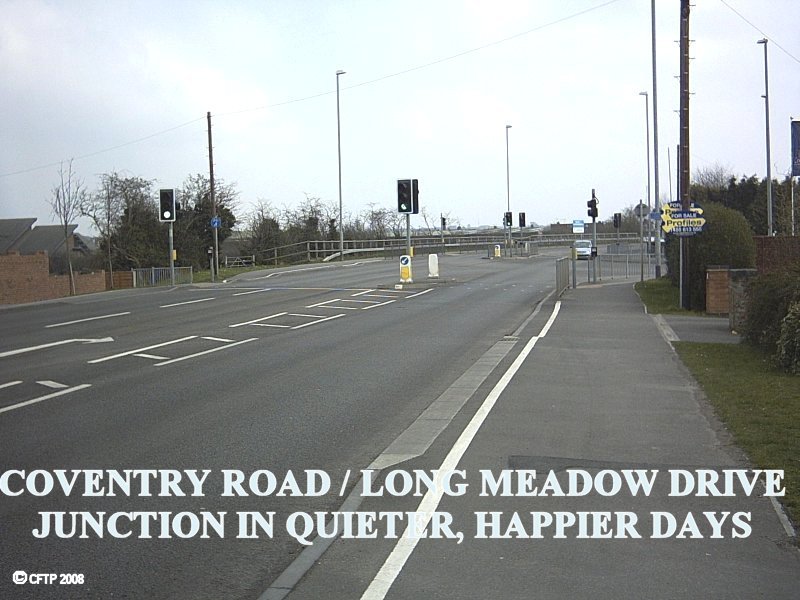 Residents get notification only 2 days before work starts - senior county council officer 'apologies' for not even telling our County Councillor
!HELLS CROSSROADS!
The chaos begins
On Friday only two clear days before all the disruption starts to put in a cross roads leading, it seems, into a hardly begun development with only the base of one unit in place, no drainage or services !
Yesterday residents received a letter dated two days earlier (so why not delivered then?) notifying them of the fact that walking , let alone driving, between The Paddock Area and Hinckley will be hazardous for 3 months.
Of cause without our knowing anything about it (even the County Councillors were not told) 'prestart' discussions between contractors based in Rugby and County Council people at Glenfield had sorted everything out - or so they have assured themselves without consulting us or our elected representatives.
WHO SAYS DEMOCRACY IS DEAD
WE DO.
So if you're planning on using Coventry Rd (B4666) to drive into Hinckley from Watling St (A5) don't, because Tungsten will slow you down!
At least this work should have been left until after the 'Festive Season' surely!
God alone knows how this il-timed venture will affect already cash-strapped shop owners at Christmas in Hinckley.
If you live in The Paddock Area (between Ashby canal bridge and the Watling Street) do your shopping at Morrisons or Nuneaton (unless you have a lot of time to wait).
If you live in The Paddock Area don't try to walk up to the Church unless you are nippy on your feet crossing over at the bridge already an accident 'black spot'- so please take care of yourself - the County Council wont!
We used to think the public, the council tax payer came first with the councils - didn't we?
Now it's the contractors and our well being and quality of life come a very poor second .
If you feel fed up with County Hall and how it doesn't include you phone 0116 2323232 and ask for the Chief Executive - tell him how you feel about being the last to know!
---
16th October 2008
Editorial

WHAT PRICE FAIRNESS?

This week we hear Hinckley' Council Planning Department modestly claiming 'top' performance in speed and efficiency in dealing with planning applications (Hinckley Times 16th October) splendid - but not so very long ago the then Tory controlled council supported by the Lib Dems moved successfully (did any Councillor oppose it - no! ) to restrict public speaking at planning committee meetings from 3 minutes (maximum) to a sickening 2 minutes only. The reason stated and presumably agreed by the then opposition was 'the meetings were taking too long' (quote council official). I've been in attendance at a number of these planning committee meetings and believe me it's not the public holding forth that elongates and presumably makes these meetings 'less efficient', it's a certain few councillors whose opinions - not researched facts - extend in duration, but very regrettably do not increase the content quality of debate.
Indeed, little research such as impact on the environment, detrimental effects on air quality, social impact is actually carried out by even the planning officers as a visit to the councils web site reveals, even site inspections are a novelty - hence the speed of pushing through all but those applications strongly politically objected to - and then not on a party basis but often a personal political basis where Lib-Lab-Con seems to 'blend' into them (the people) and us (the councillors) with the real decision made through the wording (biasing?) of the officer's report!
Of cause when I spoke of this to Planning Officers I was quickly reminded rather snotily ' we're under no obligation to allow any public speaking at the Planning Committee meetings ' . (!)
Perhaps those whom we bestow the honour of being elected to be our representatives, some of whom recently cried out in pain when it was suggested, perhaps a little cruelly, that councillors who didn't turn up to meetings should perhaps be replaced by others who would attend, might perhaps give we the people more opportunity to voice directly our agreement or disapproval more fairly and now reinstate the full 3 minutes as perhaps, just perhaps, our words might make more sense than theirs?
Then, perhaps we might not feel somewhat jaundiced when reading 'a borough to be proud of' on delayed council planning permission notices.
---
1st October 2008
Is it going rusty already?
YET ANOTHER BOMBSHELL FOR 'TUNGSTEN'
From the Chairman of Royal Mail
'We shall not be relocating our Hinckley sorting office'
Paddock Area News has now been told by the Chairman's office Royal Mail HQ London that there will definitely be no relocation of the Hinckley sorting office for at least the next 12 months and after that should a relocation be considered, it will be the subject of a full public consultation period of 4 to 6 weeks.
The questions we now must, I feel ask is why the council planning officers accepted this as part grounds to support first the 07/00529/FUL (rejected) then the 07/01150/FUL (passed) - why obviously no checking was done with Royal Mail - and indeed why tungsten (erroneously) indicated it was agreed with Royal Mail on the plans submitted to the Council.
There were safety issues with both the alleged new building and the present town centre property - however we have been told the much less difficult Health & Safety issues in the town centre complex have now been fully addressed.
---
Editorial
18th Sept 2008
Misplaced Laughter - Crocodile Tears
We rarely quote a newspaper but anyone reading this weeks Hinckley Times (published today) would be rightly puzzled by items on page 2 and 23 -
On page 2 it seems the council (Lib Dems) is concerned green space signed away by the former administration (Conservatives) may not now be used or built on. The reader is reminded that a quite sincere fight went on by the Lib Dems to prevent the council owned green space being lost. It seems, as is in no way unusual, what is said by a party in opposition is reversed and contradicted when in control !
Surely the present administration should now act to keep this part of Brodick Park green.
This and the former administration have one thing in common - no clearly defined green space policy.
On page 23 in an item also showing The Leader , Councillor Bill is reported as saying "Great" at the findings of the Appeal launched by Tungsten properties ltd- the result being to reject the Appeal to build 25 buildings on the former farm land the North field - so Tungsten can now build only 24 buildings where children played on the last open countryside in our area.
So that's 'great' is it?
This potentially dangerous development design (single entry from centre of traffic light zone!! and no secondary access/egress - not even in an emergency) should be challenged by the council and referred under special security/safety provisions to the Secretary of State.
We want the canal unspoilt - though the flats on Waterside Park, right next to it, hardly add to the attraction - but what about the safety of workers in 'marina court' (Tungsten Parks other name) and what about the residents quality of life next to 'hell's junction'?
---
10th September 2008
Tungsten Properties loose their 'greed' appeal - though Hinckley planning officers didn't help
The Planning Inspector has rejected Tungsten's badly advised attempt to have their cake and eat it (the passed 20th November application) and ALSO still appeal the rejected 28th August application - greed is not the way to run a business;
TUNGSTEN BROKE OUR HEARTS BY GRABBING THE NORTHFIELD ....
and taking away the only place children could play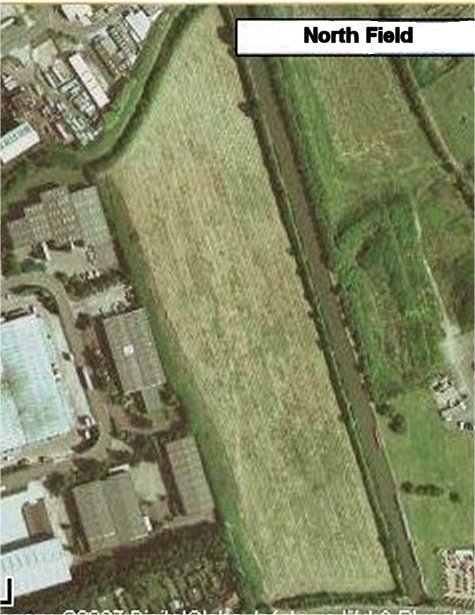 'dead end'
BUT HAVE THEY REALLY SUCH A GOOD WIN ?
HOW MANY FIRMS really want to be in a dead end estate
has one car retailer pulled out already ?
and what of the missing secondary access/egress road - what if there's an emergency at Royal Mail ?
will workers and vehicles be trapped?
is Tungsten Park really a dead end?
The Council should now provide means to make the estate safe - a rear access road from
Harrowbrook Industrial Estate - if necessary using compulsory purchase .
In all common sense this MUST be done.
---
FIRST PATH INTO LEICESTERSHIRE a disgrace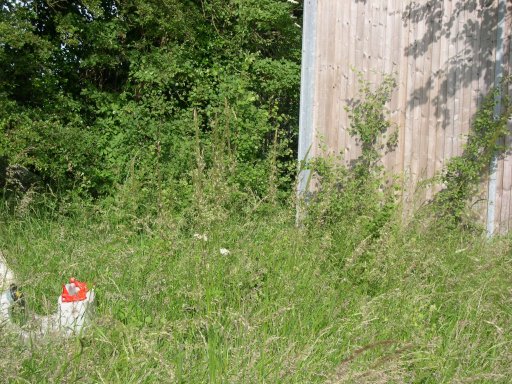 Welcome to Leicestershire!
rubbish and no sign of path - legal route boarded up by 'developer'
LEICESTERSHIRE COUNTY COUNCIL
gives a bad impression of County to visitors -
potentially unsafe path leads from Watling Street
WATERSIDE 'PARK' - no place of fun or even safety as disabled are ignored by County Hall - in a damning move of councillors more keen on their expenses than safety in the shire, Leicestershire County Council is about to approve a re-route of the Public Footpath between Coventry Road , Hinckley and the Watling Street (A5) , a path which is undrained, incomplete at the Watling end and a danger to the elderly and disabled at the Paddock Way (off Coventry Rd) end - a dangerous slope leading onto the pavement which in winter will be a potential death trap!
Senior members of The CFTP have seen their objections and complaints ignored or explained away by trite comments from County Council officers who are only keen to look after the 'developers' interests - not the folk whose taxes pay their salaries ! These people should resign.
However, by approving an unsafe path the County Council are effectually breaking the law - but will our County Councillor remind them of this ?
---
CANAL WAY 'green space' still not adopted (see below- June 08)
Despite all efforts by Councillor Bill to protect the green space next to the canal opposite Canal Way, officers of the council are dragging their feet and , it seems, finding petty details to delay the proper adoption and protection of this open space.
We ask why ? , surely with the loss of the North field these officers can get off their back-sides and perhaps do something for the residents and tax-payers instead of acting as developers agents - perhaps some senior officers should be rubber stamped out!!
---
Earlier news:
15th August 2008
It would be comical if it weren't so serious -
In the event of an emergency or fire at the planned Tungsten Park junction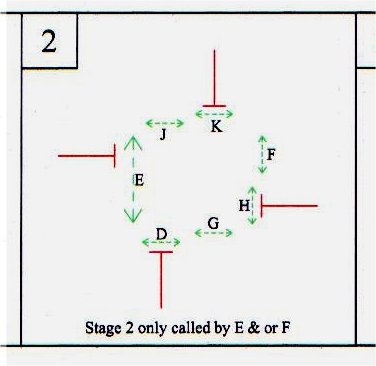 Extract from official plan
ALL TRAFFIC LIGHTS TURN RED!!
Yes that's the logic of the Microchip Operated Vehicle Activated traffic lights designed at County Hall Highways Dept.
So if there's a fire or similar 'incident' Emergency vehicles have to negotiate long lines of traffic in four directions and drive on the wrong side of the road to get to those needing help.
Cars are trapped in Tungsten Park because their lights are on RED - but what if the fire's in Tungsten Park - with only one way out!
As for the rest of the process give yourself plenty of time for your journey into Hinckley as the timing of the lights will be 'based on traffic flow and volume' - in other words "How long's a piece of string" technology!
---
14th August 2008
Reason fails in the struggle to provide a decent playing field for The Paddock Area
THE VILLAGE GREEN APPLICATION
The stranger from London has decided our future - not us
COMMERCE INSTEAD OF CHILDREN PLAYING
The 'Independent' Inspector has let everyone down - he should be ashamed of himself
In his report which is simply 'rubber stamped' by a committee at County Hall he maintained we had not provided enough evidence of use by the local people of the North field - our Secretary spoke against the 'recommendation' to refuse our application for village green status of the North field but the 'talking heads' ignored his words and our County Councillor , a member of the board who might have saved the day 'was on holiday'!
Children are pushed aside so two car sales firms and a sorting office can move into a residential area!
We could have had a wonderful community facility - instead we have noise, lights at all hours and traffic - thanks to our planning officers and committee at Argents Mead!
BUT OF CAUSE NONE OF THESE PEOPLE WILL BE AFFECTED BY THE SMELL OF DIESEL OR THE NOISE -THEIR LOCAL AIR WON'T BE POLLUTED BY BENZENE.
TUNGSTEN' WANT TO BUILD 25 NOT 24 UNITS BUT HAVE ADMITTED CUSTOMERS FOR ONLY SIX UNITS
They could have easily offered a couple of acres to the children - but are too mean
We wish them all they deserve
---
and at Argents Mead:
The 'three ring circus' that is Hinckley & Bosworth' Council planning department, blunders on...
'They've Lost The Plot' (quote, local resident)
December 1999 Planning Appeal
May 8th 2000 - Planning Inspector gave permission resulting in the loss of all but 1.3 acres of countryside in the area between the Ashby Canal and Watling St - 47 acres to the south of Coventry Road - 12 acres to the north.
Strict time limits for commencement of construction were detailed as conditions in the Inspectors Report.*
At every stage the Hinckley' Council planning dept. were 'more than helpful' in extending permission.
Hypocrisy not Democracy
Result 424 dwellings to the south - on greenfield land
99% of this countryside LOST
however nothing happened on the land to the north and the traditional farming continued.
'We did our very best to prevent it' - Council Leader
2003: Hinckley Council planning dept. gave permission to extend outline planning permission for the North field although the same department had (apparently) opposed planning permission previously.
2005: detailed planning permission given by council for 10 'small' (!) industrial units - permission expired 2007 - May 8th*
now read on......
A Misleading Statement
'We cannot stop industrial development because a Government Inspector gave permission for that in 1999 .......'
Check your planning law Councillor Bill.
On 20th November 2007 Councillor Crooks said, opening the debate on the second application by Tungsten Properties Ltd to 'develop' the North field, "If we don't pass this it'll cost us' - it 'coloured' the entire debate and the application, with no site inspection, was passed 9 votes to 2.
Councillor Bill spoke against the application but, again, said 'nothing could be done' and blamed the 1999 Inspector - it's hard to take anyone seriously who says in the same breath I'm against it - but it must be so.
So whatever you, the people, say if you get time off work to speak at the Appeal (10 am) on the 12th August (against rejection of Tungsten's first application dated 9th May 2007 for 25 buildings on 'Tungsten Park' sic) it wont really matter because our Liberal Democrat council have already given permission for 24 buildings (including the car sales and repair buildings working 6 days a week and Royal Mail sorting centre working 24 hours 7 days a week!)
Right next to an semi-derelict, decaying, but existing industrial estate.
Which Councillor Bill says 'we should do something about'
The Council know they've cocked it up and have a blind cheek trying to suggest our words at the Appeal on the 12th can put it right
THEY'VE ALREADY SOLD US OUT!
Let's be clear Tungsten Properties Ltd have every right to Appeal the first application rejection even after the council planning committee, without a site visit, passed the revised application. In the circumstances Tungsten' have done nothing wrong at all, indeed any company so guided and considered by the Officers and Councillors at Argents Mead would have been quite wrong not to Appeal for 25 buildings when 24 was so 'magnificently supported', in ignorance, by the Councillors (save 2) of the Planning Committee in complete disregard of the people of lower Coventry Road.
It is entirely the present Borough council who have failed to recognise a legal fact - the 1999 ruling by the Planning Inspectorate is clearly and indisputably after 7 years
OUT OF DATE
Any claim by any developer that the 1999 ruling on the Crest Nicholson (Midlands) Ltd Waterside Park application gave rights in 2007 or later is not correct and should have been considered by the Councillors and if necessary taken to court.
It must be said in their favour that Tungsten' have never relied upon the 1999 ruling.
Any statement by any Councillor indicating a 1999 planning application ruling is perpetual and 'writ in stone' is obviously quite wrong but it seems these Councillors chose to believe this to be a fact rather than bothering to look up the relevant section of the revised Act' they ask a Planning Officer and if he or she says black is white, because it saves effort, - so be it!
Perhaps it's time the Councillors, regardless of political party - who didn't even think a site visit necessary in August 2007 or November - went on a training course to update their 'skills'. They are deciding things which will affect the lives of residents those who elected them - surely these residents have rights in the same way as 'developers ?
If you do attend the second day of the Appeal on 12th August bare in mind the result will in any case thanks to the naivety of the Councillors '....cost us' - but regrettably not them!
Time for a few old Councillors to retire ?
ISN'T IT TIME WE HAD A COUNCIL ON OUR SIDE
---
July 2008
Drivers blatantly ignoring the 30 limit in The Paddock Area
Of cause we knew it - because the traveling speed camera is stationed 400 yards (360 metres) east of our area when in Coventry Road and 'Speedwatch' never materialised.
If the Microchip Operated Vehicle Activated traffic light system planned, should 'Tungsten Park' go ahead, at Long Meadow Drive is to be relied upon (God help us!) then the race between that junction and the Watling St (A5) will make life (more) hell for residents - but the Highways Dept. can't see the traffic for the vehicles!
---
July 2008
Waterside Park Public footpath (U61) - still not resolved or legal
After the CFTP brought the matter of the proposed rerouted public footpath (U61) being not lawful under the terms of the Disability Discrimination Act(s) 1995 and 2005 to the attention of the Highways Dept. (Footpaths), in that the slope up from Paddock Way prevented wheelchair users, frame users and even walking stick users from attempting the path - we expected action. We have not yet had a clear statement of intended enforcement from Leicestershire County Council we therefore advise that disabled residents make firm comment to the County Council concerning the Council's Duty Of Care under the Act. We shall continue to press for the path to be made safe by restoring it to it's former route.
---
June 2008
CANAL WAY -'green space'
We are amazed that it is being said (by the council) that the council are doing a grand job taking over the mowing etc, of the green space between Canal Way and the canal - what they are doing is normal practice when a road is 'adopted' and the developer signs over the road and immediate green verge etc, to the local authority and gives up maintenance for an agreed one off payment.
To claim otherwise is hardly honest.
---
June 2008
WHAT ABOUT THE PROMISES THE LIB DEMS HAVE FORGOTTEN:
They condemned , rightly, the hypocrisy of the Labour Government in cutting domestic waste collection funding, but whilst pushing re-cycling the lib-dems are still like Tory councils restricting collections.
What happened to our £82,000 (paid by Crest' to provide leisure space in OUR area - which was bitterly complained about by Councillor Bill but never sorted out
Why have they not extended the public speakers time from the lousy 2 minutes allowed at planning committee meetings.
What happened about the promises concerning The Paddock and other wild spaces.
---
June 2008
THE NORTH FIELD - our new VILLAGE GREEN
Despite the provocative action of the sub contractors to Tungsten' in doing their very best to remove all traces of green open space on the North field, despite the closing off of the land to residents , despite the illegal (County Council Overseen !!) removal of hedgerow to the south during the nesting season against the Hedgerow Regulations - Our registration application and the enquiry have taken place and are going through consideration at County Hall. The contractors efforts failed to intimidate all but those who wouldn't have spoken up anyway. We thank all those who took the trouble to find time and make the journey to speak for the application - but again the council shamed itself not one Councillor asked to speak for us and a Planning Officer actually spoke to oppose our application.
' ... we want to see as much of the green space saved as possible' (quote Lib Dem propaganda)
---
We have it on good authority
that despite the current situation in the housing construction industry
Both the former Dog Stadium and field next to it are being again considered by well known developers whilst access onto Nutts Lane is not practicable the only route to these homes must be Long Meadow Drive - more traffic onto Coventry Road !
As this borough council seems incapable of fighting any badly placed development we hold no hopes of preventing yet more chaos.
---
HINCKLEY FLAME still burns click here and join now
Ask your Councillors a direct question......................
---
PLEASE NOTE: References to 'The Paddock' in news items before 9th April 2009 are to be read as Saxon Paddock and 'The Paddock' and Saxon Paddock are the same area of land. Please be informed Saxon Paddock is private land.
---
Early March 2007:
Hinckley & Bosworth Borough Council and Leicestershire County Council both claim to be really working for the tax payer , looking after his or her needs , providing facilities (?), help- so they claim, but their planners fall down on the job.......
THIS IS WHAT HAPPENS WHEN YOU BUILD 400 HOUSES ON A FLOOD PLAIN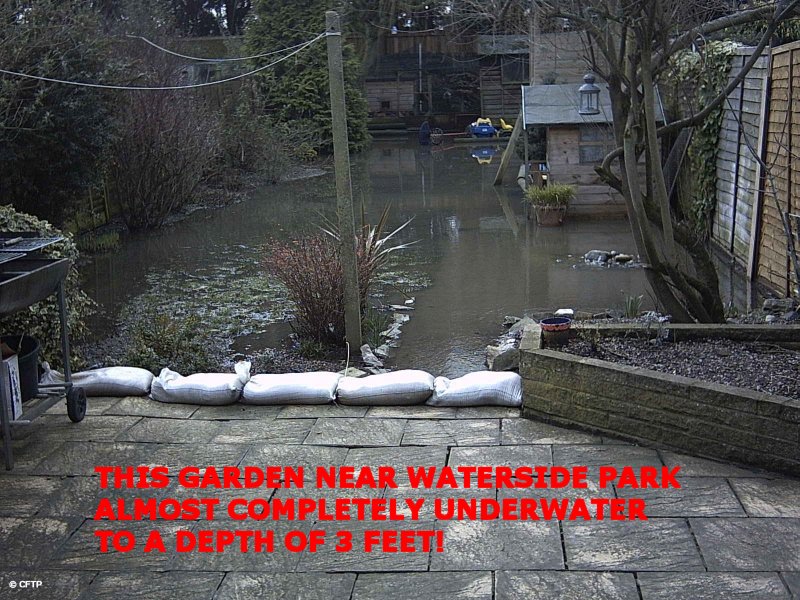 The owner with a 3 year old child asked the Hinckley & Bosworth Council for help - he got 6 sand bags
' a council to be proud of' (?)
regrettably councils are not covered by the Trades, descriptions Act
We regret though a press release was issued by the Hinckley & Bosworth Borough Council (which the council did not feel required to give us copy of ), we have so far been given no suggestion of any further help or compensation from any authority, organisation or company - truly a most regrettable and shameful lack of responsibility.
---
April 2007:
'TUNGSTEN' STILL TELLING 'PORKIES' about the north field..........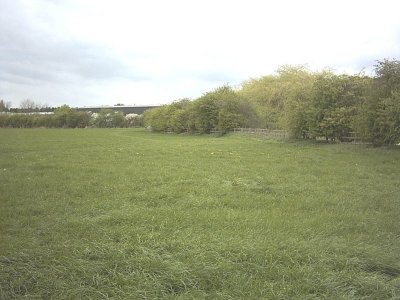 WHY
IS THIS BOARD STILL UP ?????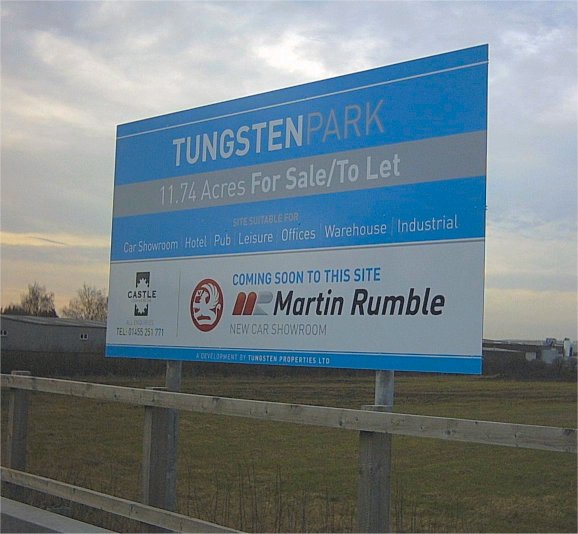 A DANGEROUS DISPLAY and so far
UNTRUE statement - but the council does nothing but make excuses not to have it changed or moved
For over 22 days this untrue statement has been allowed to upset residents and traders in lower Coventry Rd - the Planning Enforcement Office at Hinckley & Bosworth Borough Council seem either unfit or even frightened to actually do their job and get it either amended or removed --- WHY?
A Display board sited on Coventry Rd near Ashby Canal
This board has been erected , presumably to attract companies to what was for many decades an open field used for leisure , dog walking etc., and only within the last two years set with a crop having been ploughed up in 2005 after Crest-Nicholson obtained full planning permission to build 10 warehouse and office units - that planning permission is still in effect and NO PLANNING PERMISSION FOR ANY RETAIL SALESROOMS has even (as at 25/03/07) been applied for (quote Planning Dept. Hinckley & Bosworth Borough Council).
We are surprised a reputable car dealership such as Martin Rumble has apparently allowed its name to be used in such a way.
We suggest the council uses its powers to request this board to be removed until such time as it is true.
Because of the genuine distress this inaccurate sign is causing to residents we put the case to the Advertising Standards Authority - however 'point of sale material falls outside of the Code' , The Trading Standards Dept. at Leicestershire County Council said it was 'outside their jurisdiction and we should contact the local council .....' We again spoke to the Hinckley council planning department who told us they had no control of wording on such a board as long as it (the board) was under a certain size.
However, knowing the board to be actually near the retaining fence on the highway side of the property boundary hedge on Tuesday 27th February 2007 we spoke to the Highways Dept. at Leicestershire County Council - this evening it appears though the wording is still to our knowledge (as checked with Hinckley & Bosworth Borough Council planning dept.) erroneous, no request for amendment or adjustment has been made to the company responsible - Today 1st March, we spoke again with the Highways Dept. we await a further inspection.
At the meeting on the 16th March a senior planning officer did offer to ask the developer to 'move the sign further back into the property' - but it's still there.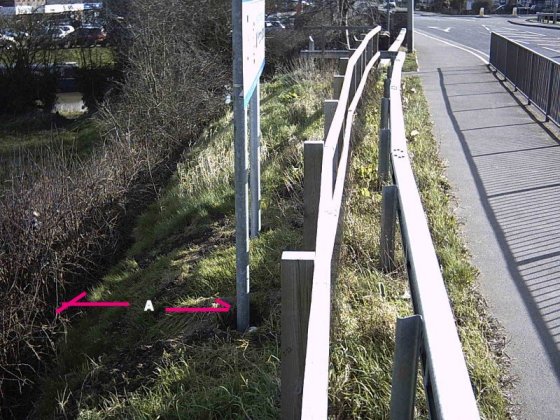 This sign is now admitted by Tungsten to be on its property!
No planning permission has been granted for any of the suggested uses other than warehouses and offices which in this part of the borough are plentiful (indeed 1000's of square feet are lying vacant in far more favourable positions) we simply asked Tungsten for a small donation of land (part of the 11.75 to 14 acres) for a football/cricket field and community centre - for the people - We were cynically refused this basic request.
Why bother with Public Relations when a company is dealing with a borough council so remote from public opinion as Hinckley & Bosworth Borough Council
NO ACTION - WHY?
FAVOURING 'DEVELOPERS' - IGNORING RESIDENTS
Hinckley' council are 'in talks' with the developers about a 'possible' planning application - so why can't Hinckley' Council insist that the incorrect message on this board which stands in a potentially dangerous place (see barrier item above) and which is worrying residents be put right ? whose interests comes first ? the local tax payer or prospective developers ? these people are making fortunes by building on farm land why can't the Hinckley' Council make it a condition of any planning permission that some land be set aside for public use? - i.e. playing field and community centre and enforce safety standards for displays.
There have been complaints that this board is distracting drivers at a point where even before it was erected, the pedestrian safety barrier ( far right of above photograph )had been knocked down twice because of a dangerous 'kink' in the east going highway which slightly 'bottle necks' where it crosses the bridge. Drivers new to this road fault need all their attention to be on the highway and the Highways dept. of Leics. County Council are already failing in their duty to correct or at least mark this point with a caution sign. We claim the council are derelict of their duty of care to both road users and footpath users allowing a sign so close to a potentially dangerous 'fault' in the roadway. The sign must be removed!
We ask all residents of lower Coventry Road to make their views known to the council when the last remaining open field in our area becomes subject of yet another planning application.
We are already almost surrounded by industry, empty ugly warehouses and dangerous roads where speed limits seem more fiction than fact - ENOUGH'S ENOUGH!!
Latest on this board: we were told on Monday 12th March by a representative of 'Tungsten Properties' the wording would be added on the Martin Rumble item 'subject to planning permission' but nothing has been done yet.............. (23/4/07)
---
WHY HAS THE AREA OF COVENTRY ROAD BETWEEN THE ASHBY CANAL AND WATLING STREET SUFFERED SO MUCH SOCIAL NEGLECT WHY ARE THE RESIDENTS BOTH OLD AND NEW FEELING THE CANAL BRIDGE MARKS THE END OF THE 'AREA OF CARE' WEST OF WHICH HINCKLEY COUNCIL FEELS NO FACILITIES NEED BE PROVIDED, MOTORISTS ARE FREE TO SPEED AS MUCH AS THEY LIKE , BORED TEENAGERS HAVE NO SPACE FOR SPORTS OR ACTIVATES - ELDERLY NO PLACE TO SIT OR WALK AND CHAT IN A COMMUNITY AREA IN THE SUN -- IN AN AREA WHERE OVER 900 MORE PEOPLE LIVE THAN IN 1999 (47 acres) NOTHING HAS BEEN PROVIDED BUT A VERY SMALL 'PLAY AREA'
NOTHING !
---
Residents of lower Coventry Road have commented on how the super new 12 metre high metal street lamps have been (quote) 'waving about in the wind' - funny how the old type concrete/metal 10 metre high lamps stayed confidence - inspiringly rigid in the strongest of winds ! - isn't progress wonderful...........
We invite councillors or council officers to have their say (unedited) in defense of such things as the felling of basically healthy trees, a total spoiling of Argents Mead and nearly £300,000 wasted on a rusting bandstand, installation of mini traffic islands in areas to small for normal vehicles to easily maneuver , a town centre dedicated to evening boozing and little else, play and greenspace policies which because of ludicrously unrealistic planning exclude rather than include children and families, ideas to use former factories for quite inappropriate purposes where car parking is almost non- existent and traffic control are afterthoughts - some of the most farcical policies of the 21st century.
January 2007 :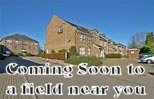 ---
MASSIVE AREA OF HOUSES TO BE BUILT ON OUTSKIRTS OF HINCKLEY - obscene loss of Countryside
The so-called East Midlands Regional Assembly , an unelected gathering of appointees who claim to represent counties such as Leicestershire, Northamptonshire, Derbyshire, Nottinghamshire, Rutland and even Lincolnshire have decided on inflicting more than 4000 more houses on the outskirts of Hinckley - that's at least 500 acres of countryside lost between Hinckley (in Leicestershire - in the 'East Midlands Region') and Nuneaton (in Warwicksire - in the 'West Midlands Region') so presumably the, again, unelected West Midlands Regional Assembly will be involved and with such a massive loss of countryside and monstrous mass of concrete and brickwork both the Towns of Hinckley and Nuneaton will be merged and renamed regardless of county (and 'regional') boundaries. If this had been announced on April the first it would have been a good joke, but it's real and very serious.
WHAT THE HELL ARE THESE UNELECTED QUANGO MEMBERS THINKING OF - ARE THEY TOTALLY WITHOUT REASON?
We suggest the abolition of these undemocratic, expensive and unrepresentative il-informed so - called regional assemblies before they do more damage to our area and destroy our countryside.
---
Late January 2007:
High winds and heavy rain have caused some damage to property and flooding of gardens in The Paddock area. Please check weather conditions particularly before long journeys . Here is a link to the Hinckley area weather page ------
---
In November 2006:
IN LOWER COVENTRY ROAD
We asked for a 30 m.p.h. speed limit - NOTHING
We asked for a playing field and Community Centre on the north field - THEY SAID PERMISSION had to be granted to a 'certain developer' for warehouses and offices (!!)
We asked for compensation so that added traffic noise soundproofing could be added to properties at noisy junctions and crossings on lower Coventry Road - WE GOT EXCUSES
We complained about dangerous cycle/pedestrian path markings - AGAIN NOTHING
We said our sleep was upset by street and property security lights and industrial noise - NOTHING
---
Mid December 2006:
DOWN BUT NOT OUT
Ancient Hawthorn hedge victim of 'chainsaw logic' THIS SHOULD NOT HAVE HAPPENED
Habitat loss for at least three years because, at least we were told, 'waterside park residents say the hedge blocked out the light'
- from the NORTH (!?) - or was it just 'bloody-mindedness' by a certain 'developer' ?
Still the Councillors and Officers of Hinckley' Council make up excuses rather than protect this land.
A Council (still?) to be ashamed of...................
The CFTP has complained about dumping over the fence from the Waterside Park car parking area it may not be residents as security to this car park is nonexistent, however since the cutting of the hedge monitoring of car number plates of these dumpers has been possible (even in darkness) so beware ......
WE ARE WATCHING YOU !!
---
It started in the 1970's - still nothing -
STILL NO PROPER ACTION FROM OUR COUNCILLORS - YET ASHBY ROAD GOT A SPEED LIMIT - WHY NOT HERE ???
SPEEDING But nothing is done, it seems we live too far from Charles Street, Leicester for speed patrols, cameras or even drive carefully signs, even the pedestrian controlled crossing is ignored and there are increasing cases of total ignorance , by motorists of those wishing to cross even when the motorist gets a red light to stop!! Particularly in the evenings we get the impression we live on a racing track . They know they can get away with it on this section of Coventry Rd - the Police say speed limits on lower Coventry Road are 'unenforceable' - then what do we pay our taxes for ?
We are the forgotten people?
Why are our representatives not insisting on a 30 mph limit and 24 hour speed controls ???
Equipment IS available to read number plates in total darkness and at split second timing - there's no excuse.
---
Summer 2006 -
MORE HOUSES ?
It seems Taylor Woodrow have now put in a planning application (06/00786/OUT) to build 117 houses off Nutts Lane between the Ashby Canal and the Dog racing Stadium - the estimated 200 odd cars will add even more to the headache of present residents of this area and cause even more congestion to the A5/ Watling Street and Coventry Road.
Is there no end to this madness ?
Latest: On Tuesday 10th October the Hinckley' Council Planning Committee refused planning permission for the above - nice to think they can make the odd correct decision!
However, of cause Taylor Woodrow , with the present central government attitude will almost certainly have a good chance at appeal.
More formerly open farm land to be built on , The Government claim to want to support the countryside but allow more and more green-field development , the Council say they want to 'protect the countryside' but no doubt have already opted to pass this application without opposition (opposition ?? - who are they ?) - 'a poor opposition makes a bad administration'.
Meanwhile nothing is said about the north field which could- if the council fought hard enough- be still used for the benefit of the people however it seems an archaeological dig is about to begin on this site.
November 2006:
AND Latest :
Crest-Nicholson (Midlands) Ltd not content with building 424 houses on a flood plain now named Waterside Park have put in for planning permission to build '89 dwellings' on the land which is at present a Greyhound Stadium
on Nutts Lane - right next to the Taylor-Woodrow application land !!!
Common sense again prevails - the above Crest' plan has tonight (5th Dec 2006) been refused.
Late January 2007:
However Crest- Nicholson are bad losers and, even it seems accepting (or ignoring ?) the particular difficulties of the Greyhound Stadium site and the appalling traffic conditions already in that location, wasting their money and committing a major public relations blunder on an appeal to the D.o.E (Deputy Prime Ministers Office) It will be a pretty dumb Inspector that doesn't tell them NO - even with the present governments crazy ideas on house building!
We are destroying the countryside and the next generation's natural quality of life
WE SAY NO MORE BUILDING - OF ANY SORT in this area of Hinckley
ENOUGH IS ENOUGH !!
And the council should get the north field development stopped by the Deputy Prime Ministers Office as a special case as it will create a dangerous road junction.
---
From May 2006
SHAME IN TOWN CENTRE!!
Healthy Trees cut down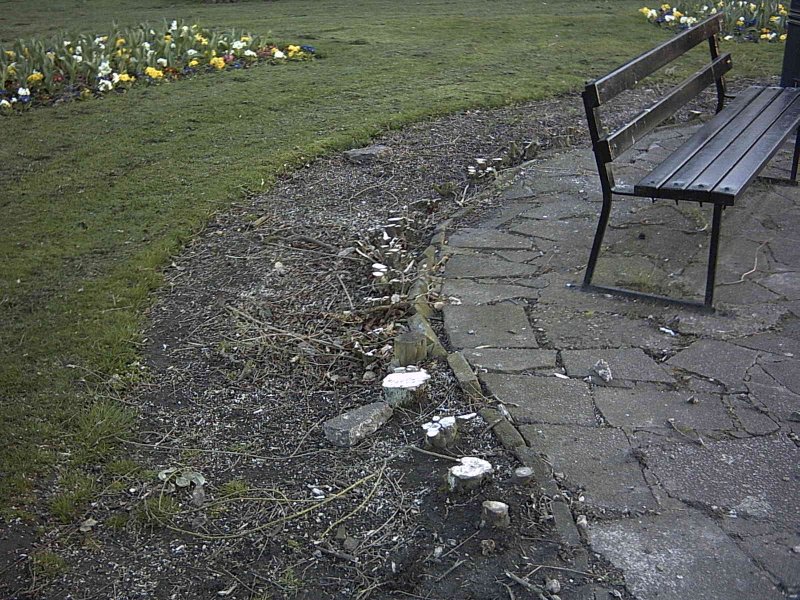 Habitat and Hedges removed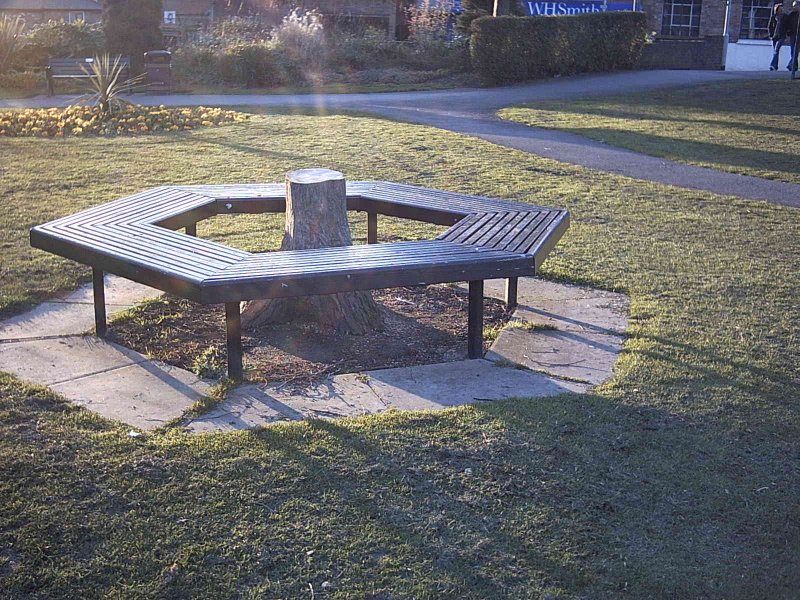 Facilities spoilt
NOT BY VANDALS BUT BY
HINCKLEY & BOSWORTH BOROUGH COUNCIL -who at the moment .......
Would win awards for tasteless sick stupidity with their latest idea of putting a bandstand less than 80 yards from a garden of remembrance !
Yes it's true and so that those paying tribute to the relatives whose lives were given in two world wars can see and hear the bands and performers the council has cut down a bank of shading trees they claim 'had rot' , though at least three had no rot at all and if the, so called, 'tree surgeons' had had any idea they would have reported the health of the unaffected trees rather than destroy them.
Meanwhile those in the parks and countryside department have been instructed to defend all felling or mutilation of mature trees as in the public interest - now there is rot in that!
The CFTP is totally opposed to destruction of natural habitat be it grass land or trees. DEFRA say since 1960 the bird population has diminished by 40% - yes 40% and yet Hinckley Council destroy habitat!
And the Councils 'enforcement officers' did nothing to prevent The Paddock hedges being drastically cut - we say sack them and save our money!
---
April 2006:
WHERE HAS THE MONEY GONE ??
Because Crest-Nicholson (Midlands) Ltd could not provide 'official' open space and other public facilities as part of the Waterside Park housing development the Planning Inspector in 1999 required money to be paid for such facilities to be provided by the council for the local residents on another nearby area off the Crest' site - Crest paid the Hinckley' Council £82,000 which seems to have 'disappeared' for no public facilities have been created by the council in the area between Ashby canal and Watling St. in the five years since this was paid - We ask Where has the money for our facilities (lower Coventry Rd/ Waterside Park) gone ?
Well we can tell you it's NOT going for the benefit of the people of lower Coventry Rd or Waterside Park - which it was meant to - its gone to the improvement of Brodick Street and Langdale recreation ground - even the council admits this is 390 metres (427 yards) away !
What are the councillors thinking of - and why are our 3 ward councillors not speaking up for us - YET AGAIN ?
The fact is the Hinckley Council believe that a survey involving answers from 600 people throughout a borough of many thousands is a truly representative answer to the question 'how far are you prepared to walk or make your children walk to a leisure area or recreation ground and Hinckley council claim people are prepared to walk between 400 metres ( that's 437 yards in English ) and 700 metres ( that's 766 yards - nearly half a mile!) - this may not be so bad in a quiet village but along a busy, noisy town main road it's just not on -
AND IN 'WATERSIDE PARK ...............
PUBLIC INTERESTS IGNORED - yet again ...............
Members of the CFTP , The Representative of Crest Nicholson (Midlands ) Ltd , Councillor David Bill and officers of Leicestershire County Council met at 9-30am on 15th August 2006 on the site to discuss the proposed rerouted Public Footpath to the west side of Waterside Park between Paddock Way and Watling Street. Though the Secretary of the CFTP put forward a sincere plea for an additional, quite separate , fenced off Public Footpath sited nearer the present legal position of the path (right next to Paynes Garages fence) which has been unaffected over 100 years, this was ignored by the county council officers who seemed only to hear the Crest' point of view. It must be stated the Crest' representative did accept the serious fears of the Secretary that the safety of the children using the 'play area' could be jeopardised by the path running right next to where they played.

---
Looking Back at other previous items:
November 2005:
THE APPEAL
On the 8th November in the Council Chamber at Argents Mead , Hinckley we spoke up to prevent Crest-Nicholson(Midlands) Ltd destroying The Paddock , we fielded a small but honestly motivated team opposing Crest's appeal for planning permission which they rushed in even before the Council's Planning Committee could discuss the subject in January of this year. However the Planning Dept. at Hinckley was supported by the Planning Committee in opposing Crest's application.
The Appeal was rejected - Crest' lost and a small step was made in the direction of reason.
O.K 'money talks' - but it doesn't always say the right things.

The Paddock is 'far too small for a sensible housing development'.
---
A look further back ..............
Back in the Summer 2005 -
NOBODY WINS IN NORTH FIELD PROJECT APPROVAL
On 12th July a rather ill-informed Council Planning Committee approved, against the interests of their electors, with no discussion on the safety or otherwise of the entrance/ exit road - only a few yards (metres if you will) from a curve in the road and a bridge - and with little understanding of the environmental impact of the design, one of the silliest most unrealistic planning applications ever conceived. Building 10 industrial units (in four blocks) on open green field with no one wanting or needing them ( no firm as yet shown interest in using them) next to Harrowbrook Industrial estate where empty units stand.
WE UNDERSTAND CREST' (WHO ARE HOUSE BUILDERS NOT EMPTY WAREHOUSE CONSTRUCTORS) DID TRY TO GET A CHANGE OF USE FOR THE NORTH FIELD FOR MORE HOUSES - THE PLANNING DEPT., FORCED TO CONFIRM A PLANNING INSPECTORS 'VERDICT' for the land to be for 'employment use', SAID NO!
WHAT THEY COULD HAVE DONE WAS USE IT FOR A PLAYING FIELD AND COMMUNITY CENTRE AND EMPLOY A GROUNDSMAN AND CARE TAKER - isn't that employment use?
REMEMBER THAT WORD--- - PLANNING (?)
EUROPEAN UNION LEGISLATION ON ENVIRONMENTAL PLANNING AND THE RIGHT TO A SAFE AND GOOD QUALITY OF LIFE SEEMS TO HAVE BEEN IGNORED.
As with the ill conceived Harrowbrook Industrial Estate right at the back of them the people of the north side of this part of Coventry Road have had their views ignored.
Members of the CFTP living near the entrance to this north field 'development' will be monitoring closely , noise pollution, light pollution, traffic congestion and other public safety issues
---
Still no action to make lower Coventry Road Safe -
ARE THEY WAITING UNTIL SOMEONE ELSE IS KILLED ?
17 months ago a young girl lost her life the result of speed AND seriously badly considered traffic controls and road/ pavement markings on lower Coventry Road - in March of this year an accident report was submitted to the County Council pointing out various hazards though ignoring the fact that we still have a 40 - not 30 m.p.h. - limit in an area claimed by both the council and the Transport Secretary to be 'built up' (on both sides) . We still have the single white line on the south pavement (17" from the kerb) which DIRECTLY contributed to the accident and indirectly to the death, we still have traffic lights on a almost constant default of green crossing the junction of Long Meadow Drive , the primary access to the 424 house development 'Waterside Park' forced on us in 2000 by Crest-Nicholson (Midlands) Ltd. We still have cars traveling at ridiculously dangerous speeds particularly in evenings and hours of darkness. We don't have speed cameras or any sort of speed restricting constructions.
Our County Councillor has again called for action on this but perhaps instead of asking
he should be telling
them .
So it seems nothing is being done to make lower Coventry Road safer for both sensible road users, cyclists or pedestrians.
We pay the bulk of our council tax to Leicestershire County Council whose job it is to keep our road safe
, they make bogus claims of 'efficiency' on their web site meanwhile because of the 'Council's ignorance people get hurt and even killed on the Counties roads, not simply because of inexperienced young drivers (always a get-out for the authorities) but because of bad planning by County Hall.
NO ACTION BY THE COUNTY COUNCIL or our County Councillor TO MAKE US SAFER !
as for Leicestershire Constabulary they oppose a safer speed limit !
---
Hinckley has plenty of empty industrial property with no need to use up countryside for more
We predict in one year the weeds will be growing well on the north field
(2007 - May- They are!! where people could have a proper sports and community cenre)
Legal note: company names obliterated for security reasons
LATEST: AND YET MORE VACANT INDUSTRIAL BUILDINGS ON DODWELLS BRIDGE INDUSTRIAL ESTATE!!!
SO WHERE'S THE SENSE IN TAKING MORE GREEN FIELD LAND FOR EMPTY WAREHOUSES - LAND WHICH SHOULD HAVE BEEN CLAIMED FOR USE AS A PLAYING FIELD AND COMMUNITY CENTRE FOR LOWER COVENTRY ROAD AND WATERSIDE PARK .
WHY CAN'T OUR COUNCILLORS ACT ON THIS - NOW?
---
May 2007
Today remembering a tragedy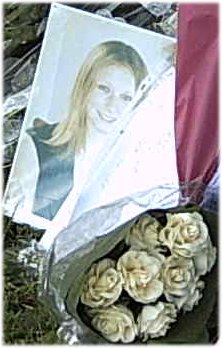 We Shall Not Forget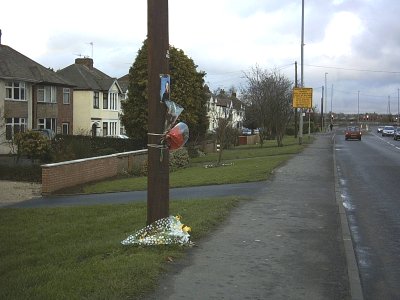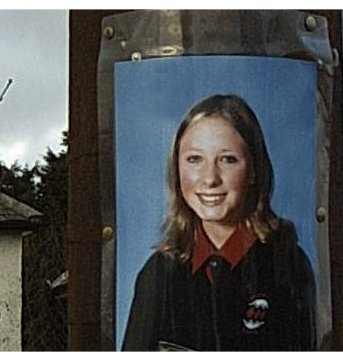 Kimberley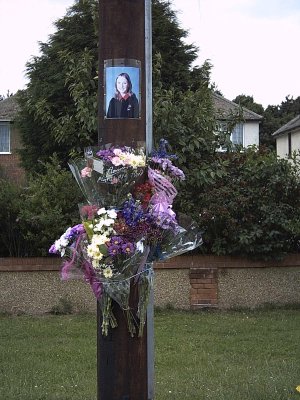 now 2 years and 11 months on
---
WE SHALL SAVE SAXON PADDOCK as a NATURE CONSERVATION AREA
---
In May 2005 we asked :
DEAR RESIDENTS -
Now they are back in - same old faces, same complacency
WILL THE 'NEW' COUNTY COUNCIL -------
GET RID OF the hideous 12 metre high street lamps (Motorway height in a residential area on a B road)
GIVE US a 30 m.p.h. speed limit in line with the rest of Coventry Rd(on a widened road in a built up area)
Begin sequential changing of the traffic lights at Long Meadow Drive to regulate the speed of drivers who ignore even the 40 m.p.h. limit after dark (speeds of over 80 m.p.h. have been monitored!!)
S
T
AND UP FOR US when we ask for more leisure space between Ashby Canal and The Watling St. (A5).
or simply
IGNORE US when we grieve over loss of quality of life and safe environment.
Can you expect them EVER to keep their election promises???
MAY 2007 - NOT ONE OF THE ABOVE ITEMS HAS BEEN ACHIEVED BY OUR COUNTY COUNCILLOR - NOT ONE!!
---
In 2003 a hideous wide crossroads was begun
A DANGEROUS CROSSING
The design of the crossing nearest the Ashby canal bridge has been criticised as near impossible for disabled users. I have been told the wheelchairs , Zimmer frame users and cyclist must use the crossing on the west side of the 'T' junction (eventual crossroads) - has no one at the council(s) realised that this restricts these users to the north side of Coventry Rd with no proper crossing for over a mile!. Our Secretary inquired why no audible crossing 'beeps' where used at the Long Meadow Drive/ Coventry Road junction lights/crossings - the official answer is rather than confuse blind or poorly sighted folk who might hear another crossing beep and think it's their crossing beep - no beeps are fitting at all and a 'tactile rotating cone' situated under the button unit starts to rotate when the blind person should cross - o.k. As long as your finger's on the cone but hardly reassuring half way across!!
LEISURE SPACE in The 'Paddock area ( back in 2004 - Spring)
We have now handed in our petition signed by the residents of Lower Coventry Road and Waterside Park requesting -not more leisure area - but some leisure area! Crest-Nicholson has made available nearly £200,000 to the Council as a condition for planning permission for phases 1 and 2 of their 'Waterside Park', originally the Council opposed the 'development' of the countryside south of the Coventry Rd, it seemed then that they supported the residents; So now we ask in all reasonable thinking should not the money obtained for leisure and education from Crest' be used for the benefit of the people directly affected by the D.o.E decision to overrule the local Council and local public opinion and allow these 400+ houses to smother our open countryside in the 49 acres south of Coventry Rd.
The Committee For The Paddock is not allied to any political party and it is hoped that all three main parties want the best for the people in this part as well as the rest of the borough .
'SYMBLEMS' (2003 Summer)
We continue to press for the painting of white signs to indicate to pedestrians to be watchful of cyclists approaching behind them on the shared foot/ cyclepath - there have been a few incidents where people could have been injured, however , between Paddock Way and Long Meadow Drive there is only ONE sign, should anyone ever get injured please contact the Chief Executive of Leicestershire County Council by phoning 0116 2323232 , meanwhile we will continue to point out the risks to the council officers concerned.
INVALIDS INVALID- (?) (Feb 2005)
The designers of the crossings at Long Meadow Drive/ Coventry Road should now redesign the crossings as in October 2004 invalid access regulations were updated, as the crossings of Coventry Rd nearest the canal bridge and on Long Meadow Drive with 90 degree turns are not suitable for wheelchairs and whilst having a FIXED time period to cross are NOT MONITORED for pedestrian safety, so is Leicestershire County Council breaking the law?
We ask disabled users to make their views clear to the Leicestershire County Council (phone 01530 262380) - if you say nothing they'll do NOTHING
(in 2003 early spring)
Some years ago our Secretary put forward an idea of a pedestrian subway making use of the canal path under the bridge on Coventry Rd , with of cause protective fencing and lighting under the bridge, a way to make it really safe to cross the increasingly busy road at this point - it was ignored and continues to be ignored because the wrong person thought of it.
DON'T PUT RUBBISH BAGS ON PUBLIC ROADS OR LAND IT'S ILLEGAL AT ANY TIME.
---
item from late 2004:
WHAT WE PROPOSED TO THE COUNCIL 3 YEARS AGO IN 2001 -
our plan for Saxon Paddock is simply a gravel path and two bench seats a pedestrian gate and the required security - nothing more - no houses (424 is enough) no bricks, concrete, street lamps, cars - simply this - nature protected properly
Our plan (full information available from The Committee For The Paddock)
HONESTLY - ISN'T OUR WAY BETTER ? Now will Hinckley & Bosworth Borough Council help ?
in Spring of 2004 we asked ----
ARE OUR HOMES AT RISK? - increased severe vibration of buildings to the South of lower Coventry Road is regularly being reported - this seems far worse than before the road was re- built, also some residents report increased noise level from heavy vehicles at all hours of the day and night.
The results of a survey by Leicestershire County Council on traffic noise, vibration and pollution were a 'white-wash' based on the statement that a (quote) 'quiet road surface material' was used by the subcontractors - however the vibration to houses on the south side has worsened since the road was re-laid - if your house shakes when heavy vehicles pass phone Mr. M Dakin at Leicestershire County Council on 0116 2657160 (mailto:mdakin@leics.gov.uk) - he seems to think all's well, but if he'd actually come out of his office and see (and hear!) for himself - he'd know differently
To obtain information, free booklet (number 4) on application for compensation, phone 0870 1226 236 or call County Hall on 0116 2323232
---
If you live in Leicestershire, 65.7% of YOUR council tax goes to Leicestershire County Council
- yes 65.7% and what do they give us back??? (answers on the back of a postage stamp please)
---
The Hinckley Council must now act to properly protect The Paddock.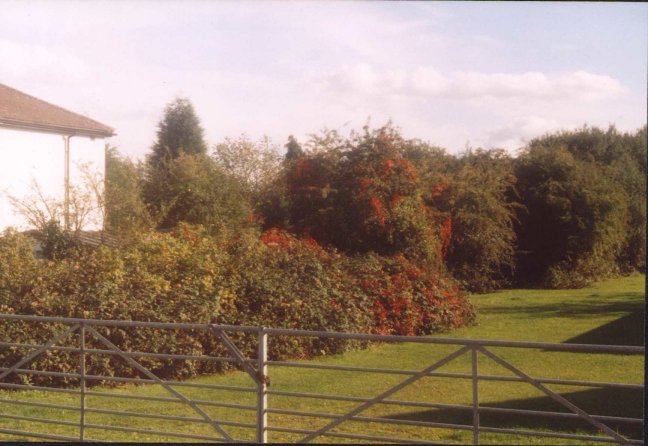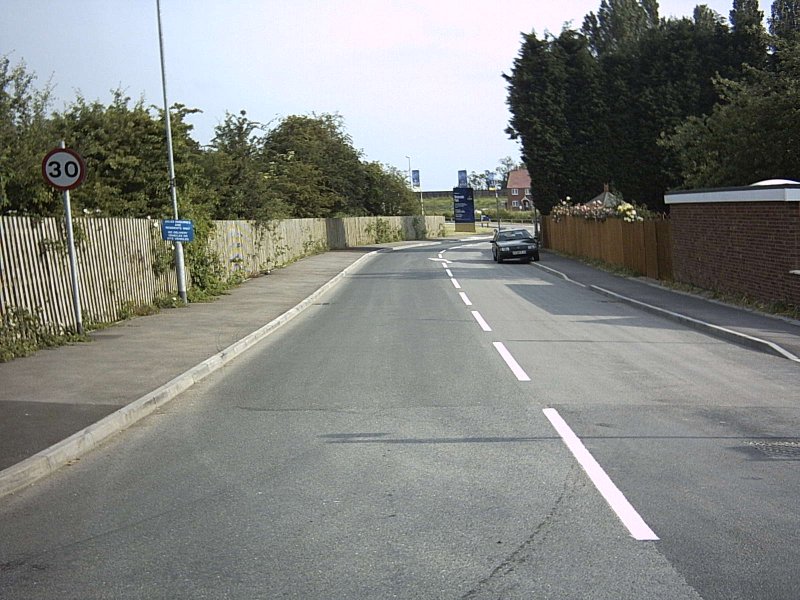 ----------------------------------------------------------And they call this 'development' !
Two pictures same place 1999 and ---------------------------------2004 is this what we want more of ?
And in Summer 2005 we noticed ----
ARE THESE 'Motorway Type' STREETLAMPS SAFE - NO!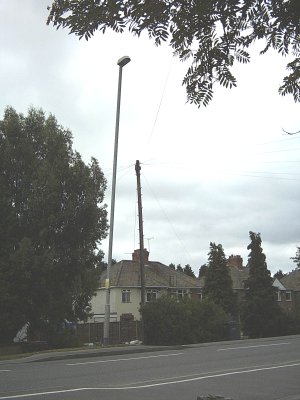 in case you're wondering BT's 'telegraph pole' is almost upright
Two years ago this lamp post 12 metres high (not 10 metres as is normal) was erected on our 'B' road (!) and already it looks dangerous and should it fall, who do we sue the Contractors, Sub contractors or County Council ?
In 2003 we summarised the overall roadworks on lower Coventry Rd
WHAT CHANGES WERE MADE

(library picture)
As a result of the roadworks the road surface was widened by 1.8 metres (just under 2 yards).Re-siteing of street lamps and pillar box, re-laying of drives between road and front walls/ fences and verge grass was done and the road surface was lowered by 75 to 100 mm (3" to 4") in order to maintain verge levels appropriate to residents drives. This work was funded by and subcontracted by Crest-Nicholson for Leicestershire County Council.
In 2004 this
The white line painted about 14" from the curb on the south side and part of the north side of Coventry Rd is a safety line for cyclists it is NOT a dividing line. We are asking that 'symblems' be painted on the pathways to indicate more clearly that both pedestrians and cyclists are allowed to use the pathway.
But in Autumn of 2005 we saw this
Incredibly the Leicestershire County Council has recently repainted the white line which contributed to a fatal accident in June 2004 , this after a report to the council earlier this year critisised the position of the line.
Whilst these lines may have use on housing estates etc. in 30 m.p.h. speed limit zones, they are positively DANGEROUS on main roads with 12 metre high lighting.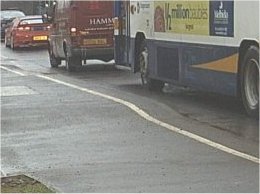 We have asked that this white line be removed because it is misleading in street light and gives road users a wrong impression of the position of the kerb. Had standard street lamps been fitted instead of the 12 metre high motorway units which the County Council insists are 'better' these white lines would be better illuminated - as things are there have been several incidents of motorists nearly hitting the kerb because they were misguided by these so called 'safety lines.
However, as usual Leicestershire County Council say they are 'Ministry approved' - we will continue to press for it's removal or repositioning on the actual kerb.
LATEST:After attention was drawn by the then Committee For The Paddock to potential dangers to road users it has been recommended in a County Council report, that extra markings are now made on the kerb edge of combined footpath/ cyclepaths this and other suggestions are as usual too little to late! However some major improvements were not considered in the report and the urgently needed 30 m.p.h. speed limit is STILL not supported by the Leicestershire Constabulary - we ask them for a reason why we are being ignored on this....
Presumably this report was 'shelved' as no action has been taken on any of its findings --------------(?) ---------------
---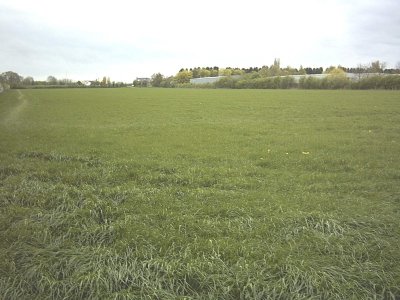 THE NORTH FIELD (how it was in early 2004)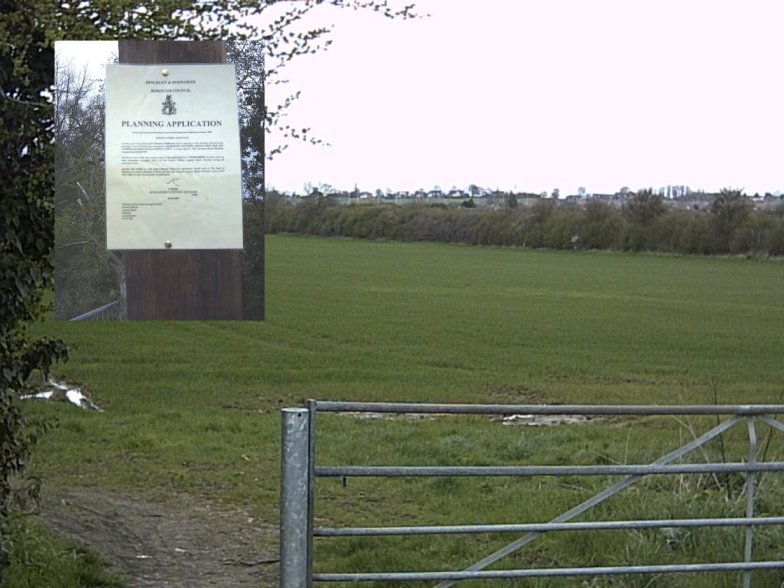 LOST THANKS TO OUR COWARDLY COUNCILLORS
THEY SHOULD HAVE HELPED US SAVE IT - BUT AS USUAL THEY LET US DOWN
(A Department of The Environment Inspector approved this last recreation area should be built on !!!!)
And our Councillors did nothing to prevent it .
An item which caused much bitterness on the north side of lower Coventry Rd in the summer of 2005.
If they wont support us we can't support them.
OUR FIGHT TO PROTECT THE COUNTRYSIDE REMAINING IN OUR AREA - now only 1.3 acres at The Paddock - CONTINUES -----
Parking on footpaths/cyclepaths has become a problem with only the most thoughtless of motorists in 2005
PLEASE NOTE THE REGISTRATION NUMBER OF ANY VEHICLES CAUSING DANGER TO PEDESTRIANS OR OTHER ROAD USERS BY NEGLIGENCE OR SPEEDING AND REPORT THEM TO THE POLICE
2005 --Paddock Way junction is one of the poorest marked road junctions in the area but nothing is done
YET MORE PEOPLE ARE BEING INJURED on this part of COVENTRY ROAD
Still pedestrians and cyclists risk injury from vehicles at the unmarked junction of Paddock Way and Coventry Rd - Officials at Leicestershire County Council STILL REFUSE to request clearer halt sign road markings at this dangerous junction.
KEEP YOUR SPEED DOWN
ESPECIALLY IN BAD WEATHER - lower Coventry Rd IS being monitored!
Spring 2005 ----A DISGRACE
Of the £80,000+ the council obtained from Crest-Nicholson NONE will be used in our area of Coventry Rd !!
We
understand our local councilors are working to prevent the misuse of this funding but there have been months of silence ------- (no change on this issue May 2006!)
2004 Spring --
NO LEISURE FACILITIES - HOUSE SHAKING TRAFFIC - NO COMPENSATION
WHY ARE RESIDENTS OF LOWER COVENTRY ROAD TREATED LIKE MUCK BY HINCKLEY COUNCIL?
All inquires about planning applications should be made in person at the Council Offices, Argents Mead, Hinckley or phone 01455 238141.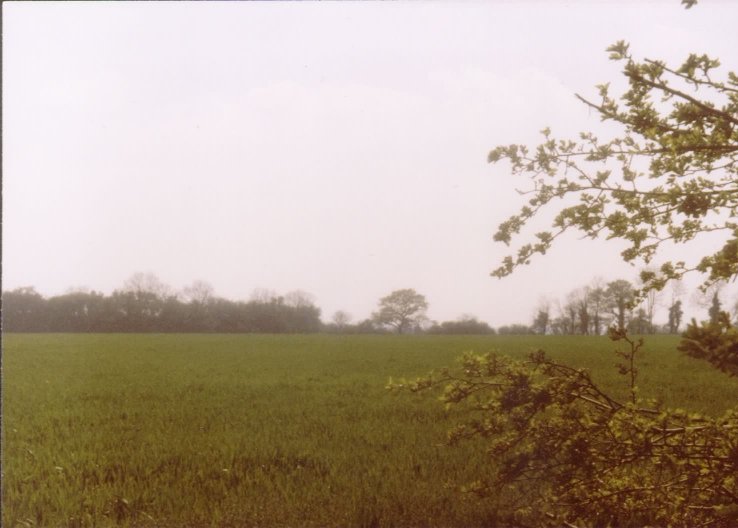 Lost view -
from the east corner of Saxon Paddock to the Watling Street
If you are a resident with a road- works problem telephone 01455 283341 (Leicestershire County Highways Dept.)
This information is given to help maintain good relations around The Paddock area and to avoid rumour and misunderstanding. Please contact us at the above number or email address, we will endeavour to keep our web-page as an on-line notice board (subject to copyright and Internet regulations).
Disclaimer All information given is subject to alteration at the last minute due to circumstances beyond the control of the Saxon Paddock Committee , Hinckley & Bosworth Borough Council, Crest-Nicholson and Leicestershire County Council and no responsibility will be held or taken by them for any information given in this document or Internet website upon which it is made available.
All illustrations, photographs and diagrams on this site are copyright of The Committee For The Paddock / Paddocksave unless otherwise stated.
Any person or organisation wishing to publish or display copyright material from this site must first obtain permission from the Secretary or Chairman and indicate the copyright in the published item.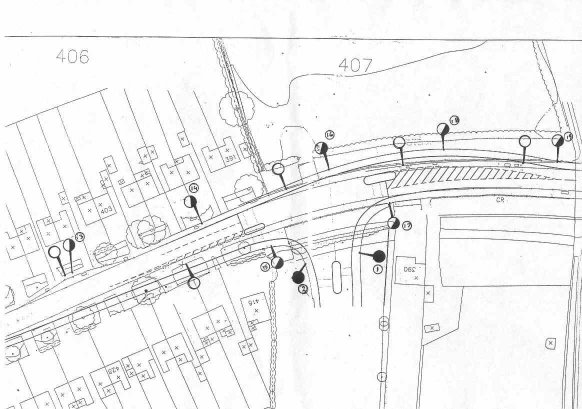 Long Meadow Drive going South into 'Waterside Park'
Paddock Way going south off Coventry Road.
Plans Copyright Crest-Nicholson/ Leicestershire County Council/ Hinckley & Bosworth Borough Council
Old street lamps (now replaced) shown as circles - new lamps as partly filled circles
e.g. lamp outside 516 has been removed
and replaced by new lamp on North side near to 483 Coventry Road.
Plans available on large scale at Hinckley & Bosworth Borough Council, Argents Mead, Hinckley.
Telephone 01455 238141.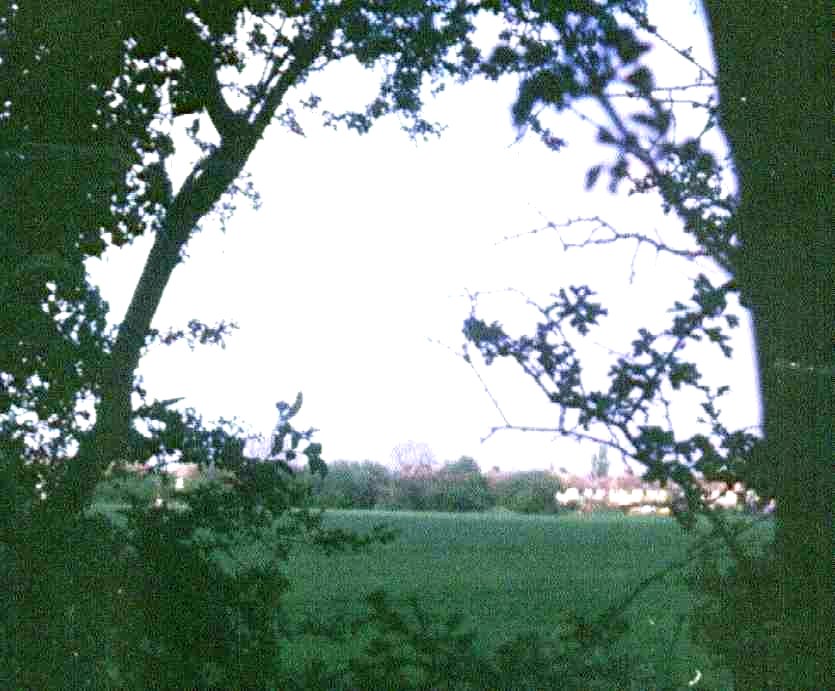 Lost view -The east end of Saxon Paddock from the Watling Street
Don't let them fill our countryside with housing estates - countryside lost is lost for ever!
SUPPORT US - WE SUPPORT YOU !
HINCKLEY AREA ROAD WORKS - IMPORTANT
Regrettably we are no longer able to show area roadworks on this website, however we cannot be prevented from giving our visitors a link which will assist in finding this information.
Roadworks in this part of Leicestershire (link)
We continue to press Warwickshire County Council (general site link) for roadworks information ( or a site link) covering neighbouring areas e.g. Nuneaton.
Remember, if your local Councillor says information 'is restricted' remind him of the Freedom of Information Act 2005 and your rights!
---
STRANGER AT THE DOOR - always ask for an identification card, these are legally required to be shown by persons visiting private dwellings on behalf of commercial and public organisations (e.g. Double Glazing Companies , Meter Readers , Emergency Services ) ask them to show the card through a window - never open the door to strangers if you're alone in the house - if a caller acts suspiciously call 0116 222 2222 or 999 if no proper identification card is clearly shown , even if the person is in uniform - REFUSE ENTRY
Any local events can be advertised on the news page and any donations received will be welcomed.
We Still need much more support towards saving the small area,
known traditionally as 'The Paddock' we need new active members who can attend bimonthly meetings, deliver newsletters, spread the word.
Become a 'FRIEND OF THE PADDOCK' Today!
Thanks for your visit - STAY SAFE in Saxon Paddock Area.
Legal Disclaimer any items or events advertised on this Committee/ Saxon Paddock News web site are for information only and the Saxon Paddock Committee in no way endorses their purchase or use under the Sale of Goods and Services Act (U.K.) or any other acts in the same regard worldwide. All events advertised are unpaid advertisements unless otherwise stated and any web site links are purely for information unless otherwise stated , the Saxon Paddoc Committee disclaims any responsibility should the items fail in any way. Whilst the Saxon Paddock Committee make every effort to check and confirm all information quoted on this web page neither the Committee or it's officers will accept any legal or moral responsibility for any information comment or view expressed herein.
In the interests of clarity Imperial measurements - i.e. ft, yards, miles etc., are used ( or equivalents stated) on this page.
Suggestions, by the Committee, for the use of former tithe names of Hinckley as street names in the neighbouring Waterside Park housing development have been accepted by the local Council and the developers with Long Meadow Drive, Pinfold Close, West Hyde, Merry Hurst Place and Applebees Meadow being accepted.
---
PADDOCKSAVE and SAXON PADDOCK COMMITTEE do not support any Political Party.
---
SPEAK UP FOR SAXON PADDOCK!
In April 2009 Committee For The Paddock became Saxon Paddock Committee in tribute to the Saxon village which stood where our homes stand now.

WE SHALL KEEP YOU INFORMED OF FUTURE DEVELOPMENTS
Based on the proposed new flag for the administrative area of Mercia
This site is best viewed using Firefox 3.5.7 with Academy Engraved LET and Belwe Bd BT fonts enabled
Dedicated to the happy memory of Paul Knight.
©2012 Saxon Paddock Committee / Paddocksave
© 2007 Committee For The Paddock / Paddocksave

The Flag flies proudly over Saxon Paddock
Thank You For Visiting Saxon Paddock News Webpage